Posted February 3, 2021
Weekly Pandemic Revenue Index up by 6.4 percent
Indian River Consulting Group's (IRCG) weekly Pandemic Revenue Index for the work week of Jan. 25-29 indicated a 6.4 percent increase compared with the same week a year ago.
---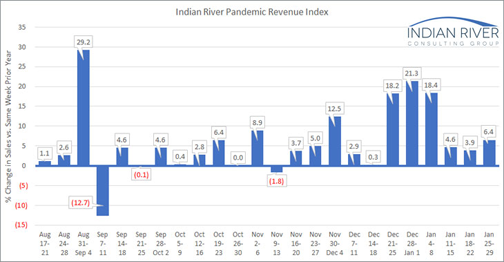 Out of the 13 reporting firms, nine respondents reported increases ranging from 1 percent to 35 percent. Four companies reported declines ranging from 3 percent to 24 percent.
IRCG's distributor Pandemic Revenue Index gives distributors a weekly quantified view into how other distributors in the industry are faring as the global COVID-19 pandemic progresses.
"This week's PRI marks 12 consecutive weeks of sales increases. As one contributor to the index pointed out, commodity prices have been on a strong upswing over the last few months, which has provided some inflationary lift. This is likely influencing the PRI," said Mike Emerson, IRCG partner.