Posted February 15, 2023
Hamilton Caster & Mfg. Co. appoints president, two new hires
Hamilton Caster & Mfg. Co. has named Mark Lippert as its new president. The 116-year-old manufacturer of heavy-duty industrial casters, wheels, carts, and in-plant trailers, is in its fourth generation of family leadership. Mark succeeds his cousin, David R. Lippert, who retired in December.
---
"As we look to the future, we are confident that Mark possesses the qualifications and expertise to continue to grow our family business," said Board Member Ted Lippert. "Under his leadership, Hamilton Caster will continue to make a significant impact on the industrial market and our community."
Lippert has a strong technology background and specialized in brand and product positioning, business development, strategic planning, and process improvement strategies.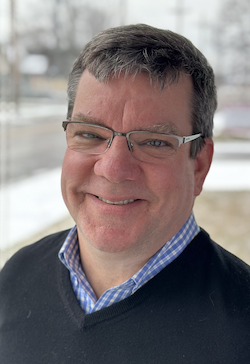 "I am honored and humbled to step into this role and build upon my family's legacy as just the 6th president in our history," he said. "I'm excited to leverage our core values of integrity, continuous improvement, accountability, respect, and empowerment as the foundation for strengthening our customer relationships, investing in new technologies, and supporting employee development."
Lippert joined Hamilton Caster in 1995 to lead marketing efforts that have resulted in a brand that has been ranked No. 1 in brand perception studies for the industrial manufacturing market. He also helped manage the business with three other family members (all cousins), Dave, Steve, and Jim Lippert. Together, the company says they have led with a vision to be the manufacturer of choice for heavy-duty and custom-engineered mobility systems.
"As the company implemented its business succession plan, we knew that there would be two key positions on our leadership team to fill," said Mark Lippert. "It was important for us to find the right individuals to complement an already accomplished and experienced leadership team."
As a result of this search, Kellie Krieger joined Hamilton in October as director of human resources and administration, replacing long-time Executive Vice President, Steven J. Lippert, who also retired in December. Kellie brings over 20 years of human resources experience to Hamilton, most recently as human resources manager at Hamilton Township.
Jodi Fritsch also joined the company in November as director of marketing, a position that Lippert held for over 28 years before his promotion to president. Fritsch brings nearly 20 years of marketing experience to Hamilton, most recently serving as vice president of marketing at HORAN.