Milwaukee Tool pliers line expansion
Milwaukee Tool redesigned and expanded its pliers line.
---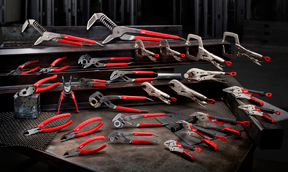 With slimmer grips and application-specific designs, the expanded line up of fastening and cutting pliers are designed from the ground-up to deliver trade-specific features, and are up to 30% lighter than their predecessors.
"Pliers are an iconic, everyday product for our core users and we will continue to push the limits of what is possible with a pair of pliers," said Bobby Shaw, Director of Marketing for Milwaukee Tool. "We are excited to introduce 14 new, lightweight and innovative solutions that save time and increase productivity for our focus trades."
The new straight jaw pliers line, which includes a wider array of sizes from 6" – 20", feature comfortable grips and exposed metal handles with an aggressively ground head for reaming and punching applications. The exposed handles and reaming head give users the ability to ream EMT and punch electrical knockouts with their pliers; without having to peel or remove their plastic handles.
Milwaukee's new Hex-Jaw pliers line features three sizes – 8", 10", 12" – and are optimized for hex-bolt applications using a patent pending Hex-Jaw design, which achieves an ideal fit on hex bolts and fasteners. With their best-in-class number of adjustment positions, all-metal quick adjust mechanism, and ream and punch functionality, the new Milwaukee Hex-Jaw pliers are the most innovative solution available when working with hex bolts or fasteners.
Milwaukee's new lineup of cutting pliers will consist of three critical tools for the core trades: 9" High Leverage Lineman's Pliers w/ Crimper, Long Nose Pliers and Diagonal Cutting Pliers. All feature a patent-pending reaming head for removing burrs from EMT, integrated fish tape pullers for wire-pulling applications, as well as comfort grip handles that will not peel. The redesigned 9" High-Leverage Lineman's Pliers come equipped with on-board crimper for INS and NON-INS terminals and iron carbide cutting edges for long-lasting blade life. The new Milwaukee Long nose pliers, which are commonly used in wire pulling applications, feature a full 2" of gripping surface for hard-to-reach applications.
Finally, the new Milwaukee Diagonal Pliers, which come in 6", 7" and 8", feature cutting edges that are ideal for close quarters and flush cuts.