Posted February 21, 2019
Amazon Hose & Rubber celebrates 100 years
A woman-owned business for three generations, Orlando-based Amazon Hose & Rubber Company is celebrating its 100th anniversary.
---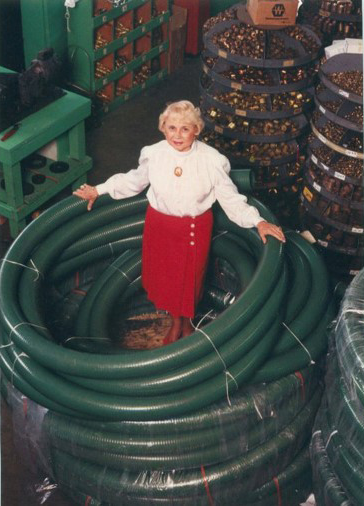 Lorena Jacoby took over the reins of Amazon Hose & Rubber when her husband, company founder Harry Jacoby, died in 1973.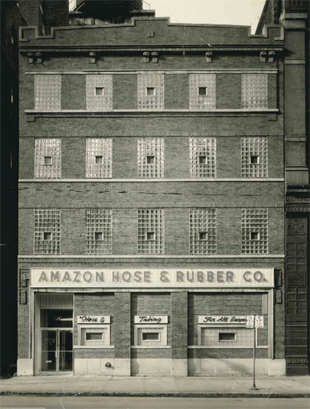 This pho
tograph shows the original location of
Amazon Hose & Rubber in Chicago
Amazon Hose and Rubber Company is one of two women-led, Orlando-based companies to celebrate a centennial of business.
Amazon Hose was founded July 1, 1919 in Chicago by Harry E. Jacoby. The company started small with a 5,000 square foot warehouse, formerly a bowling alley. Today, the company has four Florida locations and more than 126,000 square feet of production space.
Rubber hoses made in the early 1900s were comprised of natural rubber latex tapped from Amazonian rubber trees, which can grow to more than 100 feet in the wild. The original source for quality gum rubber was the Amazon River Basin of South America from which the company's founder, Harry Jacoby, adopted the name Amazon Hose & Rubber Company.
After Jacoby's passing in 1973, his wife, Lorena Jacoby, was the first woman to lead Amazon Hose & Rubber Company. She pioneered female leadership in a male-dominated industry. Harry moved the headquarters from Chicago to Miami in 1948 and expanded the company's footprint to Tampa in 1953. Lorena later expanded to the Orlando market in 1981 with her daughter, Gale Petronis.
Summer Rodman, daughter of Gale Petronis, became the third generation of leadership to join the company. Rodman became CEO in 2006 and remains in that role today. Rodman's business acumen has led to consistent growth of the company, resulting in top-line sales doubling over the last eight years. This included a new 50,000 square foot corporate headquarters in 2014 and an additional Hose Service Center in South Orlando in 2017.
"Amazon Hose & Rubber Company has been family-owned for 100 years and woman-owned for 46 of those years," Rodman said. "I'm so proud of my family and the strength demonstrated by my grandmother and mother who've helped me succeed as CEO. My family extends beyond blood; our employees are family and have helped us achieve this important milestone."
Rodman attributes Amazon Hose & Rubber Company's success to long-lasting relationships with clients and key suppliers. It is these relationships that reflect on a proud history, and more importantly a bright future for Amazon Hose & Rubber Company.