Posted March 10, 2021
Final Pandemic Revenue Index shows 9.1 percent gain
Indian River Consulting Group's (IRCG) weekly Pandemic Revenue Index for the work week of March 1-5 indicated a 9.1 percent increase compared with the same week a year ago.
---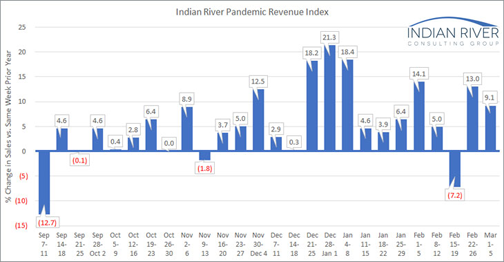 Seven companies reported increases and six reported declines.
This week's index will be the final one published. IRCG started the Pandemic Revenue Index (PRI) in March of 2020 and they've published it for 50 straight weeks. The goal was to provide a contemporaneous view on prevailing business conditions as the coronavirus began disrupting business. The index was made up of wholesale distribution companies in different industry verticals across the United States. Participants include companies with local and national footprints.
"Publishing the index has been a testimony to the wholesale distribution industry's incredible resiliency. The index bottomed out the week of April 6 with an average sales decline of just over 30 percent. During the spring of 2020, the index saw nine straight weeks of double-digit declines. Since that nine-week period, the index has seen a grand total of two weeks where average declines were double-digits, the most recent being the week of September 7 (which was influenced by Labor Day)," said Mike Emerson, IRCG partner.