Posted March 25, 2021
IWDC updates staff
IWDC announced the promotion of Vic Wilson to director of Marketing & Gas Program, and the upcoming retirement of Rich Mansmann.
---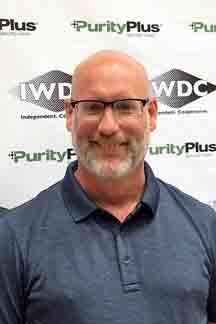 Vic Wilson
Wilson will report to Frank Kasnick, president and CEO, and will be responsible for overall IWDC marketing initiatives and will also lead IWDC's gas program.
Wilson is a 29-year industry veteran who worked for Liquid Carbonic / Praxair early in his career and then later was a part owner of a member of the co-op. During his time as a member he participated on IWDC's marketing committee, was involved in the PurityPlus program and was an early adopter of the Weldmark Shielding Gas Program.
"Vic's knowledge of the industry will be an asset as he leads our overall marketing and our gas program," said Kasnick.
Wilson will begin to transition his prior regional sales manager responsibilities immediately and will work with Rich Mansmann to start the gas program leadership transition later in April. Mansmann will retire effective July 1.
| | |
| --- | --- |
| | |
| Rich Mansmann | Lance Flanagan |
"Rich joined IWDC as vice president of Gas Programs in March 2012 and has made a significant impact on our overall gas program and related PurityPlus Specialty Gas program," said Kasnick. "Since taking the helm, members' spend through the program has grown by over 60 percent. Rich fostered great support from key member led committees that resulted in the renewal of our long-term strategic partnership with Air Products, an expanded cylinder, tank and related equipment component offering and several unique value-added specialty gas and related equipment vendor partner additions."
Effective Monday, March 22, Lance Flanagan joined IWDC as regional sales manager, reporting to Keith Werkley, director of sales & vendor management. Flanagan will assume Vic Wilson's prior regional sales manager responsibilities. In this role, he will be responsible for promoting IWDC's value proposition to the membership as well as driving profitable growth of IWDC's vendor partner brands and Weldmark brand.
"Lance comes to IWDC having held various sales and sales leadership roles at a variety of leading suppliers to our industry such as Inweld, Techniweld USA, OKI Bering, Flame Technologies, Tregaskiss and Thermal Dynamics. In many of these roles he has had responsibility for a significant portion of Western United States calling on both independents and majors – we look forward to Lance's impact," said Werkley.