Posted April 12, 2022
ISA kicks off ISA22
While smaller in number than at previous conventions, there was an air of excitement among the 650 or so attendees on day one of ISA22, the annual convention of the Industrial Supply Association.
---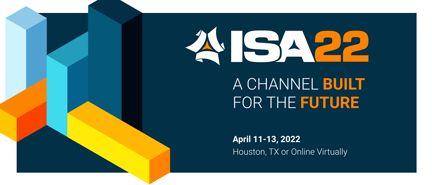 Meeting at the Marriot Marquis Houston, it's the first time that the association has held an in-person convention since 2019, just two blocks from where the group met last time.
ISA22 offers an in-person and virtual options. Some attendees viewed the session remotely and will be able to participate in multiple education sessions post-convention, on topics ranging from the voice of the customer, the workforce of the future, sales and marketing, and more.
The first day of the event included introductory remarks from ISA chair Maria Ford of Stanley Black & Decker and vice chair David Ruggles of Martin Industrial Supply.
ISA president Brendan Breen also welcomed association members for his first convention after being appointed president to replace Ed Gerber last fall.
"I have always wanted to lead an association, and specifically, I have wanted to lead this association," Breen said. He said the three primary reasons that he is excited to head the association of distributors, manufacturers and independent manufacturer representatives was because of its unique and strong value proposition, the great people in the group, and because it provides a tremendous opportunity. "This has been a huge goal of mine," he said.
Day one of ISA22 included the announcement of this year's winner of the John J. Buckley Lifetime Achievement Award. The winner is Karl Weiler of Weiler Abrasives, who thanked the association in a video message.
MSC Industrial Supply Co. was awarded the ISA 2021 Innovation Impact Award People's Choice at ISA22 on the final day of ISA22.
COMMENTS: 0
---