Posted May 30, 2023
DSG breaks ground in Wisconsin
Dakota Supply Group (DSG) celebrated the groundbreaking ceremony for a new facility in Eau Claire, Wisconsin, on May 16, which will be the company's fifth location in the state.
---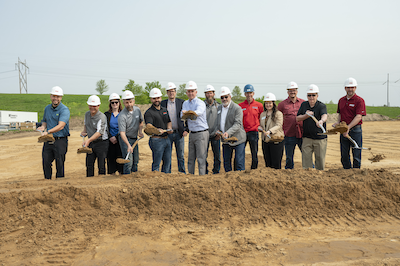 The facility is scheduled to open in the fall of 2023. Situated at 3413 Truax Court, the new 30,000-square-foot facility will have convenient access from two major highways.
DSG has been serving customers in Eau Claire for several years, and establishing the new facility marks a significant step toward providing an even better customer experience in this vital market. The expanded range of services will cater to electrical, plumbing, on-site sewer, water, and well needs, as well as HVAC and telecommunications requirements in the area's growing industries.
"We are thrilled to expand our presence in the Eau Claire area with the introduction of this new facility. By enhancing our accessibility for Eau Claire customers, we aim to elevate our commitment to exceptional service further," said Paul Kennedy, president and CEO of DSG. "The Eau Claire area is experiencing remarkable growth, and we are delighted to support this development while upholding DSG's dedication to excellence."