Posted June 8, 2023
'We Supply America' hits the road to tell distributor stories
The We Supply America RV has hit the road again for Season 3. With the help of sponsors Infor and Wipfli, executive producer and host Dirk Beveridge is on a mission to celebrate the independent, family- and employee-owned businesses that are the backbone of the country, bettering communities small and large with meaningful jobs and economic stability.
---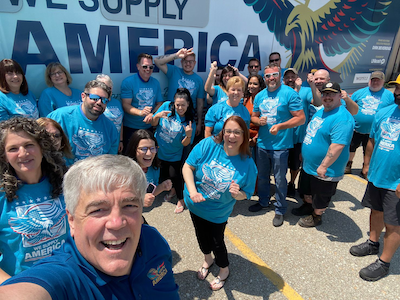 This summer's mission, like in the previous seasons, is to champion the noble calling of distribution and share the stories of those distributors who demonstrate what it means to be a "Force for Good."
In the first two seasons, Beveridge, the series' executive producer and host, traveled over 31,000 miles getting to know 59 distributors, their frontline employees and the history of their businesses along the way. Over those several months, distributors thoughtfully shared their visions for tomorrow.
Last year's tour highlighted:
Inspiring stories of distribution leaders and their people.
Meaningful examples of transformative distribution leaders committed to the noble calling of distribution.
The changing needs of employees and how distribution companies can be the platform for the personal and professional growth of their people.
"When we visited distributors across America to champion the noble calling of distribution, we also found distributors are a force for good, making a real impact on their society, partners, investors, customers and employees," said Beveridge. "We Supply America has allowed me to narrow in on the employee aspect of this. Hearing heartfelt stories in the middle of warehouses has led me to believe that these businesses have a superpower – their family culture – and they are doubling down on that by reimagining what it means to be a purpose-driven employer.
"We're excited and honored to highlight companies in this year's docuseries that emulate what it means to be a Force for Good. By placing a focus on growing their people, they are growing their business, and ultimately their impact on the world."