Posted July 30, 2020
Pandemic Revenue Index remains in negative territory
Except for a brief positive turn around the July 4 holiday weekend, the Weekly distributor Pandemic Revenue Index has remained in negative territory.
---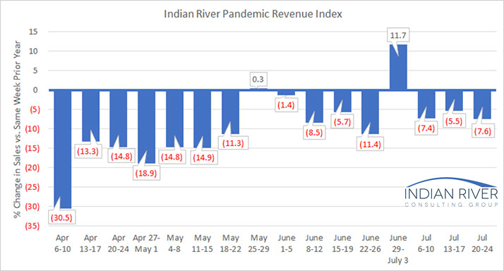 Indian River Consulting Group's weekly Pandemic Revenue Index for the work week of July 20-24 decreased 7.6 percent compared with the same week a year ago.
IRCG's distributor Pandemic Revenue Index gives distributors a weekly quantified view into how other distributors in the industry are faring as the global COVID-19 pandemic progresses.
"The index has presented an unnerving sense of stability during the month of July, and this is probably what we can expect until COVID-19 is behind us. However, we're closer to going back into lockdown than we were last week, and federal stimulus is still a big question mark. Hopefully, we're not about to drop off our current plateau," said Mike Emerson, IRCG Partner.
Find free resources for distributors on responding to the pandemic, including a cash flow modeling spreadsheet and instructional webinar, and a cost-reduction planning webinar, at IRCG's website: ircg.com/stress-testing.