Posted August 21, 2023
INDEVCO Packaging Solutions brings products solutions to Pack Expo 2023
INDEVCO Packaging Solutions, a global provider of innovative packaging solutions, will unveil its latest advancements in sustainable packaging materials at Pack Expo 2023 (Booth #N9254) at the Las Vegas Convention Center, September 11-13.
---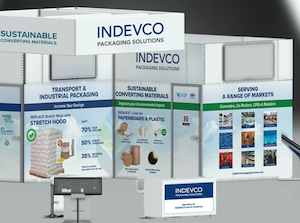 Products to be featured include lightweight, downgauged paperboard and plastic options made from renewable or recycled raw materials.
Pack Expo brings together solutions for packaging and processing, highlighting the increasing requirement to deliver solutions that optimize material usage, minimize waste, and reduce environmental footprint. By using interactive touchscreens, visitors at the booth can compare the product's Life Cycle Analyses (LCA). The variables include fossil fuel use, greenhouse warming potential, and water consumption by comparing competing materials, recycled content options, and coatings.
"At INDEVCO Packaging Solutions, we are dedicated to redefining heavy-duty transport packaging with environmentally friendly solutions," said Demetri Papachristopoulos, vice president of plastic sales & marketing. "Our Stretch Hood Film and Slip Sheets offer superior product protection, as well as cost savings and sustainability benefits. We invite attendees at Pack Expo 2023 to witness these game-changing solutions firsthand."
The five-sided protection of Stretch Hood Film provides a cost-efficient and eco-friendly solution to replace traditional stretch wrap, ensuring secure transportation of goods with reduced material consumption. When paired with the paperboard Slip Sheets, they act as a lightweight alternative to heavy and bulky wooden pallets, that provides ease of handling with improved efficiency while reducing overall weight and transportation costs.
"As part of our ongoing commitment to sustainability, we are proud to introduce our heavy-duty transport packaging solutions at Pack Expo 2023," stated by Tony Yaacoub, director of customer success. "By replacing traditional materials and methods with more eco-friendly alternatives like Stretch Hood Film and paperboard Slip Sheets, we can significantly reduce waste, carbon emissions, and costs throughout the entire supply chain. These advancements align with our vision of creating a circular economy within the packaging industry."
Manufacturing plants within INDEVCO Packaging Solutions division include:
• INDEVCO North America plastics extrusion plants in Longview, Texas and Orangeburg, South Carolina, previously known as INDEVCO Plastics
• INDEVCO North America coating and laminating operation in Doswell, Virginia, formerly known as Specialty Coating & Laminating
INDEVCO North America, through its parent company INDEVCO Group, is a member of the Alliance to End Plastic Waste (AEPW). In addition, it is a member of the Sustainable Packaging Coalition (SPC), and its plants have committed to Operation Clean Sweep (OCS).