Posted August 27, 2020
Pandemic Revenue Index stays positive for two weeks in a row
The weekly Pandemic Revenue Index has remained in positive territory for two weeks in a row.
---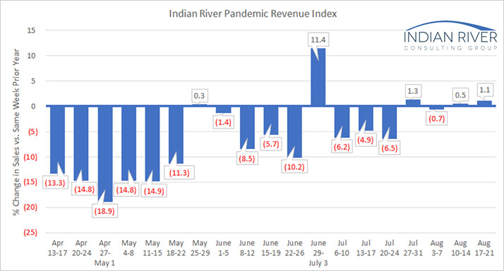 Indian River Consulting Group's weekly Pandemic Revenue Index for the work week of Aug. 17-21 indicated a 1.1 percent increase compared with the same week a year ago.
For the first time in five weeks, sales gains and losses were not evenly split among participants. Only five of the index participants saw a sales gain vs. the same week in 2019. The sales gains ranged from 1.0 percent to 28.9 percent with the decreases ranging from 4.0 percent to 16.4 percent. The most significant decrease, coming in under 20 percent, has only occurred one other time in the last 23 weeks.
"Sales have continued to display strength in August beyond the normal month-ending uptick we observed to close out July," said Mike Emerson, IRCG partner.