Posted September 20, 2021
Sferes wins ISA Women's Influence Award
The Industrial Supply Association (ISA) named Julie Sferes, business operations director for New England at Horizon Solutions, the winner of the 2021 ISA Women's Influence Award.
---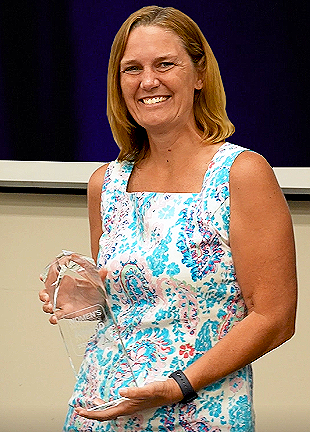 The Women's Influence Award honors an individual from an ISA member company for their commitment to advancing the development and influence of women in the industrial supply channel. This is a new award from the ISA, honoring individuals who make significant contributions to improving women's careers.
Sferes is a founding member and leader of the Women in Industry Group at Horizon Solutions. She also participates in the ISA Women in Industry Network, which is focused on fostering a sustainable network of engaged professional women leveraging expertise and relationships, focused on developing women leaders. Additionally, Sferes is a member of Women United of Greater Portland (ME), where she empowers women and fosters the development of their children."
"It is such a huge honor for me to accept this award. It's so important to me that we support all women within our industry. ISA having this award really shows the association's commitment to encouraging diversity within the workplace, and recognizing the strengths that women bring to our companies and to our industry," Sferes said.
Sferes has long been a proponent of expanding the role of women in the industrial supply channel.
"Early in my career I went to an industry meeting and looked around and counted less than 10 women in a group with hundreds of men. It was really at the point that I realized this is really a male dominated industry. That has changed over the years but it's been really important to me to continue to help develop women," Sferes said. "It's important that we support each other rather than compete with each other."
"Julie is an inspiration to other women in the industry and her community," said Donna Benner, vice president of ISA. "Her actions do demonstrate what our Woman's Influence award is about." Benner accompanied ISA president and CEO Ed Gerber to Horizon Solutions headquarters in Rochester, New York for a surprise presentation of the award.
"Julie is a hard worker and fast learner and has proven to be a great leader of people. Julie's strength of communicating with everyone and working closely with all people in the company continues to be a strong suit," said John Kerkhove, president & CEO at Horizon Solutions. "She has taken the time to learn all aspects of our business and is a great listener. More importantly, Julie wants to help everyone succeed, and it shows in how she listens, helps to solve problems, and provides the support needed to those looking to get the job done."
Kathy Biesecker, Horizon's vice president of human resources, said she can't think of any person more deserving of the inaugural ISA Award. "She has been a positive influence on everyone, particularly women, in leading groups, starting groups, being a mentor and just being a model for so many people in moving forward."
"Julie's ability to get answers and solve problems is uncanny. She's a huge proponent of women but she treats all people equally. She supports, she coaches, she mentors. She's just a really good leader in the company," said Jon Eames, vice president of Horizon's Industrial Supply Division.