Posted September 24, 2021
Dentec Safety awarded government contract
Dentec Safety has been awarded a U.S. government contract for its reusable elastomeric respirator without an exhalation valve to protect healthcare and frontline workers.
---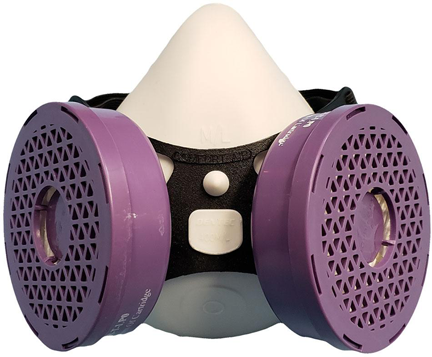 The contract was awarded by the U.S. Department of Health and Human Services, Office of the Assistant Secretary for Preparedness and Response.
In October of 2020, the CDC announced that respirators with an exhalation valve should not be used when working in healthcare applications protecting against a dangerous virus such as COVID-19. CDC updated its guidelines for "Elastomeric Respirators: Strategies During Conventional and Surge Demand Situations."
Dentec developed the patent pending Comfort-AirNxMD respirator and received NIOSH approval in February of 2021. The Comfort-AirNxMD respirator is approved with a N95 filter or a P100 cartridge that are replaceable. Testing concluded that Dentec's design was more comfortable and safer than using a disposable style N95 respirator or surgical mask.
The Comfort-AirNxMD respirator provides an airtight seal and filters the air when you breathe in and out providing superior source control protection. The facepiece is made of a unique elastomeric formulation that provides superior comfort and eliminates face rash and acne associated with wearing disposable respirators and surgical masks.
In March of 2021, the FDA announced its recommendation for the use of reusable elastomeric style respirators without an exhalation valve for healthcare settings..
This new-generation respirator may be used in place of disposable respirators to reduce cost and waste. Dentec says that using the Comfort-AirNxMD series respirator without an exhalation valve will reduce cost and waste by more 70 percent to 90 percent.
The Comfort-AirNxMD respirator is manufactured and assembled in Dentec's manufacturing operations located in Lenexa, Kansas. All raw materials are also manufactured in the United States.