Posted October 25, 2018
Simonds Saw debuts loyalty program
Simonds Saw announced the launch of a new loyalty program for its band saw users in order to further engage and meet the needs of the next generation of band saw users.
---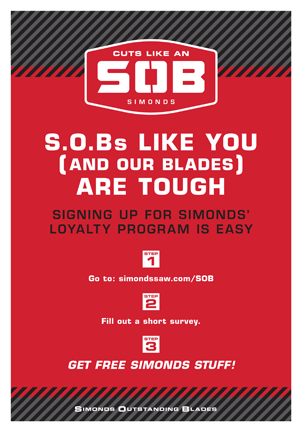 By reaching out to their loyal band saw operators, Simonds will gain greater understanding of the skills required by the next generation of band saw users. This will allow Simonds to meet the requirements of their operators by creating high-quality educational tools and developing innovative products that speak specifically to their users' needs.
Twice a year, Simonds will reach out to the members of the S.O.B. (Simonds
Outstanding Blade) loyalty program to uncover the skills our band saw users wish to acquire, as well as understand the ways they learn best and what innovative products would best serve their needs. Members will be incentivized to join with the promise of a quarterly free Simonds gift.
"We are excited to launch this new loyalty program in an effort to find new ways to continue to connect with our customers," said David Miles, Simonds Saw president. "With consistent customer touchpoints, this program will help us access the next generation of band saw operators, and identify ways we can continue innovating in the metal-cutting industry while putting our customers first."
Information collected via end-user surveys will further allow Simonds to hone in on future product development efforts and expand product lines.