Posted November 3, 2021
Snow wins Resistance Welding Award
Tom Snow, chairman of T. J. Snow Company, Chattanooga, Tennessee, was recognized with the Elihu Thomson Resistance Welding Award at the recent Fabtech metalworking trade show in Chicago.
---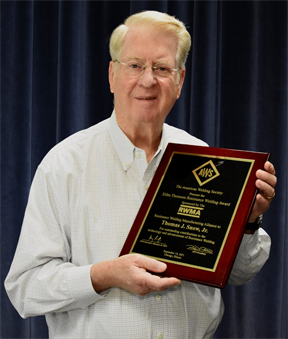 The award was presented by the Resistance Welding Manufacturing Alliance (RWMA), a standing committee of the American Welding Society (AWS).
It recognizes individuals who have made outstanding contributions to the technology and application of the resistance welding process, which was invented in the late 1800s by Elihu Thomson, an associate of Thomas Edison.
Since joining the business founded by his father, who was a Thomson award winner in 2003, Snow has been active in sales and marketing roles in the resistance welding industry for over 48 years.
The award recognized the numerous technical articles Snow has contributed over the years to the AWS Welding Journal and several other publications focused on metalworking.
Publication of the articles led to opportunities for T. J. Snow Company to offer seminars on the resistance welding process, which is widely used in manufacturing automobiles, appliances, aircraft and fabricated wire products.
The T. J. Snow Company was featured as the cover story in the Jan./Feb. 2020 edition of Industrial Supply magazine.