The importance of planning
How one distributor learned the hard way why it is important to have a succession plan for a family business
by Rich Vurva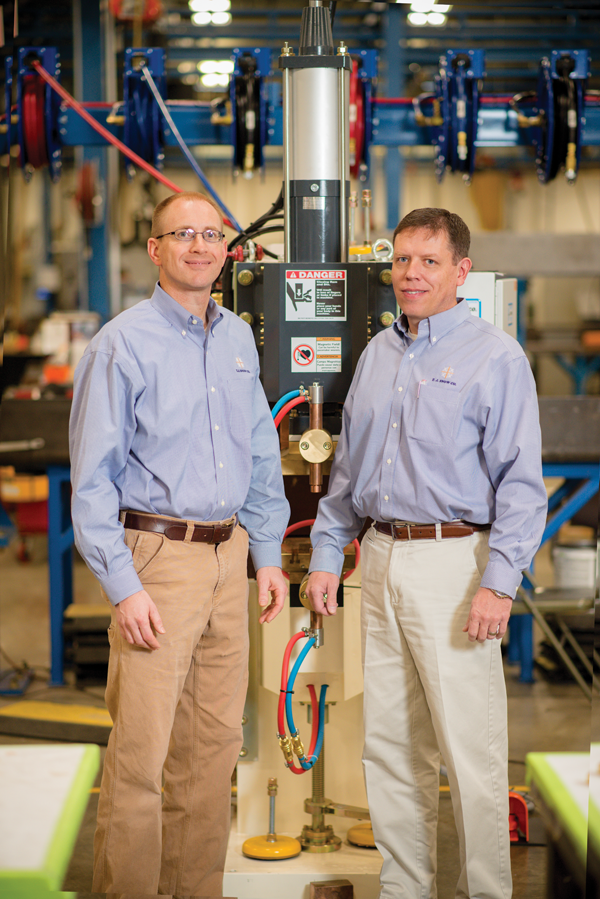 Sam Snow is the third-generation CEO of T. J. Snow Company, with distribution manager Chris Collis (right).
When Tom Snow handed over the reins of the family business to his son Sam, he wanted the transition to go smoother than when Tom succeeded his father. Tom didn't want Sam to live through the nightmare that he endured in a years-long dispute that nearly killed the company. The ordeal was a painful lesson for Tom about the importance of having a succession plan for a privately held family business.
Tom's father, T. J. "Jim" Snow, built the T. J. Snow Company from the ground up, launching it from the family home near Chattanooga, Tennessee, in 1963. The company sold resistance welding machinery and supplies to metal fabricators and had great success and growth thanks to Snow's innate salesmanship and a dedication to providing great customer service, technical expertise and fair prices.
Jim convinced his son to join him in the business in 1973 to focus on sales, with the hope that Tom would eventually run the company. While he taught his son a great deal about sales and the technical aspects of the products the company sold, he didn't train him in how to manage a business.
"As the years went by, I kept wanting to do things to grow the business. But in many ways my father had reached his goals, so he was not that eager to grow the business because he was doing better than he ever thought he would," Tom recalls.
Jim ultimately established a trust naming Tom as the sole beneficiary but also naming three business associates—a lawyer, a CPA, and a financial advisor—as trustees. While Tom's father was still involved in the company, Tom later learned that Jim had developed a form of dementia, so the board brought in a series of presidents to manage the company.
Tom repeatedly butted heads with those company presidents and the board over management issues and strategy. In 2000, the then-president convinced the trustees, having a majority of voting rights, to fire Tom. While he still maintained an ownership stake, Tom was no longer involved in day-to-day decision making. Jim retained the title of CEO but went along with decisions made by the board and officers of the company.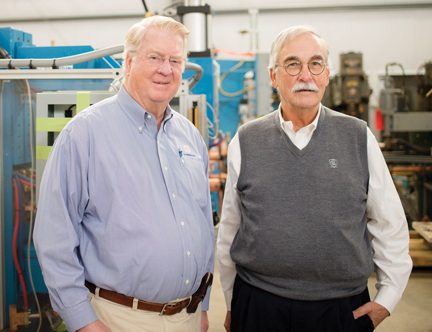 Tom Snow (left) relied on business acquaintances and family friends like David Hetzler to help him save his family business. Hetlzer ultimately served as company president until his retirement at the end of 2019.
Over the next 18 months, enlisting the support of friends, business advisors and an attorney, Tom worked on a strategy to take back the company. "Several of us formed sort of a 'kitchen cabinet' to look at the company, uncover the opportunities and problems. We met for several months trying to learn how to support Tom in his effort to regain control," explains David Hetzler, a local businessman and longtime family acquaintance.
As the fall of 2003 approached, Tom regained control of the company and accepted the resignations of the board members and trustees.
"By then, I had hired a lawyer and spent around $40,000 on legal fees," Tom says.
Having regained control of T. J. Snow, Tom asked Hetzler to stay on board as interim president and help him right the ship. It's a position that Hetzler held until his retirement at the end of 2019.
Tom's son, Sam, was willing to come back home to help run the business but was enjoying working for Kimberly-Clark Corporation in Wisconsin. Tom also encouraged Sam to gain valuable work experience before deciding if he wanted to become active in the family business, assuming the business survived.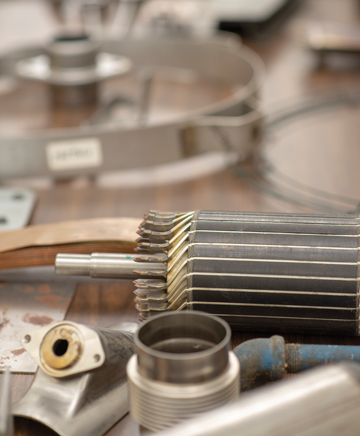 Righting the ship
Once back on the inside, Hetzler and Snow began to uncover just how badly the business had begun to unravel in Tom's absence. The once-profitable company, which had grown to about $7 million in annual sales, was losing money. Soon after taking over as interim president, Hetzler provided a $50,000 loan to the company to meet payroll and other daily expenses. From that low point in the company's history, the management team began to slowly rebuild the business, including establishing a relationship with a local bank and examining virtually every process to search for opportunities to improve profitability and grow sales.
The business was evenly divided between manufacturing custom-designed resistance welding machines and distributing welding-related consumable supplies, such as tips, inserts, weld checkers, welding cylinders and other accessories.
The previous management group had selected a software system designed for running a manufacturing company but it didn't support the functionality required to run a distribution business. For example, the software made it difficult to manage margins.
"The manufacturing software was based on standard costing, as if you're making the same thing over and over again," explains Hetzler. "Standard cost in a distribution business doesn't make any sense at all because if you buy in a larger quantity, you pay a lower price per item. If you buy in a lower quantity, you pay a higher price. Using standard cost, you'd have to analyze the variation between the two, and it made it invisible what the real cost and margins were."
Salespeople sold to their customers by marking up the standard cost, which resulted in wide variations in pricing and margins.
Hetzler recognized that it would be better to sell at a discount off of list price, rather than selling to customers by marking up the standard cost. Over time, he instilled a more disciplined approach for the sales team to follow that resulted in an increase in profitability. Margins improved by several percentage points. By 2004, T. J. Snow had again become profitable.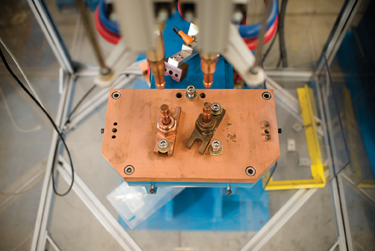 The move to Prophet 21
When Sam joined the company full-time in 2007, one of the first projects he tackled was to select a new enterprise resource planning (ERP) system.
Sam explains that another problem with the manufacturing software was its inability to handle the quoting process for the distribution business. "We had someone in-house build a Microsoft Access quoting system where we managed quotes. Orders would then get transferred into the software in batches," he says.
That created problems with managing inventory, however. Available inventory would be imported into the Access system each morning but as the day progressed, as orders came in and inventory was pulled for shipping, the data would become inaccurate.
"We actually had conversations about moving our customer service people closer to the stock on the floor because you couldn't trust the numbers. If someone asked if we had something in stock, you'd need to run out to the warehouse to make sure it was there," Sam says.
The company replaced its outdated software system with a new ERP system from Prophet 21 in 2008. "It provided a distribution package with enough manufacturing capability to take care of what we needed. They also have the service and maintenance capabilities that matched up with our needs," Sam says.
The timing of the switch to Prophet 21 proved prescient when the Great Recession hit in 2009. "The switch to P21 was critical because when the Great Recession started, we had a lot better visibility as to what our costs were and where we could make adjustments," says Tom.
Soon after implementing P21, Sam became active in the Prophet 21 Worldwide User Group, and has served as the president of the group since 2010. "The user group has been a great resource for us. It represents about 1,000 companies running Prophet 21 who share information and encourage each other to use the software successfully."
A smoother transition
Since the training that Tom received in the business from his father was limited, he wanted to make sure Sam was trained in all aspects of the business before taking over the company. "Part of my job has been making sure that Sam was involved in all the decisions and learning why we do things the way we do," says Hetzler.
When Sam agreed to come back to Tennessee, Hetzler knew he could benefit from having an MBA. "But I told him, 'You know, it'd be great if you could get an MBA, but you've got young kids, and I need you to be working. So, let me give you a condensed MBA just from us working together,'" he says.
Annual sales have grown to nearly $30 million, with the distribution side of the business representing about 60 percent of sales. The company has benefited from the growth of the auto industry in the area – the Volkswagen Chattanooga Assembly Plant began operations in 2011 – bringing with it multiple Tier 1 and Tier 2 automotive suppliers.
T. J. Snow is unique in that the company can sell new or reconditioned equipment and maintains a full-time service department staff offering on-call and quick-response welder service. Two service technicians are licensed pilots who can fly the company's two single-engine planes to customer locations anywhere in the country for installations, repairs and training.
"Some of our competitors only build machines. Other competitors only do distribution of the components. We're one of the few that is strong in both areas, and we feel like that brings a lot to the table," says Sam, who is now CEO while Tom retains the title of chairman.
As Tom transitions ownership of T. J. Snow to his son, the company is in a much better position today than when Tom took over from his father. Sam has a better chance to succeed because his father recognizes the importance of succession planning.
This article originally appeared in the Jan./Feb. 2020 issue of Industrial Supply magazine. Copyright 2020, Direct Business Media.
COMMENTS: 0
---