Posted November 5, 2018
Radiac launches superabrasives stocking program
Radiac Abrasives announced a new superabrasive stocking program including a Tool Room Superabrasive Assortment and VNX2 wheels, which are in stock and available to ship within 48 hours.
---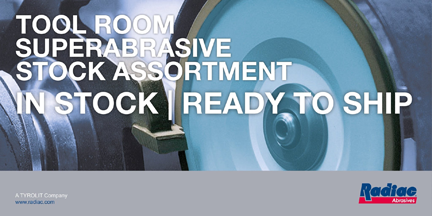 The Tool Room stocking assortment includes a wide array of resin-bonded wheels in the following shapes 1A1, 1A1R, 4A2, 6A2C, 12A2, and 11V9. 1A1 and 11V9 are available in both diamond and CBN. Radiac has delivered technology and quality in this assortment for years. In addition, Radiac has developed a stocking program for its most popular VNX2 wheels. With the VNX2 product line, Radiac provides solutions for grinding a variety of work piece materials, which outperforms conventional wheels in stock removal rate, lifetime and versatility.
"By offering an assortment of high-quality, ready to ship products, Radiac's superabrasive stocking program signifies Radiac's return to our roots of high service levels and on time delivery," said Bart Carter, vice president of sales and marketing.