Posted November 5, 2020
Weekly Pandemic Revenue Index shows small decline
Indian River Consulting Group's (IRCG) weekly Pandemic Revenue Index for the work week of Oct.26-30 indicated a 0.4 percent decrease compared with the same week a year ago.
---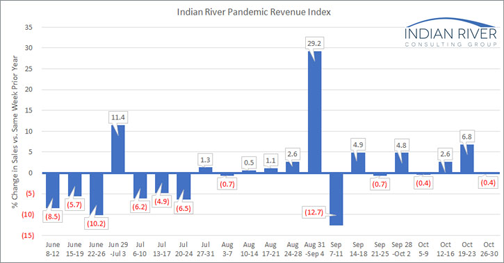 Of the 13 firms, seven respondents reported increases ranging from 1 percent to 27 percent. The range of decreases ranged from 1 percent to 25 percent for the remaining six respondents.
IRCG's distributor Pandemic Revenue Index gives distributors a weekly quantified view into how other distributors in the industry are faring as the global COVID-19 pandemic progresses.
"It's interesting to note how the PRI has tracked with federal GDP data. GDP decreased 9 percent in the second quarter compared with the same quarter in 2019 per the Bureau of Economic Analysis (BEA) while the PRI averaged a decrease of 10.6 percent. In the third quarter, GDP was reported to decrease 2.9 percent while the PRI averaged an increase in 0.1 percent," said Mike Emerson, IRCG partner.