Posted December 20, 2022
Award-winning Oil Eater removes stains overnight
Oil Eater overnight stain remover from Kafto International, Ltd., is a concrete cleaner that uses oil-eating microbes to clean deep beneath the surface and restore surfaces to a like-new appearance. This product was voted a winner of the 2022 AAPEX New Product Showcase.
---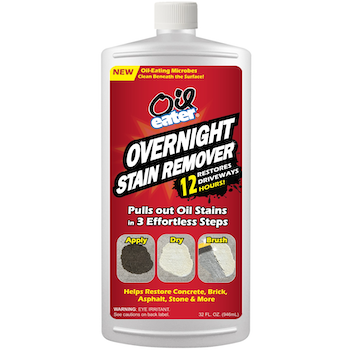 With 30+ years' experience marketing cleaning products to heavy duty users, Kafko has unique insight into the toughest industrial problems – by listening to customers, they discovered a gap in the market for products that can effectively treat oil and grease stains on porous surfaces like concrete, asphalt and brick. Traditional cleaners struggle with these types of surfaces, which is why so many driveways and garages are covered with unsightly oil stains from eaky vehicles.
Designed to protect the environment, Oil Eater pulls out oil stains in three steps: apply, dry, and sweep away. The product restores concrete, brick, asphalt and other surfaces in 12 hours.