Twenty and counting
Lewis-Goetz continues building its North American distribution footprint
by Rich Vurva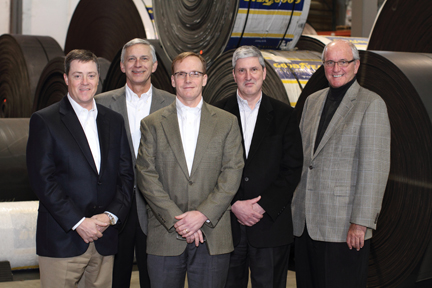 Left to right: Company president Jeff Crane, senior vice president Scott Johnson, vice president Scott Holquist, chief operating officer George "Randy" Fox and chairman David Goetz are overseeing the growth of this North American hose, belting and sealing distribution giant.
With the recent purchase of EVCO House of Hose in Salt Lake City, Pittsburgh-based Lewis-Goetz and Company extended its reach into a new geographic territory. While it was the first acquisition in the Mountain region for the hose, belting and sealing distributor, the company is no stranger to the mergers and acquisition landscape. Along with the January buyout of Industrial Rubber & Supply in Decatur, Ala., Lewis-Goetz has purchased 20 independent distributors in the U.S. and Canada since 1985. With nearly 80 locations in 27 states and most Canadian provinces, the company is well on its way to building a North American footprint.
Different from its earliest acquisitions, which tended to be small one- or two-branch operations in contiguous markets, a driving force behind the current strategy is a desire to expand its geographic reach to meet the demands of a growing national accounts program. Often, the company heads into regions – and industries, such as oil and gas, petrochemical and refining – where national accounts customers want help with their supplier consolidation efforts.
"We think there are opportunities to expand our geographic footprint and diversify our end markets while remaining very true to the three or four product groupings that we know very well and where we know we add value," says president and CEO Jeff Crane.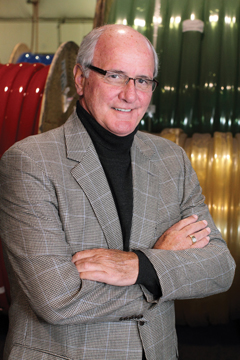 On the acquisition trail
In the early 1980s, soon after Andy Lewis and Dave Goetz became principal owners of what was then known as the Gooding Rubber Company, the pair made their first acquisition with the purchase of the Richmond Rubber Company in Richmond, Va. At the time, the company had two locations – Pittsburgh and Beckley, W.Va. – which served the steel and coal industries. The duo was losing money, thanks to an economic recession, and the two new owners recognized the need to diversify.
"We said we don't want to get caught like this again where we are solely dependent on two highly cyclical industries. That's when we started on the acquisition trail," recalls Goetz, who today serves as company chairman. "Along the way there were other things that dictated our strategy. We stayed in contiguous markets, whereas now we're looking for potential acquisitions in other parts of the country. So the strategy has evolved from just trying to diversify our markets, to seeing this opportunity to create a national network."
The years rolled by and Lewis and Goetz continued their growth-by-acquisition strategy. In 2006, shortly after acquiring the Goodall Rubber Company, Lewis-Goetz had a crucial decision to make. Up until the Goodall acquisition, commercial bank loans were readily available using receivables and inventory as collateral. In order to make future acquisitions, the company required greater borrowing power.
"We looked at our options. We weren't attractive enough to go public," Goetz recalls. "So the only real opportunity we had if we wanted to continue to retain the kind of talent that we have on staff, and have them excited about the future and know they could continue with this once-in-a-lifetime opportunity, was private equity."
In 2007, after courting multiple private equity companies, Lewis-Goetz partnered with Audax Group, a Boston-based private equity firm that manages more than $4.5 billion of capital and invests in small cap and lower-middle market companies.
"Audax didn't buy our company so much as they invested in our growth strategy and our plans to consolidate this industry. They're simply providing us with the capital we needed, which was our bottleneck," Goetz says.
Demonstrating its confidence in the Lewis-Goetz business model, Audax continued to provide equity support even during the recession, funding two acquisitions in 2009. One reason the relationship has worked so well is because both parties understood and agreed upon the post-acquisition business strategy even before final papers were signed. That approach is key to any successful acquisition strategy.
"There are private equity firms that are buying companies that are distressed and their strategy is to strip it down and sell it to somebody that can make some sense of it. In our case it couldn't be more different," says Crane.
He says Audax participates in monthly board meetings to review key initiatives, discuss financial performance and any progress on potential or current acquisitions, but leaves the day-to-day management decisions to the Lewis-Goetz management team. Similarly, when Lewis-Goetz makes an acquisition of an independent distributor, the team strives to make sure all parties understand their business strategy.
Sometimes, such as the acquisition of EVCO's eight locations in Utah and Idaho, Lewis-Goetz retained the existing management team to manage the business locally. In other cases, if the acquired company has branches that overlap with existing Lewis-Goetz locations, consolidation is likely. Either way, Goetz says it's important to quickly communicate the company's strategy.
"When we bought Goodall Rubber Company, we were on the plane to their headquarters in New Jersey the next day and then visited all of their locations," says Goetz. "We made no bones about the fact that we were shutting down the headquarters and it would probably take us six months to a year. We gave them stay bonuses and told anyone who was interested in moving to Pittsburgh that we would have a place for them. We didn't let them hang out on a limb wondering what was going to happen."
Often, managers who help bring the acquired companies into the fold came to Lewis-Goetz through similar acquisitions, so they understand the uncertainty that employees feel.
"We've bought 20 companies, so we're getting used to it and getting better at it," says George "Randy" Fox, chief operating officer. "Typically with a company you're buying, this is the first and only time they're going through something like this. They're wondering how their lives will change."
Crane adds that it is equally important to communicate the company's business strategy to suppliers. When a company that represents a competing product brand is acquired, suppliers understandably fear being displaced.
"Our approach is not to be heavy-handed with vendors," says Crane. "We're going to continue to represent them in the markets where they've committed their brand and represent them the way they want to be represented. The minute we fail to do that, they're going to cut us out. That doesn't do anyone any good."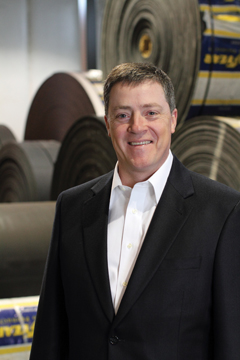 Lessons learned
With a 25-year history of making acquisitions, the company has learned many lessons along the way – some by trial and error – that have benefitted its acquisition approach. For example, while some acquirers reach outside of their product niche to buy into new categories, Lewis-Goetz has opted to maintain a focus on industrial rubber product distribution. The company has walked away from potential deals after discovering that the target company was primarily focused on power transmission products – where Lewis-Goetz has limited knowledge or expertise – or when a target's sales were too highly concentrated among a very small customer base.
The acquisition of G&H Pumps and Compressors in Shreveport, La., introduced Lewis-Goetz to a new product category, but it served complementary markets that also had a need for hose products.
Another lesson learned is to strive to get the employees from acquired companies up to speed on the Lewis-Goetz corporate culture as quickly as possible. Crane says the best acquisitions are those in which benefits flow in both directions. Lewis-Goetz is eager to share best practices and adopt whatever idea works best for the merged organizations. Following the acquisition of Samson Industrial in 2007, the companies reviewed the distribution software programs each company used and ultimately decided to switch to the software vendor Samson used rather than remaining with Lewis-Goetz' preferred vendor.
"We have a lot of exploration into best practices. It's trying to evolve the company and accepting whatever idea is the best," says Crane.
Future growth targets
About 40 percent of the company's annual sales of more than $300 million come from national accounts business. The company has had success in setting up contracts with customers that have developed national buying strategies in other product categories but were unable to build similar relationships for hose, belting and sealing products, which typically require customization and fabrication.
"We can provide these fabricated hose and sealing products and provide the same product and same level of quality and service in the same price range across a geographic footprint," says Scott Johnson, executive vice president and director of North American Strategic Accounts.
Crane anticipates that the national accounts business will outpace organic growth by two to three times. To do so, the company will need to make additional strategic add-on acquisitions.
"We have a need to fill some geographic holes. We've got national accounts with companies that are saying we need you on the West Coast, or we need you in the Southwest. There are areas where we have locations but we're underrepresented from a market share standpoint, so we're looking at acquisitions in those markets as well to combine our operations with some other operations to create some synergies," Crane says.
As the company continues to grow its national accounts program and build a larger geographic footprint, Crane says having similar product and service expertise across all of its locations provides Lewis-Goetz with a compelling sales proposition.
This article originally appeared in the March/April 2011 issue of Industrial Supply magazine. Copyright 2011, Direct Business Media.
COMMENTS: 5
COMPANY ARTICLE
Posted from: LARRY SMITH, 8/10/11 at 9:40 AM CDT
It takes a GREAT team of managers to run a successful business like Lewis-Goetz has.
I am blessed to work for/with those people!
Well done.
LG Article
Posted from: Patty, 3/28/11 at 10:21 AM CDT
It's inspiring to see the company in a positive growth mode. Congratulations on the article and the great success the company is experiencing in these challenging times.
Growth Tactics
Posted from: Jim Savage, 3/28/11 at 8:38 AM CDT
Great job Lewis-Goetz, especially on the tactical side of a growth strategy. Pulling cultures, work habits and collaboration together is a task many companies don't know how to handle.
Congratulations
Posted from: Dave Jr., 3/26/11 at 12:47 PM CDT
Great article all... keep up the good/hard work :)

Dave Jr.
Lewis-Goetz
Posted from: Ben Blades, 3/22/11 at 12:52 PM CDT
Interesting article
---