The digital divide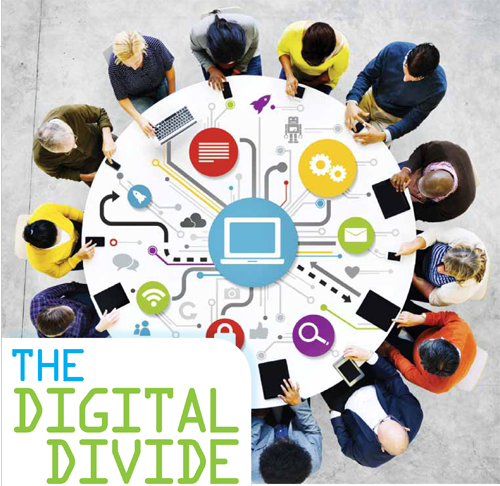 E-commerce strategies for customer engagement separate the best from the rest
by Dale Traxler
Industrial distributors are used to competition. Many of the products you sell are available from other distributors. Your customers generally shop around and buy commodity products at the lowest price possible.
By leveraging superior customer service and product knowledge, and negotiating contract pricing, many distributors have been able to keep doing business as usual over the last 10 years, while business-to-consumer resellers have been scrambling to compete against online retailers. But, the way your customers purchase products is rapidly changing. Here are some of the market factors behind the change in buying behavior.
More buyers of all ages shop online. Virtually everyone shops online for consumer products today. They are used to rich content, great user experiences and shopping around for the best price. They want the same thing in their business purchases.
The buying process is changing. More product research is done online prior to contacting a potential vendor or supplier than ever before. Buyers look for product details, reviews, ratings, FAQs. They expect detailed specifications, multiple images, videos and direct product comparisons. For consumer products, most research starts on amazon.com. For business products, most research starts with a Google search.
Buyers and influencers are going mobile. Buyers read emails, do product research and make purchases on tablets and smartphones. Many companies today design online experiences for mobile devices first.
AmazonSupply.com. More than 2,250,000 products in 15 major categories are in a site still classified as "beta." Prices are generally heavily discounted from list price, shipping is free for Prime members, lines of credit are available, customers can call in their order or place it online.
Your competitors are investing in e-commerce. B2B e-commerce is growing dramatically. Early adopters with online storefronts are now investing in digital marketing and full-blown e-commerce platforms. Grainger.com is now the role model for industrial distributors and is the driving force behind the increase in revenue and valuation for W.W. Grainger.
Digital marketing. There's email marketing, LinkedIn, Facebook, Instagram, Twitter, Google, blogs, online advertising, pay-per-click ads and more. Buyers increasingly use all types of venues for product research (even industrial products). You need to make sure your brand and products are visible where your customers are doing research and shopping. Simply building an online store is not sufficient.
Customer self-service. Your customers want online self-service as an option for order history, invoices, order status, RMAs, inventory availability and payments. They also want quick access to a customer service rep or sales rep if the issue is complex.
Personalized experiences. Your sales reps probably know their customers well (what they buy from you, their primary business, and so forth). Online experiences need to support personalization to display the products your buyer is most likely to purchase, contract pricing by customer or location, freight options, taxes, etc.
Does this mean you need to invest in e-commerce for your organization? You bet it does. E-commerce will be table stakes in a few years. Distributors that invest in e-commerce and digital marketing see higher revenues and better operating efficiencies, and have a competitive advantage.
Does this mean you need to do it all at once? No. In reality, you could do it all at once if you wanted to and had an unlimited budget. You likely don't have the expertise in house and e-commerce is not a project that you can spend six months on and be done.
I recommend a phased approach to e-commerce. Here are a few recommendations on how to invest in e-commerce in different phases to mitigate risk, spread out your investment and deploy sites that ensure that your online and direct channels drive more revenue in the future and not less.
Focus on Customer Engagement
Do not view e-commerce as an investment in an online store. View it as an investment in digital enablement that will lead to increased customer engagement. An online store is just one way to increase customer engagement. A well-executed digital strategy includes several phases or projects that gradually increase customer engagement through both online and direct channels.
Online Product Catalogs
Many of you have already experimented with digital enablement by launching a website with a full or partial product catalog. If you did not invest properly in customer on-boarding or promoting your website, it may seem like a poor investment. In fact, it can be a great launching pad for digital enablement. You learn about managing a website and creating content. Your customers start to visit your website for product information. Google learns about your brand and the products you sell.
You likely have a webmaster and subject matter experts in marketing who are learning about digital tools and platforms. Companies that offer an online catalog already have a good deal of product content, which makes the transition to full e-commerce easier.
Customer Portal
Another great stepping stone to increase customer engagement is to build a customer portal that allows customers to do more self-service activities. These usually include order history, order status, invoices and accounts payable, online payment, return authorizations. In some cases, they may include other types of reporting (purchases by product, location or buyer) that will assist your customer with budget planning or administration.
A portal can be deployed as a standalone site that is essentially a front end to your ERP. Some e-commerce platforms also include portal capabilities within their solutions.
Online Store
At some point, you will need to offer full online shopping. You should choose a platform that supports advanced B2B features like user administration for multiple buyers and buying locations, procurement workflows such as configure, price, quote, customer pricing, sophisticated promotions, punchout and microsites that can be personalized by customer. You will also need a platform that can integrate tightly with your ERP, tax and freight systems. Low-end B2C platforms will not meet these requirements, so be sure to start your search with B2B e-commerce platforms.
Make sure your platform supports a B2C customer experience. Buyers expect fast, filtered search capabilities, wish lists, quick orders, lots of product details including multiple images, videos and ratings and reviews.
Digital Marketing
E-commerce is not "build it and they will come." You need to also invest in digital marketing to ensure your online store is visible to both existing customers and potential prospects. This means doing a good job of on-boarding your existing customers to your online store and encouraging future use first.
It also means doing a good job with search engine optimization so that Google will crawl and index your site. You will also need to consider pay-per-click or online advertising to promote visibility as your organic search rankings will take some time to build credibility.
Email newsletters and promotions are a great way to drive traffic to your online store. Blog posts and social media posts are also important to ensure you are communicating in venues where your customers and prospects are visiting. Encourage your sales reps to develop a social presence online. They can leverage sites like Twitter and LinkedIn to communicate with customers.
Make sure to leverage your online store to encourage communication with your sales team and customer service reps. Adding online chat will increase customer engagement. It also increases online conversions and your average order value.
I highly encourage you to partner with a digital agency to plan and execute your initial strategy.
Sales Rep Enablement
Build an extension to your online store for your sales reps. Provide them with key customer and product reports for both online and offline sales. Allow them to view abandoned shopping carts so they can follow-up with customers who did not finish a purchase and ask them why.
Provide reps with an easy tool to create orders for customers online. This should be a tool reps will use onsite to assess availability, approve price discounts, respond to a request for quote and so forth. By providing a powerful tool to your sales reps, they will
in turn promote online usage to their customers.
Launch, Learn, Iterate, Improve
Finally, be sure to view your e-commerce investment as an ongoing program. You are never "done." There are always improvements you can make. Take small bites, not big ones!
Dale is an eCommerce veteran with 10 years of hands-on experience as the co-founder and CEO of an online jewelry supply distributor. Currently, he is global director of sales enablement for Insite Software. He is also a contributing editor for PracticalEcommerce.com where he focuses on B2B eCommerce strategies. Connect with him on LinkedIn.
This article originally appeared in the Sept./Oct. 2014 issue of Industrial Supply magazine. Copyright 2014, Direct Business Media.
COMMENTS: 0
---