Streamline warehouse operations
By Jack Rubinger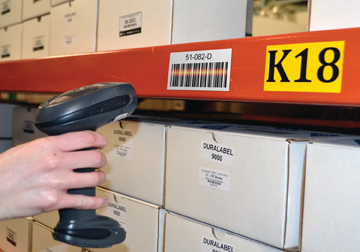 Warehouse and distribution environments are a microcosm of the world. There's good and bad; cooperation and chaos; predictable patterns and surprises
every day.
If you want to improve warehouse and distribution center productivity and performance, and you have limited resources, operations must improve and support innovation – whether you distribute healthcare products, screws, nuts or auto parts.
Smart phone apps are used more and more in these industrial settings for improved communications.
"At the HIDA Streamlining Healthcare Conference, most agreed that they'd like to see development of mobile apps with a tie-in to medical devices and distributor websites. Technology with improved ordering functionality, inventory monitoring and data analytics were also specific areas mentioned as market drivers," said Jeff Girardi, Communications Manager, Health Industry Distributors Association (HIDA).
"The shortage of qualified technicians capable of working on forklifts has led many to hire for attitude and train for skill," added Matthew Hicks, Currie Management Consultants. "These younger technicians require mentoring in the field, but it is very difficult and costly to have senior techs partnered up with younger techs. Both need to be billable and productive. Savvy managers in the field are taking advantage of smart phones that the techs already have and utilizing the iPhone FaceTime feature. Younger techs FaceTime the senior techs and/or trainer and are able to show their mentor what they're trying to fix. The senior tech can then provide more detailed and accurate instructions."
Based on more than 20 years advising companies on process execution, industrial engineer Bob Trainor lists the key technologies small distributors need to implement to increase productivity and efficiency.
Implement labor management system software to assess how much work needs to be performed. The problem is that many small distributors may over or under staff on any given day or hour. As Trainor explained, "Often, small distributors don't know how much labor is needed, so they wing it which is inefficient, costly and poor management."
Begin bar coding each item and each location: put away and pick. Benefit? Doing so will increase picking accuracy. In some cases, warehouse pickers are challenged with reaching up more than 30 feet for boxes of goods. Nine-inch tall retro reflective barcode labels enable pickers to scan these images for product information from a distance. Having larger barcode labels is handy when trying to find product information on overhead shelves. They can also be used as a checklist so a picker has an order loaded into their computer. Then as they pick and scan each item, that item will be checked off the list and inventory will be adjusted in the system accordingly.
Use RF Bar Code Scanners. Benefit? Labeling is an easy way to quickly identify products on shelves for stocking and picking. Electronic barcode scanning incorporates this process with electronic ordering, making the most of time-saving efficiencies that labeling offers. Following seamless stocking and ordering procedures can improve operations and save money.
A paperless pick process. Benefit? Increases picker productivity, saves paper and simplifies the pick process. Often voice picking is added after going paperless. Here the productivity and the pick accuracy increase even more.
The best warehouse environment operations are agile. Managers both anticipate and react to peaks and valleys, seasonal and promotional variations in demand and shifting labor requirements with a constant focus on through-put and putting more through the funnel.
But there's an interdependence and collaboration between departments and responsibilities that's needed to create an effective and efficient operation. The old military, top-down style does not work anymore. At the corporate level, this collaboration must include buyers, sales and accounting. At the warehouse level, picking supervisors, receiving supervisors and warehouse managers must be involved. There's nothing you're going to touch that doesn't have a ripple effect.
"One of the most important factors regarding immediate service and order accuracy is directly related to the merchant's ability to fulfill orders as late in the day as possible, while still ensuring same-day shipping. The merchant must be able to ship the most popular items, as well as the once-a-month items in this fashion," explained Michael Jevince, Knapp Logistics Automation.
In a shifting economy, distribution managers experience pain from both expansion and contraction. Many have the added burden of accommodating a growing SKU base coupled with a diverse product mix that is ever-changing.
Visual Communications in the Distribution Center
Signs and labels are a cost-effective way to communicate key messages throughout distribution centers and warehouses 24/7/365. Using label printing systems provides greater control over the signage dimensions and compatibility with supplies that withstand both outdoor and indoor environments.
"In our facility, each pallet position is labeled with a unique identifier associated with the product in the space. We also use signs to show fire extinguishers and exits. We use labels to identify the consignee on each shipment, to identify damaged vs. good stock, to re-label items, whether returned or replacement, and to identify specific lot codes and manufacturer production dates. Signs and labels are necessary in the warehousing space to efficiently manage inventories," said Rick Ackerman, American Warehouse.
Other recommended signs and label areas include:
Aisles
Pick and put away locations
Staging lanes on receiving and shipping docks
Whether you're a shipping loader, bulk order filler, forklift operator or a repack order filler, you've got to maintain production level and quality standards and ensure accurate and proper loading of merchandise in a fast-paced environment. While careful planning is important, there are also times when priorities change, or special orders take precedence over standard orders. Speed is of the essence.
Using these tools and technologies improves communication and transportation, and streamlines the flow of goods to consumers.
Jack Rubinger is the public relations manager and industrial copywriter for Graphic Products, The Global Leader in Workplace Labeling & Signage. For more information about distribution center visual communications, visit www.GraphicProducts.com or contact jarubinger@graphicproducts.com.
This article originally appeared in the Jan./Feb. 2014 issue of Industrial Supply magazine. Copyright 2014, Direct Business Media.
COMMENTS: 0
---