Can't beat 'em? Join 'em
By Rich Vurva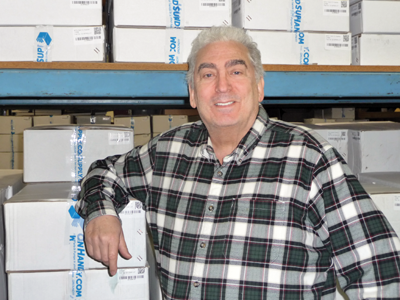 Jeff Winkel has watched with interest while companies like AmazonSupply, eBay and Alibaba (the largest ecommerce company in China), make inroads in business-to-business sales. As president of Steel Toe Group, formerly Seals Inc., he believes that distributors that sell highly engineered products and services are less vulnerable to losing sales to Internet competitors than distributors that sell commodity products. But when they look at their orders closely, even value-adding distributors must admit that a major percentage of their sales are of the box-off-the-shelf variety. There's no value being added to the product other than picking, packing and delivery.
Winkel decided that the best way to compete was to create his own Internet-based business. Called OnHandSupply.com, the Lenexa, Kan.-based startup was launched in late 2014 in partnership with Karel Minneboo, CEO of Deep Blue Pump Company. The idea was to create a new route to market for ANSI pumps and parts, which are designed to meet standards of the American National Standards Institute.
More than one million ANSI pumps are in service nationwide in chemical plants, water supply, food processing, sewage treatment and multiple other industrial applications.
Major brands competing in the market include Goulds, Summit, Griswold and Deep Blue. OnHandSupply manufactures its pumps in a newly built plant in Dalian, China, dedicated to the new venture. The factory is vertically integrated, meaning engineering, pattern shop, foundry, machining, assembly and service are under one roof, which ensures consistent quality and the lowest cost of manufacturing.
The company is a separate entity from Seals Inc., which has been manufacturing, distributing and repairing mechanical seals, packing, gaskets and O-rings for nearly 40 years. When Seals Inc. expanded its line card to include products such as pumps, motors, gear reducers and variable frequency drives, Winkel recognized that the name no longer accurately described the company. In 2014, Seals Inc. was renamed Steel Toe Group because, as the firm's website explains, "Even though we don't sell safety shoes, we do have 'boots on the ground.'"
Going to market
OHS occupies a niche that Winkel calls industrial commodities that require value-added services (CRVS – pronounced curves). The pumps and parts are commodities that can be interchanged with other brands. Where OHS adds value is by trimming and balancing an impeller, and by assembling pumps, which are services that most Internet marketplaces are unable to provide.
"We think of ourselves as a national vending machine for ANSI pumps and parts," Winkel says.
OHS competes with Internet sellers like AmazonSupply, but also is in competition with traditional pump distributors. He sells to end-user customers but also does business with pump distributors looking for a lower-cost alternative to existing lines.
Deep Blue Pump CEO Karel Minneboo says the decision to partner with Winkel to form OHS made good business sense. "With Jeff's background in distribution and our company's capabilities as a world wide centrifugal pump manufacturer, we believe that we have all the ingredients to work out a completely new route to market for ANSI pumps and parts, creating OHS as the exclusive route to market for North America."
OnHandSupply has five stocking regional warehouses (California, Washington, Pennsylvania, Georgia and Kansas) and promises delivery to most customers in one to two days ground. More than $50 million of motors, starters and gear reducers are also kept in stock. He envisions expanding to eight regional warehouses as sales dictate.
The goal is to establish multiple nationwide TBA Centers attached to OHS warehouses, where trimming, balancing and assembly will take place. Initially, that work is being done by Steel Toe Group. Other distributors that want to establish TBA Centers can partner with OnHandSupply and become stockholders in the company. Winkel believes distributors will consider replacing an existing pump line with OnHandSupply branded products – or establish their own private label brand – because OHS can sell at prices at least 20 percent below other major pump manufacturers.
"We offer a number of services that we believe no one else in the market offers," explains Winkel. "We're offering a two-year full credit return policy. In the ANSI pump business, we're the only ones where you can get online without a PIN or password and see your price, your delivery options, quantities and locations 24/7/365."
Telephone support is available for customers who have questions or can't find what they're looking for. Winkel is featured in several videos on the company's website, where he talks about how and why the company got its start, explains OnHandSupply's packaging process and the types of services offered. The videos are short and simple, intended to make the viewer feel as if he's sitting down for a chat with a favorite salesman, not buying from an impersonal online fulfillment company.
Other seemingly small details set the company apart. For example, parts are shipped in double-wall corrugated cardboard boxes with foam packing to protect them during shipping. Instead of tags and labels, every part has its size and material etched on the side, and cartons include bar codes and QR codes for customers who require automated receiving. Labels are placed on all four sides of boxes for easy identification of content regardless of how the product is placed on a shelf.
Instead of using serial number plates made from 304 stainless steel held in place by two rivets, OnHandSupply uses 316 stainless steel, which offers greater chemical resistance, and four rivets provide more stability.
A three-hour courtesy hold means customers who need to delay placing an order while they track down a company credit card or purchase order number can come back later to complete the process.
"We know that this is a new business model," Winkel admits. It may take time for customers to warm up to the idea of buying products that require customization and assembly from an Internet company. But he believes that the approach will work because it offers a lower-priced alternative, particularly for plants with multiple locations that are interested in consolidating purchases with a single supplier.
"Customers are commoditizing as much as they can. They are being forced to reduce their spare parts and have less downtime and to do it with fewer people. OnHandSupply takes the 'nonsense' out of the supply chain and puts some 'sense' back in," Winkel concludes.
This article originally appeared in the Jan./Feb. 2015 issue of Industrial Supply magazine. Copyright 2015, Direct Business Media.
COMMENTS: 0
---