The Riches are in the Niches
Hub Industrial Supply achieves dramatic growth by focusing on customer segments where it can excel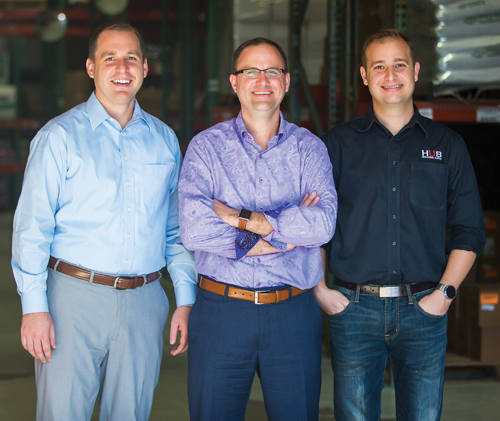 From left: Stuart Johnson, Gabriel Curry and Alex Kirsch are part of the management team at Hub Industrial Supply.
By Rich Vurva
When Gabriel Curry acquired Hub Industrial Supply 10 years ago, the company had annual sales of about $4.3 million and served customers in a 150-mile radius. Today, sales have soared to roughly $30 million and customers are located nationwide.
The transition from being a small local distributor to competing for business on a national scale required a revamped business model and a new way of thinking. It began by closely examining the existing customer base.
"We looked at our clients and said, 'Who do we think we offer value to?' Then, we called them up and learned that what we thought we offered was different from why they bought from us," Curry recalls. "We thought we gave great service. But we didn't. We had a fill rate of less than 70 percent. We had slow response time."
In order to grow outside of Hub's geographic base in central Florida, fill rates needed to be improved. Customers needed to know they could trust Hub to get them what they needed even faster than their local distributor. And the traditional distribution model – which relies primarily on a personal sales call within a geographic region – had to be discarded for a more cost-effective way of reaching customers.
Curry says the traditional cost of a sales call in the distribution industry is about $85 per call. The goal was to lower the cost to serve by using a combination of phone calls, in-person sales calls, mail and email marketing to reach a far-flung customer base.
"At $85 a sales call it really was tough to get scale and grow the business. That's when we looked at it and said, 'How can we go national and how can we do it on the phone with the combined sales call and lower our cost to serve and make it better for everybody?'"
So Curry and his staff began asking themselves tough questions. Who buys from us? Why do they buy from us? What's the value that they perceive they receive from us? What concerns keep them up at night and how can we help alleviate them?
The answers to those questions helped Hub recognize the changes needed to compete on a national scale. It would require improvement in a variety of areas, from answering the phone more quickly, to ordering products more efficiently, to improving fill rates and order accuracy. Without the ability to provide a best-in-class customer experience, Hub could not compete in new geographies against local distributors and online against Internet re-sellers.
Over time, the company changed its business from a consumables supplier that aggregates products to a solution provider focused on solving customer problems.
(The changes taking place at Hub Industrial Supply have not gone unnoticed. As this issue of the magazine was going to press, Applied Industrial Technologies announced that it acquired Hub Industrial, which will be run as a subsidiary of Applied. Terms were not disclosed. Curry will remain with the company as general manager.)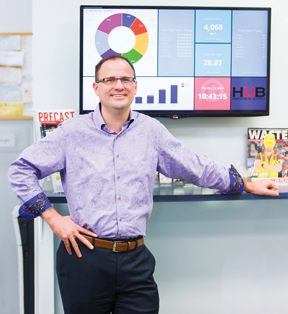 Gabriel Curry poses in front of one of several monitors at Hub Industrial Supply that tracks key performance indicators (KPIs).
Keeping an eye on KPIs
Flatscreen monitors on display in each of Hub's warehouses in Las Vegas, Indianapolis and company headquarters in Lake City, Fla., track up-to-the-minute performance of several key performance indicators (KPIs). For example, a pie chart shows how much time each of the company's 11 reps has spent on the phone this month talking to customers. A bar chart displays the total number of calls placed in the month, organized by rep. Separate graphs show picking accuracy in the warehouse, average order size, average number of lines per order and more.
Every employee can pull up the KPI display from their computer at any time of the day to track the company's progress and see how they are personally performing against other employees.
"This has changed our business," says Curry. "Reps are very competitive and they want to see how they're performing compared to their peers. We've had some reps spend up to five hours a day on the phone but if a rep can deliver three hours of outbound calls in an eight-hour day, that's phenomenal."
Reps are paid on gross margin and can earn extra cash for selling dead inventory, beating last year's sales by more than 10 percent and other incentives.
Other KPI screens report on the fill rate for the month and the day, the number of split shipments (orders shipped from more than one warehouse), and the dollar value of non-moving inventory in three-month, six-month, nine-month and twelve-month intervals.
"Our goal is to have an order shipped – not just filled, but shipped complete – from the closest warehouse," explains Stuart Johnson, vice president.
The advantage to Hub is that fewer split shipments lowers the company's shipping costs. "The bigger advantage is to the customer because they get the order at once, which means only one shipment to receive and one packing list to process," adds Johnson.
"We are shipping 86% of all our orders from the default warehouse complete. For example, if a customer in Ohio defaults out of Indiana, and they buy 10 lines from us, if all 10 lines ship from Indianapolis – so they get it the next day – that would be a complete order from the default warehouse. However, if eight ship from Indy, and two ship from Florida, we call that a miss," says Alex Kirsch, vice president of technology.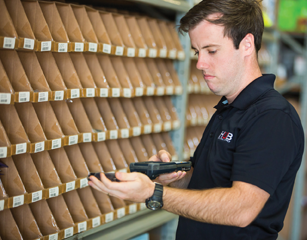 Reducing the number of split shipments helps Hub level the playing field against Internet competitors like Amazon, which may be able to sell the products that customers want, but often ships them from multiple warehouses or from third-party providers. Each order must be received, reconciled and paid for, driving up the customer's internal costs.
"The customer has all of these different invoices to process, and research shows that the cost to process a purchase order is $75 to $125. These items might represent 5% of their total spend, but 80% of their aggravation," Curry says.
A fill rate that averages more than 98%, and the ability to ship products undamaged because Hub uses bulk "Gaylord" boxes to protect shipments, also enables Hub to compete against local distributors.
One manufacturing customer in Massachusetts decided to buy from Hub instead of the local distributor because the cost of doing business with Hub was much lower. Instead of spending nine hours every week managing multiple shipments, the plant manager now spends only one hour to process a single shipment.
"They order 100 line item orders from us and we took the business from the guy across the street. A year later, the customer said it was unbelievable how much this saved them in time because they went to proactive instead of a reactive state," Curry says.
Finding niche markets to serve
Another key to success has been to focus on specific niche industries where Hub has had success in the past and leveraging that expertise with similar customers. For example, Hub's experience with hot-dip galvanizers in Florida has helped the company develop a knowledge base about the needs of companies in that industry.
"We deal with about 200 galvanizing plants in the nation," explains Johnson. "The local distributor that happens to call on one of those plants doesn't know what an acid tank is, what a draw tank is, doesn't know anything about the temperature of the zinc in the kettle. We know these things because we deal with every galvanizer in the nation, we are experts in that industry. We have subject matter expertise in that market."
In some cases, that expertise has led to the development of private label products, such as a protective suit worn by workers in galvanizing facilities. Private label products have grown to represent nearly 50% of sales. Other niche markets Hub serves include pallet manufacturers and auto recyclers.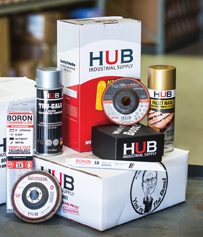 No strings attached promos
An in-house creative team develops a variety of marketing materials, including catalogs, mailers, video promotions like the Monday Morning Minute on the company website, and emails targeting niche audiences.
Hub tracks account sales activity to select which accounts to send marketing materials in an effort to boost sales. If a customer who purchased gloves in the past hasn't placed an order for three months, for example, that customer may be targeted to receive a mailer, an email and a phone call from a rep promoting a "no strings attached" offer of $50 in free merchandise with their next glove order.
"This is all about the cost to acquire a customer," says Johnson. "We believe that our service is so strong that if we give them $50, and they buy from us, they'll continue to buy in the future."
He adds that Hub strives not to inundate people with offers that are not relevant to them, but the hope is to get customers to expand their purchases beyond their core product purchases.
The combination of a high fill rate, increased marketing efforts and improved customer support means salespeople don't have to visit customers as often as most distributors. Hub may only make a personal visit with an account once every six months to a year.
Every box shipped from Hub has a logo on the side proclaiming "You're the BOSS at Hub Industrial Supply," and client service representatives are empowered to fix problems on the spot if an unsatisfied customer calls to complain.
A same-day shipping guarantee promises that any item in Hub's catalog ordered by 6 p.m. EST will be shipped that day or the customer will receive a check for $100. A risk-free 365-day return policy allows customers to return any unopened items ordered from the catalog or website with no questions asked.
"We're trying to deliver world class service and part of that is answering the phone really quickly," adds Kirsch. "When you call us, we don't want to be that distributor that takes three or four rings to answer the phone. We set a service level of eight seconds, which is about one ring for a pick up." And, yes, there's a KPI on Hub's monitor displaying average time to answer calls in real time.
About 30% of Hub's sales are conducted online, which has dramatically boosted profitability. Total sales improved by about 13% in 2015, even though headcount decreased by 12%.
Curry says his vision is for Hub Industrial Supply to become the benchmark of the distribution industry. It's a lofty goal. Hub's ability to satisfy customers will ultimately determine if the company succeeds. One thing is certain. Curry and his staff will be keeping their eyes on a variety of KPIs to track their progress.
This article originally appeared in the Jan./Feb. 2016 issue of Industrial Supply magazine. Copyright 2016, Direct Business Media.
COMMENTS: 0
---