Are you wasting time?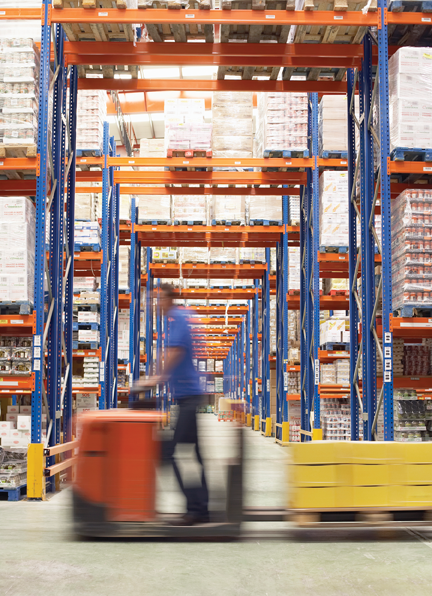 Don't waste time in your distribution center or warehouse, because time is what your DC/warehouse is actually made up of.
In wholesale-distribution, unlike in manufacturing environments, wasted time does not litter the factory floor like wasted material.
Time waste differs from material waste in that there can be no salvage. You just don't see it.
Once time passes, it can never be retrieved. That moment's productivity potential is lost forever!
On a daily basis, many good examples of this concept of time waste occur in every DC or warehouse. Generally, little of it has to do with warehouse workers' attitudes or motivation to get the work done. Yes, sometimes there could be a training issue. More likely, it's about not really knowing your warehouse or distribution center constraints. What do I mean by that?
The 10-Plus Wastes
Years ago, lean practitioners such as myself identified the original "Seven Wastes" that are typically evidenced in a warehouse or DC. Shortly thereafter, the list grew to Eight Wastes. I have, over the years, identified a few more. In fact, I suggest that there are now "10-Plus Wastes" which to one degree or another are prevalent in most DCs or warehouses. Many of them continue to go unseen or undetected (you can email me at: hcoleman@mcaassociates.com for a complete list and a description of each).
As facilities become larger, they suffer from significant inefficiencies – wasting time and resources – usually having to do with poor storage methods, ill-conceived storage capacities, problems with the proper location and accessibility of products, and constructing the best "routes" for directed receiving put-away, replenishment of bins and picking activities.
In this context, strategy for speed incorporating speed-of-flow means speeding up fulfillment without losing accuracy or increasing cost.
Incorporate "Speed-of-Flow" solutions into your "Strategy for Speed"
Some basic facts:
It's an indisputable fact that upwards of 70 percent of a picker's time is spent walking. Similar percentages exist for other major warehouse operational functions, such as put-away. Much of that 70 percent is taken up just getting to the location where the product is stored, even before you execute the pick or put-away. So, value is realized when you reach the work area, not in transit or commuting to the work area.
Picker productivity is more a function of hit-density than pick-rate, particularly once the picker gets to where he/she is going. In other words, there is significant benefit in increasing the picking opportunities by shortening the distance between picks and increasing the number of picks per stop. Therefore, the introduction of better product location methodology, storage media, utilization of space and how the "pick-face" is offered to the picker is one of the quickest ways to achieve higher pick rates.
There still seems to be a basic skepticism that exists when it comes to considering batch or zone picking options, and whether it will actually yield higher productivity. Frankly, this needs to give way to better logic. The old reasoning and excuses that it increases processing time or reduces accountability – leading to more errors – only results in a continuation of discrete order picking. The argument no longer has any wind behind its sails.
Conveyor system transport of product, even basic gravity-fed conveyor, is an often under-utilized resource option and can be a major asset to your strategy for speed and speed-of-flow.
The utilization of flow-racking is another resource option, particularly in offering an extremely flexible pick face for fast-moving products, simplifying bin replenishment and optimizing the ergonomics of product storage and retrieval.
Many DCs and warehouses still incorporate old warehouse design and layout concepts. Smart storage, retrieval and product flow design can go a long way toward reducing wasted time. It also can enhance the ROI of your warehouse management system investment. WMS is just a tool. It can't function alone, without a design strategy for speed-of-flow.
Critical DC/warehouse performance measurements are often lacking. There are several critical metrics which can provide a baseline measure for identifying continuous improvement opportunities.
What Will Your "Strategy For Speed" Be?
First, a question: Why not begin by investing more time and resources to study and identify opportunities that could provide significant productivity gains in your DC/warehouse?
I am often disappointed that I don't see a strategy for speed. I see attempts at improvements being made all the time but often in a piecemeal or incremental fashion, not a reimagining. For instance, "Let's give the folks some new picking carts . . . that will speed them up!" or "Let's buy another forklift, that'll help!" While not bad ideas, they are just tools, not a strategy, and surely not transformative.
Frankly, it's not like these types of efficiency discussions are new to wholesale distributors. Within a DC or warehouse, the goal has always been to reduce processing time for all the major warehouse functionalities, hasn't it? Yet, the basic lean thinking objective (less travel + fewer touches = less cost) for many remains unrealized as well as the ability to assure the quality of those touches.
Let me know if you have any questions or if I can help. We have several articles and white papers on this topic, including recommendations for change, which could be valuable to you.

Howard W. Coleman is principal of MCA Associates, a management consulting firm that works with wholesale distribution and manufacturing companies seeking operational excellence. MCA provides operational excellence – thought leadership – and implements continuous improvement solutions focused on business process re-engineering, inventory and supply chain management, sales development and revenue generation, information systems and technology, organizational assessment and development and family-business succession planning. Phone (203) 732-0603, or email hcoleman@mcaassociates.com.
This article originally appeared in the Jan./Feb. 2017 issue of Industrial Supply magazine. Copyright 2017, Direct Business Media.
COMMENTS: 0
---