Saving lives and solving problems
Emergent Safety Supply demonstrates how new ownership can transform and energize a company toward dramatic growth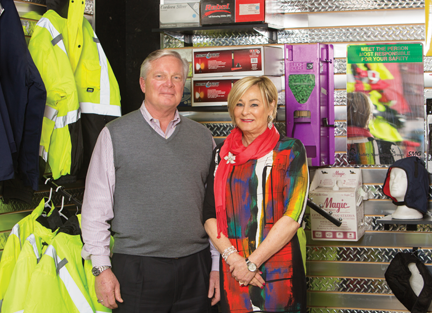 Emergent Safety Supply president Dick Porter and CEO Mary Porter have guided the company to impressive growth since acquiring it in 2011.
When Mary Porter acquired Safety Supply Illinois in 2011, the company had six employees and annual sales of about $1.2 million. Its primary business was selling safety supplies to municipalities and some manufacturers. Today, as a result of organic growth, one acquisition and an expanded customer base, sales have skyrocketed to $14 million a year and the staff has grown to 24 employees.
Now operating under a new brand name, Emergent Safety Supply, and new management team, the safety distributor headquartered in Batavia, Illinois, has a renewed lease on life.
Porter, who holds a Ph.D. in organizational design and leadership, was previously a senior director for international operations for a large finance company. She knows how to transform companies, maximize their strengths, and add business acumen and discipline to shore up any weaknesses in an organization.
When Porter acquired Safety Supply Illinois, the distributor shared office space with another company owned by the previous ownership. She soon moved Safety Supply into a new headquarters location with three times the warehouse capacity, in part to signify a fresh start but also in recognition that the growth she had in mind would require additional space.
A new company culture emphasized teamwork, integrity, stewardship and discouraged functional silos where information wasn't shared. "I am a really big team player proponent," Porter says. "I know that a lot of the greatest ideas don't come from the top down but from the bottom up. They're generated from people who are on the front lines, working with customers day in and day out."
A new business management software system, Epicor Prophet 21, required employees to brush up their computer skills or risk being left behind. With the sophisticated software, Safety Supply Illinois was able to expand into new markets and acquire larger customers.
"Once we moved to this new computer system, the first thing we did was to do cross-training and get people to understand not only the business application and the technology, but the business itself. What is it we're doing? What is our mission? We started defining our mission and our value proposition that drives our passion for excellence," Porter explains.
A change in mindset that Porter has strived to instill in employees is to not think of themselves simply as a distributor of products. As a critical part of the supply chain, they distribute products from point A to point B, but their role is much more important than that.
"Our motto is, 'Whose life are we going to help save today?' One of the things that keeps us so passionate, I think, is that we really are part of a person's lifeline. We have pictures that our customers send us saying, 'Oh my gosh, this fire retardant safety gear that you sent us saved this man's life from an arc flash.' That kind of thing really keeps us motivated," she says.
Growth through acquisition
Within three years of acquiring the company, Porter rebranded Safety Supply Illinois to Emergent Safety Supply and shortly thereafter made a second acquisition, purchasing the assets of Ani Safety of Skokie, Illinois. Dropping Illinois from the company name helped as Emergent Safety began adding customers nationwide.
The acquisition provided several benefits. It introduced a new jan/san product category and also gained entry into a new customer segment. As a previous woman-owned company, Ani had contacts at minority business contracts, which prompted Porter to apply for and receive certification from the Women's Business Enterprise National Council (WBENC, adding to its Illinois WBE certification.
"The national and local WBE opened many doors for bidding large business contracts. The minority status not only benefits us but also our customers in meeting government regulations. It is an honor to have earned a WBE not only for new business opportunities but also for continuing to support other women in business," she says.
Jerry Hill, a salesman who previously worked for Ani Safety, was known at many minority business accounts and succeeded in introducing those customers to the broader range of safety supplies that the merged companies now offered.
Embracing new business opportunities
Porter's husband, Dick, previously owned and operated a masonry contracting business in the Chicago area and now serves as president of Emergent Safety. Emergent's vice president of national accounts, David Hood, worked for Dick Porter at the G. Porter Masonry Company for many years. Their contacts within the construction industry have helped Emergent expand its customer base into a variety of construction companies, including underground contractors, electrical contractors and others. Business has also expanded into the food industry, railroads and major utilities.
"We always have our ear to the ground. For us, understanding an industry or a company is critical for us to be able to provide not just the commodity goods of the hard hats and the ear plugs and everything else, but to get in there and look for innovative ways to solve some of their problems," Dick Porter explains.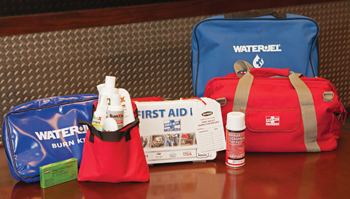 As an example, Hood recently worked with one customer, an underground electrical contractor, to assemble a First Aid Go Bag for job sites. The company works on high-voltage underground cable. If a work-related injury occurs, the worker might not be near his utility truck. Hood suggested outfitting a First Aid Go Bag with the necessary first aid materials commonly needed on the job site.
The weather-resistant bag is designed for the utility market, and includes burn gel, a medicinal kit, bandages and other supplies needed in an emergency. "If there's an incident, this bag actually can be placed by the work area. If you're working in a manhole, it's going to be right there by the manhole. If there's any type of incident, everything you need is right here. It's one complete kit, when you need it, where you need it," Hood says.
The kit is equipped with a tag listing all of the first-aid products found inside. After an incident occurs, it's easy to use the tag to see what is missing and re-order supplies either by phone or on a custom-designed website to ease replenishment.
Unique solutions for stubborn problems
Whether working with a customer to design customized flame-resistant protective clothing worn by utility workers or an arc flash helmet equipped with a respirator and filter to blow cool air to prevent the face mask from fogging up, Emergent likes to be known as problem solvers.
"We are not order takers and we're not a catalog house," Mary Porter says. It's not uncommon for customers who purchased a product from a major catalog outlet or e-commerce site to call Emergent for help using the product.
"We've gotten our name out there as a solution provider who understands safety products and our customers' needs. If you've got a problem, we'll find a solution," she says.
Emergent Safety recently became the exclusive North American distributor of a new patented product called the Stub-EASE. The invention solves a common problem on construction sites where conduit pipe sticks out of the floor in what is commonly called a "stub-up" or conduit stub. It's a small section of pipe for running cable or electrical wires into the floor via the conduit "raceway."
The industry traditionally has viewed conduit stub-ups as a necessary evil. Until now, contractors have sprayed the stub-up with safety orange paint or taped a flag to them to make them more visible. Often, they set concrete blocks over the top of the stub-up, which adds cost in labor and materials. Neither solution eliminates the potential for trips, falls and impalements. Plus, when the pipes are run over by a pallet truck or flattened by a falling piece of plywood, sub-contractors begin the blame game to determine who should be responsible for paying to fix the damage.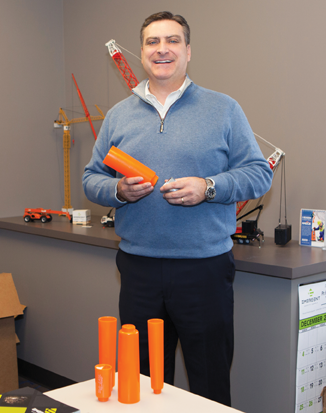 Vice president of national accounts David Hood sees great potential for the new Stub-EASE product for which Emergent has exclusive distribution rights.
The new Stub-EASE solution provides an answer to the safety issue and the business problem. Stub-EASE eliminates electrical conduit stub-ups from concrete construction by embedding a coupling accessible via a pocket created by a plastic sleeve penetrating the concrete slab. After the concrete pour, the high density poly-ethylene (HDPE) sleeve and support are cut down to the top of the concrete elevation and left in the slab until the future raceway is ready to be safely extended into a wall cavity. At this time, the electrician can use a standard size paddle bit with an 18-volt or greater driver, using the plastic partition wall in the middle of the sleeve, to expose the embedded threaded coupling. The vertical extension of this raceway can now be threaded into the embedded coupling using a matching male threaded compression fitting.
"With this product, I am able to go to my electrical contractor customers and present them with a solution to a real problem that they face," says Hood. After testing the product recently, one major Chicago area electrical contractor has begun specifying the Stub-EASE on every job.
Dick Porter points to the Stub-EASE product as an example of how Emergent goes the extra mile to solve problems for customers.
"The biggest differentiator between us and our competition is that we listen to the customer, we understand their business and work with them to come up with solutions," he says. "We really dig in to help people with difficult problems."
This article originally appeared in the Jan./Feb. 2017 issue of Industrial Supply magazine. Copyright 2017, Direct Business Media.
COMMENTS: 0
---