Reaching new heights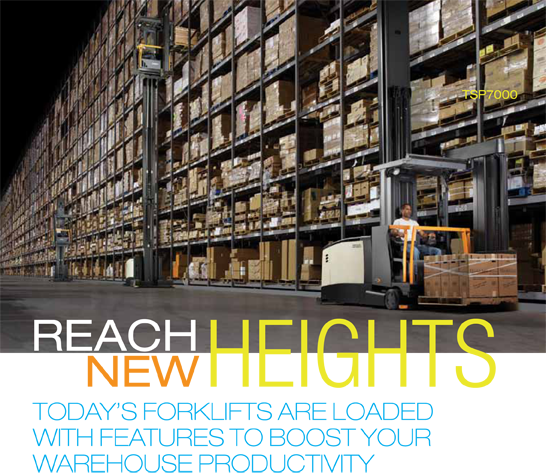 by Rich Vurva
Every distributor is looking for material handling solutions to control rising operations costs, including labor. In many warehouses where storage space is at a premium, distributors are interested in narrow-aisle forklifts and pickers. They're also looking for ergonomic equipment that's easier to operate, doesn't produce annoying fumes, and some distributors want their material handling equipment to be loaded with the latest technologies to help operators know what to pick and where to find it in the warehouse.
Here's a brief look at some of the solutions that material handling companies are making available today.
Crown Equipment Corporation
"Thanks to close collaboration with our customers as a material handling consultant, we've worked to anticipate trends as opposed to responding to them," says Andy Smith, director, marketing product management, for Crown Equipment Corporation.
"For example, we know that our customers are struggling with managing labor costs in their warehouses. So, we've developed software tools that help our customers closely track productivity and performance. Achievers can be recognized (with an emphasis on retention) whereas underperformers can be further trained and managed appropriately," he says.
The Crown Insite Productivity Suite and automation technologies turn the forklift into a mobile information technology hub capable of collecting and processing data from products, operators, the environment and other material handling systems.In a similar vein, Crown provided a first-of-its-kind solution to the market in the QuickPick Remote order picking automation technology. In traditional order picking applications, operators constantly return to the driver compartment to move the truck forward. Equipped with QuickPick Remote control on their hand, operators maintain a smooth workflow pattern, focusing less on positioning the truck and more on the task of picking. Crown research has shown that QuickPick Remote can save up to five seconds per pick at a 16-foot interpick distance. At 100 picks per hour, QuickPick Remote may generate as much as a 14 percent time savings.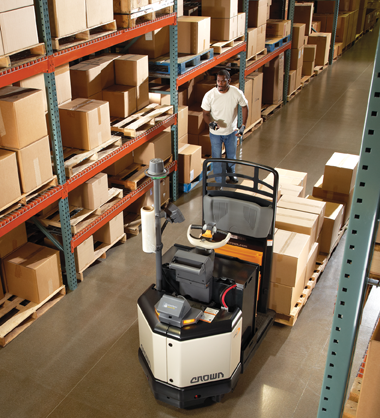 Using the QuickPick Remote from Crown Equipment Corporation, warehouse workers can remotely advance the lift truck to the next pick location without having to climb back into the truck.
Crown Equipment pioneered the latest innovations in reach and turret trucks that are found in dense warehouses where pallets are stored higher as opposed to wider.
Crown's RM 6000 is the industry's first pantograph reach truck that can reach 505 inches and deliver up to 1,000 pounds more capacity at height. It is equipped with forks that travel upward at a pace of 160 feet per minute. "Our analysis shows that the reach truck's lift heights and capacities may enable a customer to save about $2.6 million in constructing a 250,000-square foot freezer warehouse up, and not out," Smith says.
Users of the Crown TSP Series narrow-aisle turret stockpicker benefit from greater flexibility throughout their warehouse by being able to place most loads at any height or at any open slot, all while traveling in a tight aisle with less than six inches of clearance. In many applications, going from eight levels to 11 levels with the Crown TSP Series equals nearly 31 percent additional storage capacity. This translates to one-third more usable warehouse space. The Crown TSP 7000 turret truck can reach a total of 675 inches, or six stories, and deliver most loads to full height. The Crown TSP 6500 can reach a total of 531 inches.
A growing trend within the industry is the integration of ergonomics directly into the product development process. "At Crown we give significant attention to human factors and ergonomics during the product development process to reinforce human-centered design thinking. Rather than relying on consultants to evaluate products and offer suggestions for improvement, on-staff ergonomic experts work alongside designers and engineers throughout the development as both partners and advisors to help reinforce the approach of designing the forklift with the operator top of mind," Smith says.
Some examples of Crown's innovation in ergonomics and driver comfort include:
A fully adjustable MoveControl Seat on the Crown TSP 7000 Series orients the operator to efficiently handle the load at height. Integrated, intuitive controls built into the armrests allow pinpoint control and the ability to blend multiple functions simultaneously. The operator compartment can be affixed with a cold storage cabin that allows operators to remain productive in environments where temperatures can reach as low as minus 40 F.
The FlexRide platform suspension system on the Crown RC Series provides shock-absorbing padding, helping to keep operators comfortable and confident in a stand-up design. The Crown RC Series offers more than three times the protection of typical lift trucks from shocks and vibrations such as bone-jarring impacts over dock plates and rough floors.
The QuickPick Remote has proven to reduce 70 percent of the steps taken on and off the forklift.
"The good news for those looking to scale their investment is that a connected forklift is not an all-or-nothing proposition. A minimal investment in a connected forklift can provide savings and benefits that can fund future investments that expand the scope and value of the program," Smith says.
He adds that significant value can be realized if the organization sets clear goals. For example, a connected forklift will tell you when the equipment is idle and when it is moving. This information is critical to evaluating the productivity of operators and equipment when making decisions on facility and fleet size.
New technologies are disrupting warehouses globally at a faster pace than we've seen before. "As a result, our product enhancements are focused on helping our customers manage facility costs and mitigate business disruptions in order to compete – and win – in the long term. By enhancing the experience between operators and their forklifts, forklifts and their environment, and managers with their employees and operations, we are enabling higher productivity, safer operations, increased visibility and more effective labor and operations management," Smith concludes.
UniCarriers Americas Corporation
Users are looking for longer operational times, reduced total cost of ownership and advanced battery charging systems to reduce downtime for battery care and maintenance. They need to be able to track forklift operations and operator performances for the customer's complete fleet using telematics, according to Wayne Wilde, field sales technical officer, UniCarriers Americas Corporation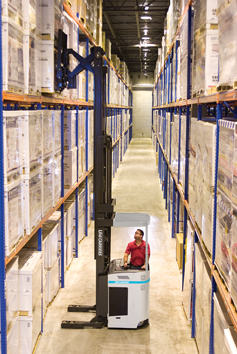 The SCX and SRX are just two options of electric lift trucks from UniCarriers for narrow aisle applications.
UniCarriers globally continues to update its motors and controllers to the latest technology, and new battery and charging system for electric model forklifts.
"While on the internal combustion models, we continue to work to lengthen the planned maintenance intervals, and improve overall fuel economy. On all of our forklifts, UniCarriers continues to lead the industry in innovations with standard features and standard options to make it easier for customers to customize our forklifts to their operational needs," Wilde says. Some of these include scales and computer systems to make it easier for customers to monitor and control freight costs, at the same time tracking movement of their shipments. This has also been coupled with tracking the operation of the forklift itself to improve utilization, maintenance and reduce down time.
Where space limitations are a concern, UniCarriers Americas manufactures a complete line of products to work in narrow aisle operations, with many of them being ready to operate in areas like freezers with very little change. The narrow products start with a smallest 4,500-pound-capacity pallet truck, up to 8,000-pound-capactiy pallet trucks. These work with narrow aisle reach trucks used for moving products to high pallet locations, from 3,500 pounds to 4,500 pounds.
How is the industry addressing concerns such as ergonomics and driver comfort?
UniCarriers has been looking at ergonomics to improve the overall comfort of the operator on all of the product line for many years. "We were the first forklift manufacturer to put full-suspension seats on our complete line. We lowered step heights on our stand up models where the operator is continually getting on and off the forklift. We added heavy duty padding on all stand up type trucks to reduce fatigue and developed responsive controls to increase the ease of operation and visibility for the operator," Wilde says.
Wilde adds that UniCarriers continues to work on product enhancements.
"We continue to work hand-in-hand with our dealers and customers to meet their requirements. Some of those include more operator protection items, better tracking of the forklift operation or helping to reduce tire wear and fuel economy while increasing the lift truck of components," he says.
Stärke Material Handling Group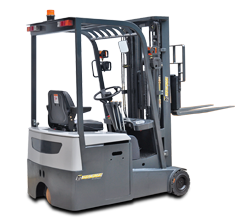 Starke Energy 3 Wheel FBT15 Mini forklifts are ideal for narrow aisle applications where space is at a premium.
Jim Chesla, vice president at Stärke Material Handling Group, says there is an increasing demand for more environmentally friendly, low emission options throughout the market. "At the same time, there is also a high demand for more operator friendly options as the industry becomes increasingly aware of the importance of ergonomics. And, as always, there is a push toward maximizing storage density with narrower aisles and higher storage options."
To address these concerns, Chesla says Stärke utilizes high efficiency AC motors in all of its electric forklifts and lift equipment, and CARB IV engines for LPG forklifts.
"We've also addressed the issue of operator comfort by reducing vibration and noise, particularly in our new XVI line of forklifts, improving visibility to reduce unnecessary, awkward movements, and ensuring the ergonomic design of our control systems," he says.
To address the demand for increased storage capacity within the market, Stärke introduced several new models designed for narrow aisle applications. "Our narrow aisle lineup now includes both a walk behind and ride on reach truck models, an electric order picker and an electric dock stocker. We've also improved the maneuverability of our forklifts with an emphasis on providing a turning radius for each model," he says.
For companies where budgets may be limited, Chesla says several options are available. "In addition to our line of straddle stackers, which are more cost effective than a reach truck or forklift for example, we've also introduced two mini forklift models. Our mini forklifts are ideal for narrow aisle applications where space is at a premium and provide many of the benefits of a full-sized forklift at a more cost-effective price range," he concludes.
This article originally appeared in the Jan./Feb. 2017 issue of Industrial Supply magazine. Copyright 2017, Direct Business Media.
COMMENTS: 0
---