Are Bots in Your Future?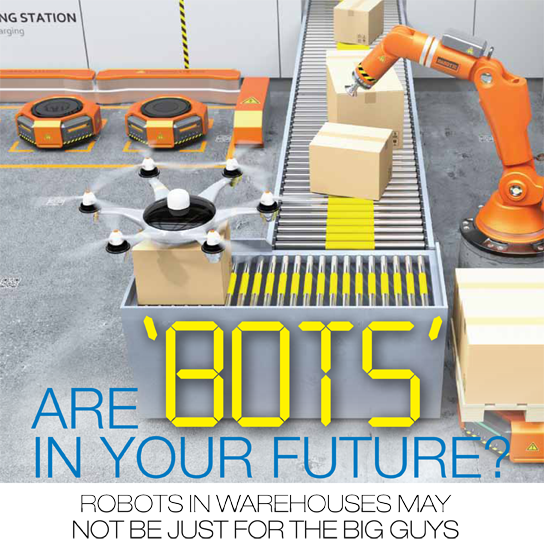 By Howard Coleman
Let's face it; it's an exciting time to be associated with the distribution business. Where automation is old hat to manufacturers, retailers and certain distribution companies (you know who they are), most mid-size or larger wholesale distributors are still getting along with early RF-based WMS technology and labor-based order picking, They're also continuing to throw more people at their warehouse throughput and transaction cost challenges. By the way, are you even measuring these critical success factors?

For many, the old formula of walking material around the warehouse from one storage or staging location to another is no longer working. New customer and market competition demands, especially those related to e-commerce growth, have put a premium on speed, accuracy and meeting aggressive order cut-off and delivery times. Add to that labor shortages, which continue to grow, associated rising labor costs and the difficulty in retaining a reliable workforce, especially in multi-shift/extended shift operations. It's now clear that meeting overall service and regional/geographical market penetration objectives requires speed-of-flow thinking.
Particularly over the past few years, MCA Associates has expanded its consulting practice focused on working with clients to develop distribution operating philosophies designed to achieve this speed-of-flow from receiving and put-away to order fulfillment, pick-pack-stage-load-deliver. The approaches that many of our clients have chosen to successfully adopt include:
Utilizing SKU profiling: product type, order type and product velocity criteria that lead to picking the right solution
High-velocity pick modules and stock/bin replenishment that utilize flow-rack storage and retrieval
Gravity-fed and automated conveyors (goods-to-persons solutions)
Narrow-aisle product storage and retrieval
Batch picking and zone picking concepts
Innovative customer order consolidation, staging, labeling and truck route-loading
These may be new or advanced concepts to many wholesale distributors. But yet, some wholesale distributors we are fortunate enough to work with are looking beyond these methods in terms of how to leverage them even further.
So, The Big Question: Are Bots In Your Future?
Yes, I'm on a mission here! I'm trying to begin to answer the questions, "Are robots ready for prime time in your distribution center/warehouse? Are they ready to play a role any time soon?" From what I've researched and observed so far, there appear to be applications in wholesale distribution where, I believe, there is an opportunity to scale the implementation of robots to smaller companies than one might think. No longer does this topic have to be just about the Amazons and the Walmarts of this world.
The Logic of This New Reality
People collaborating with robots within a current DC/warehouse that possesses effective work-flow processes can be integrated with robot utilization.
Assigning warehouse associates to pick zones within the DC or warehouse, robots can move autonomously to where the warehouse associates have been assigned. Robots can handle and transport a range of picking and put-away needs, from totes, bins, package sizes, cartons, pallets and even multiples of each.
How Might This Work?
It goes like this:
A directed bot meets a warehouse associate at a storage location. The warehouse associate picks the product, puts it into a tote, scans and confirms the pick on a tablet-like device attached to the robot.
So, bots travel autonomously through storage/pick zones, stop at the next required pick and allow assigned zone picker(s) to make the pick, load it to the bot and report the pick. The bot then moves autonomously on to the next pick location (it could be to a different warehouse associate, depending how the pick zone is staffed), while the picker remains in their zone. The bot travels to a packing/staging area if the order is considered complete.
Robots do the travelling and transport. There are no more picking carts to push around. Need more capacity due to seasonal or time-of-day order peaks? Assign more bots to the zone.
Now, for receiving and put-away, think about it in the reverse. Receive against the purchase order or stock transfer being received, load the bot and send it on its way to the appropriate storage zone where zone warehouse associates put it away in the designated storage location via the same tablet device. The bot then returns to the receiving area.
What's been accomplished here under both scenarios? An absolutely dramatic reduction in walk-time, generally accepted as 70 percent of total pick or put-away time. Look at your number of line items picked and/or put away. There is tremendous opportunity to reduce empty time, isn't there? It absolutely creates more time on task for each warehouse associate.
Summary
I forget exactly where I heard this but it seems like a perfect example of robots empowering people, doesn't it?
I will be closely watching developments in these robotic applications, how and where they could fit into your distribution operations. Consider this article a first installment. What I do feel confident about is, bots don't only have to be for the big guys.
But here's a heads up: There are prerequisites. Some prior/basic process transformation and/or infrastructure changes in your warehouse may be required to make it all possible and avoid operational disruption. So, I suggest you read next our Drive Your Distribution Center/Warehouse Performance Assessment guide available on our website at www.mcaassociates.com.
This is the next major development in wholesale distribution warehousing, so keep watching.

Howard Coleman is principal of MCA Associates. Since 1986, the management consulting firm has worked with wholesale distribution and manufacturing companies that seek and are committed to operational excellence. Contact him at (203) 732-0603 or by email at hcoleman@mcaassociates.com.
This article originally appeared in the Jan./Feb. 2018 issue of Industrial Supply magazine. Copyright 2018, Direct Business Media.
COMMENTS: 0
---