Green Solutions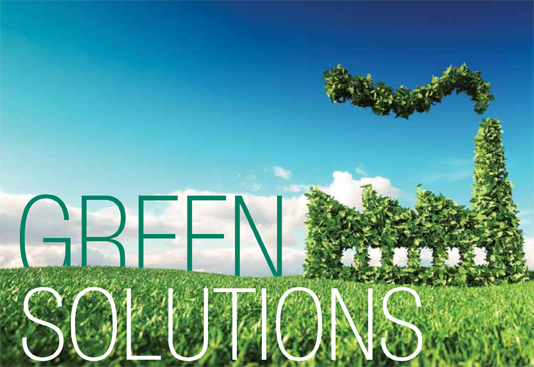 by Rich Vurva
Agrowing number of manufacturers are focusing on minimizing waste and reusing waste materials in the production process. They're also looking at ways to minimize negative environmental impacts without driving up their production costs. As a result, many manufacturers are turning to distributors for MRO products that are more environmentally friendly.
The products featured here from MRO suppliers can help support eco-friendly manufacturing practices.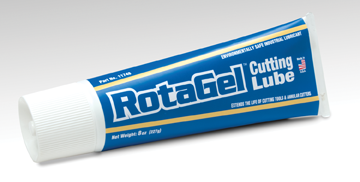 Hougen Manufacturing
In most metalworking applications, nothing is more important than proper tool lubrication. Hougen Manufacturing's RotaGel Cutting Lube is an industrial lubricant that provides superior protection to the cutting tool even in hard, high-torque machining applications.
RotaGel Cutting Lube is environmentally safe because its core ingredients are based off of a food grade lubricant. It is non-toxic and biodegradable. With the consistency of a creamy gel, RotaGel has properties that help it adhere to the tool and reduce friction throughout the cut. Because it is formulated with a Hougen blue color, it allows the operator to consistently gauge where the lubricant is applied and visually assures thorough coverage. Designed for use on all metals including: carbon steel, stainless steel, inconel, hastalloy, titanium, aluminum and other alloys and exotics. RotaGel is a versatile cutting lubricant that provides maximum lubrication and increased tool life with many different applications and tools. Example of applications include: annular cutters, taps, drills, saws, reamers, end mills, general lubrication and more. Not only does RotaGel provide lubrication to cutting tools, it also improves hole and surface finishes.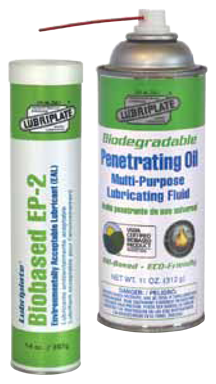 Lubriplate
Lubriplate Biodegradable Penetrating Oil Multi-Purpose Lubricating Fluid is an environmentally friendly, biodegradable, USDA certified bio-based, lubricating oil for general lubrication of hinges, locks, latches, slides, chains, cables or anywhere metal contacts metal. It's ideal for cars, boats, bicycles, garden equipment, guns, tools, office equipment, garage doors, farm equipment and golf courses. It provides a long lasting protective film that prevents friction, wear, rust and corrosion, and also offers excellent moisture displacement properties. Available in 11 oz. / 312 g. spray cans (Part No. L0721-063).
Lubriplate Biobased EP-2 Grease is an environmentally acceptable lubricant (EAL). It meets U.S. EPA Vessel General Permit (VGP) Requirements, passes U.S. EPA Static Sheen Test (1617) and U.S. EPA Acute Toxicity Test (LC 50). It's also Ultimately Biodegradable (Pw1). It's excellent for slow to medium speed bearings, articulated tug barges (ATB) notch interface, rudder shafts, wire rope, above deck equipment, port equipment, cranes, barges, oil platforms, water treatment and hydroelectric facilities. It has excellent extreme pressure/anti-wear properties and is highly resistant to fresh and salt water. Biobased EP-2 Grease is available in cartridges (Part No. L0341-098) and 120 lb. lined 1/4 drums (Part No. L0341-039).
CRC industries
The SmartWasher Bioremediating Parts Washing System is an environmentally safe alternative to solvent-based parts washers. It is both self-cleaning and non-hazardous. The proprietary system employs a natural process called bioremediation to degrade and remove contaminants from the cleaning fluid, allowing the fluid to remain clean and reusable. There is no need to dispose of the cleaning fluid and therefore no liquid waste.
The system combines three essential components: the parts washer SmartWasher, the powerful water-based degreasing/cleaning solution called OzzyJuice, and the
microbe impregnated particulate trap called an OzzyMat.
The OzzyJuice solutions used in the SmartWasher are aqueous-based, non-hazardous, non-corrosive, pH-neutral, non-flammable, non-toxic and non-caustic. They are environmentally friendly and are not known to cause damage to humans or the environment. When used in accordance with directions they do not create hazardous wastes or produce cradle-to-grave liabilities.
The microbe infused OzzyMat traps particulate matter down to 50 microns. It is disposable and easy to change. The microbes in the mat are activated when used with OzzyJuice. CRC recommends changing the mat every 30 days for optimal performance.
Six models are available, including mobile versions, and each SmartWasher can be ordered as a complete start-up kit.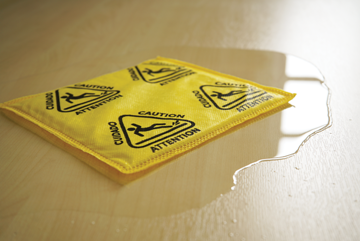 Meltblown Technologies
MBT Thirsty Pad is a disposable super absorbing floor pad designed to protect floors and hard surfaces from water-based leaks and spills. It's made from 50 percent recycled super absorbing polymer (SAP) that are saved from the landfill as post-industrial waste from the diaper manufacturing process. The products are designed to absorb aqueous fluids in an efficient way, preventing slips, trips and falls, while limiting the use of other absorbents that would also end up in a landfill. Other features include highly visable hazard warning material; it protects from water damage and it's disposable. Ideal for tight spaces where buckets won't fit, it can be left in place to absorb leaks so there's no need for repeated mopping. Surfaces are quickly made safe from slip hazards. It helps maintain clean and dry public-access areas and avoids lasting damage to flooring. Easily disposed in standard waste, liquid turns to gel, so there are no drips and no cross contamination.
This article originally appeared in the Jan./Feb. 2019 issue of Industrial Supply magazine. Copyright 2019, Direct Business Media.
COMMENTS: 0
---