Paints and coatings for every need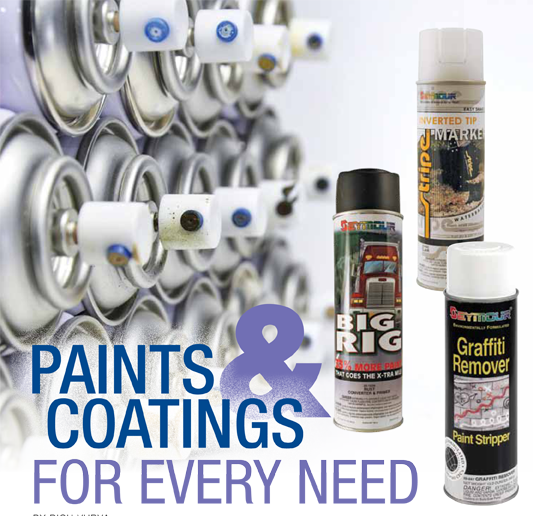 by Rich Vurva
New paints and coatings being produced by suppliers today meet lower VOC limits and other regulatory restrictions, according to Jeremy Demaa, national sales manager for Seymour of Sycamore. He says suppliers are also developing coatings products to fit more niche markets and applications.
"Other factors that are also being taken into consideration in new product development are sustainability, life cycle analysis, recyclability of containers/products, and LEED building requirements," Demaa says.
Seymour is involved with numerous national associations that track the regulatory changes affecting the industry and market. For example, Seymour has updated all of its products to meet these lower VOC and regulatory restrictions. Empty aerosol containers are easily recyclable and 72 percent of all waste haul programs accept empty aerosol containers in their curbside pick-up.
Seymour has developed several niche products for specific end use customers needing a compliant aerosol spray applied product. Big Rig Professional Coatings, for example, offer superior high solids coverage for fleet maintenance applications where maximum performance is required. Intended as touch up paint for trucks, school buses and other vehicles on wheels, fuel tanks, bumpers, mirrors and other accessories, the enamels prevent rust and corrosion, and resist heat, oil, gas and abrasion.
Graffiti Remover (#20-47) is a highly effective, environmentally safe formula that removes paint from brick, stucco, siding, concrete and metal. It safely removes paint and varnish as well. The gel-like remover adheres to vertical surfaces and becomes more effective the longer it is left on the surface. It can be neutralized by rinsing with water.
Seymour also developed an inverted-tip marking paint that replaces some of the propellant with compressed air to lower the overall VOC content of the product. For example, the Stripe Inverted Tip Marker is a fast drying marking paint designed to be sprayed in an inverted position. Applications include utility marking, construction sites, surveying, mining and landscaping. It produces vivid marks, does not clog, and is safe for grass. The paint meets the APWA color standard, is VOC compliant and features the Seymour converta-cap, a specially designed protective cover that does not need to be removed before using. This provides the user with a convenient marking tool without the worry of accidental spraying. It's available in 16-ounce and 20-ounce sizes.
"Suppliers to the industry are developing raw materials with lower VOC content that have less of an overall environmental impact," he adds. "Seymour continually tests a variety of raw materials to make our products have better performance than our competitors. This better performance provides better value to our customers who might be using a product with lesser performance."
Demaa adds that product changes and improvements are always occurring at Seymour to keep up with the latest trends.
"That is why it is so important to keep coming back to the inventor of aerosol spray paint to see what is new and exciting. So stay tuned," he concludes.
This article originally appeared in the Jan./Feb. 2019 issue of Industrial Supply magazine. Copyright 2019, Direct Business Media.
COMMENTS: 0
---