Modular workstations
by Rich Vurva
Distributors looking for ways to increase throughput in warehouses and distribution centers are investing in a variety of modular workstations. Some custom-built solutions solve specific kitting, packaging and assembly requirements. Other products featured here help enhance ergonomics, making workers more productive and safer on the job.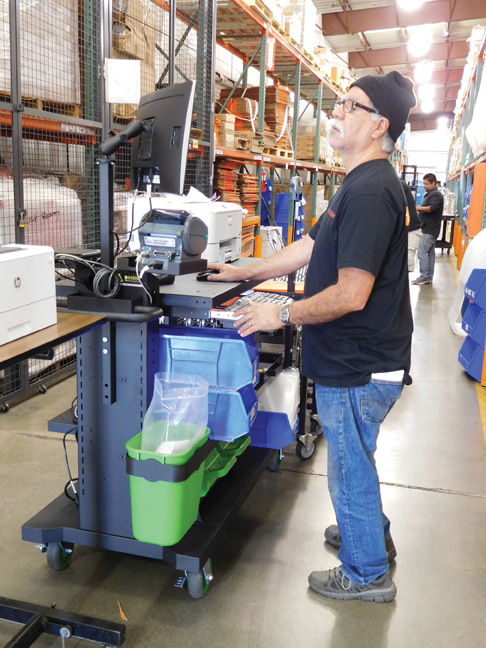 Newcastle Systems
The distribution industry faces immense pressure with the ever-growing demand of expedited shipments, from one-day, two-day, even same day delivery. This taxing demand has forced those in the DC industry to increase the order cycle times. To increase speed, companies are looking at their processes to determine where efficiencies can be gained.
Another trend is companies aiming to reduce waste in their processes that causes labor fatigue. It's no secret that we're in the midst of a labor shortage. It's becoming increasingly difficult to hire and retain talented, committed workers for the physical challenge that is DC work. Transportation and motion are time killers in the process, and can add many miles to a laborer's day, if management isn't carefully observing internal processes. Conversely, mobility and smart planning can reduce the physicality of the job, making for a better day's work, encouraging retention.
At Newcastle, we offer mobile powered workstations and battery packs for the distribution industry. These solutions allow static devices like PCs, laptops, printers and scales to be mobile, so workers can go to the point of activity and receive, pick, ship, cycle count and supervise more efficiently. When tasks are being completed at the point of activity, errors are reduced, efficiency is gained, and workers are less tired at the end of the day. With the need for speed to meet customer demand, DC labor can't afford to spend half their day walking back and forth. Whether they need power for one shift where lead acid batteries will work or 24-7 lithium iron phosphate, we're producing solutions that give labor mobility and add a much-needed layer of efficiency to their process.
Our new single-bay lithium power pack is perfect for lighter duty devices like picking applications where a tablet or laptop and small printer need power. Picking represents half the labor cost in a DC, so tools and solutions that add speed and accuracy can go a long way into improving the overall process. This solution will be easy to implement, and save the staff the hassle of stopping production due to battery concerns.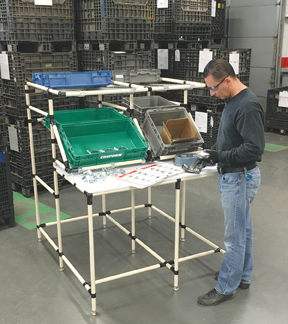 Creform Corporation
Creform Corporation designs custom configurable workstations that work in a variety of distribution settings. For example, Creform engineers designed and built a workstation for use at a Kentucky University's productivity lab. The students and teachers use the workstation in the lab, for ergonomic and productivity training in simulated manufacturing assembly and warehouse environments.
Simple in design, the workstation includes a half-inch plastic work surface for parts supplies, tools and paperwork. A flat pipe above that work surface holds a power strip and can also conveniently hold clip-on plastic bins. A drawer below pulls out for keyboard and storage access.
A 4-foot LED light provides illumination while an elevated monitor is integrated on the right-hand side for good visibility. An ergonomic positioning system secured to the base of the workstation consists of four hydraulic cylinders. The ergo lift has a 1,000-pound capacity with a 12-inch stroke, and a simple hand crank raises and lowers the top portion of the workstation. An electric ergo lift is available for push-button convenience. This allows various work surface heights and the top portion of the workstation can be optimized for the ergonomics for each worker. Further, this presents a way for students to see how the positioning of work impacts the ergonomics of the task.
The workstation can be designed as a mobile or stationary unit and configured as a stand-up or sit-down station. In this case it's on wheels. It has four 4-inch diameter swivel casters for easy rolling and maneuverability. All casters lock to secure the workstation in position.
A separate workstation (shown above) features flow lanes for first-in, first out parts handling in an assembly operation to aid in ergonomics and productivity.
Built for an automotive parts supplier, the workstation is simple in design yet features a wide range of benefits to assist in the assembly process. The unit features a plastic work surface covering the entire front of the station, and above the work surface are two flow lanes with angled presentation of the totes which hold parts for assembly.
The flow lanes, incorporating Creform EF Series skate-wheel conveyors (aluminum rails with plastic rollers that spin on stainless steel axles), provide first-in, first out (FIFO) parts handling, while the presentation angle, which is created by a secondary angle, enhances the visibility of the part in the totes and, equally important, easy physical access to the parts. The angle of the presentation also keeps loose parts in the front of the tote for easy picking. The extra angle at the front is provided by a slide pipe that features low-friction plastic coating.
Two flow lanes at the top of the workstation allow the return of the empty totes to the rear of the workstation. This allows for a material handling associate to pick up when bringing a full tote to restock the station.
This article originally appeared in the Jan./Feb. 2019 issue of Industrial Supply magazine. Copyright 2019, Direct Business Media.
COMMENTS: 0
---