Safer Every Day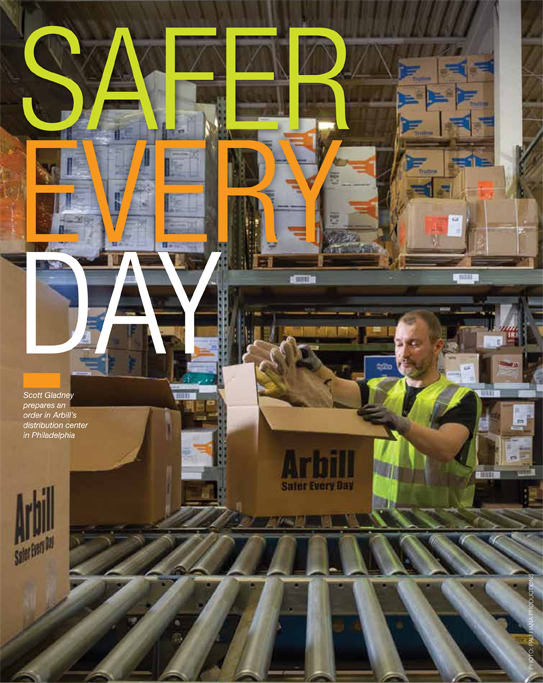 Most distributors understand that their success is ultimately determined by their ability to directly benefit customers. One common method distributors use to measure their impact on customer performance is cost reduction.
At Arbill, a distributor of safety services, technology and products, the goal is to make customers safer. The company boasts that, for 75 years, clients have counted on Arbill to make sure their employees go home safely after every shift. The Philadelphia-based company has developed a program called SafetyCare that combines safety products, OSHA compliance and safety training, safety programs and safety technology into one package. It begins with a site assessment to determine where safety gaps exist and provides an all-inclusive remedy to assist clients in their drive to zero injuries.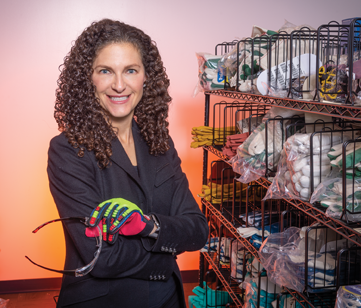 Arbill believes that its SafetyCare program is so effective at reducing workplace injuries and its associated costs — such as lost production, training of new employees and lower morale — that it guarantees a 10 percent reduction in injuries within a year of implementation or Arbill will continue to provide services and consulting at no cost until the 10 percent reduction is reached.
"For a company that looks strictly at the cost of SKUs, we're likely not a fit for them. But a company that cares about their employees and their injury rates, and recognizes that reduction in injuries creates more profitable companies, is an ideal prospect for Arbill," says Julie Copeland, CEO.
Copeland's belief that safer companies are more profitable is backed by research published in the Journal of Occupational and Environmental Medicine. In the report, researchers investigated whether there was a correlation between the stock market performance of companies that had been recognized for leadership in safety compared to other companies. Researchers found that over a period of 13 years, the "safe company index" returns were 333 percent. By contrast, over that same period of time, the S&P 500 returned 105 percent. The study adds to the growing evidence that a healthy and safe workplace correlates with a company's performance and its ability to provide positive returns to shareholders.
According to OSHA, businesses spend $170 billion a year on costs associated with occupational industries and illnesses. Workplaces that establish safety and health management systems can reduce their injury and illness costs by 20 percent to 40 percent. In today's business environment, these costs can be the difference between operating in the black and running in the red.
"We continue to grow and we continue to find our slice of the market out there because we stay focused on saving lives and looking at the whole person," says Copeland. "I'm very proud about what we do. When Arbill shows up on a customer's site, we are making a difference in people's lives."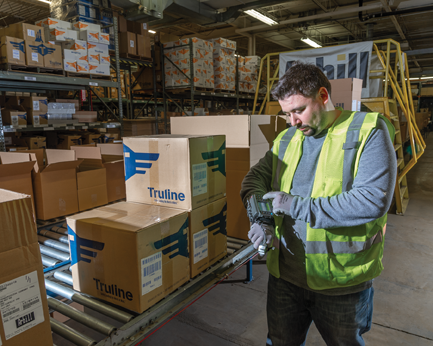 Matt Wagner checks his wrist-mounted scanner to complete an order for a customer
Markets served
Customers come from a variety of industries, with a heavy focus on utility, oil and gas, and heavy manufacturing, because those industries carry the most risk.
Clients range from large, multi-location companies where Arbill complements established health and safety departments, to small companies that count on Arbill for help in developing a complete approach to workplace safety, as well as a variety of government agencies and municipalities. Health and safety professionals will go onsite to work with clients to evaluate their workplace, conduct a job hazard analysis or job safety profile, and even assist with building a curriculum for safety training efforts.
"It's a very in-depth process to support their needs, along with a whole behavioral modification program if that's necessary to their work environment," she says.
Continuing a family tradition
Copeland is co-owner of Arbill with her sister, Robyn Zlotkin, who is company president. Founded in 1945 by their grandfather and later run by their father, the third-generation family business has multiple distribution centers nationwide.
Safety specialists on staff include a variety of credentialed environmental health and safety personnel, a licensed optician and other experts in the latest safety programs and technologies. Arbill's SafetyCare program offers more than 60 OSHA compliance and safety training courses, assessments, audits and other safety-related services. The program also includes safety technology, safety programs, and more than 200,000 safety SKUs, including nearly 1,000 products sold under the company's Truline brand.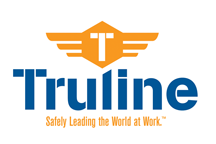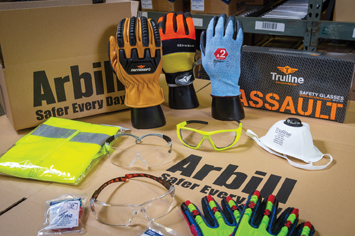 Arbill's Truline brand, which includes PPE products such as eye, hand, hearing, respiratory and protective clothing, accounts for about 25 percent of total company sales.
The Truline products are more than simply me-too offerings available at cheaper prices than traditional supplier brands. "About 90 percent of our Truline products were developed as a result of a customer issue that we were working to resolve. From there, we might introduce it to other clients that we think would benefit from this discovery," Copeland says.
The Truline brand, which includes PPE products such as eye, hand, hearing, respiratory and protective clothing, accounts for about 25 percent of total sales. "For us, it's very much about what's the right item that's going to mitigate risk in the workplace," she says. "There are so many new materials and technologies coming out every day, you need to constantly be evaluating what opportunities might provide greater protection."
While the primary focus of the SafetyCare program is to improve safety on the jobsite, Arbill also focuses efforts on best-in-class distribution practices in order to get PPE and other solutions into the hands of end-users as efficiently as possible. Those practices include the MyArbill online ordering system, storeroom management services, vending machines, EDI ordering and the like.
"When you think about the person's overall health and well-being, we think about what's the best way to get what they need to them so there's no hindrance to being and living in a safe work environment," Copeland says.
The U.S. Bureau of Labor Statistics reported that there were approximately 2.8 million nonfatal workplace injuries and illnesses occurring at private industry employers in 2017. While private industry employers reported nearly 45,800 fewer injury and illness cases in 2017 compared to a year earlier, there's still plenty of work to be done to improve workplace safety.
Copeland expects that Arbill will continue to review the SafetyCare offerings, expand environmental health and safety consulting and safety programs to make their clients safer. Her team is currently reviewing three potential safety programs to add to the platform.
"We're going to continue to work at driving injuries out of the workplace," she says. "There's an incredible amount of work to be done in that regard, so we will continue down that path."
Copeland's passion for the work being done by Arbill is evident. She is especially pleased when clients reach out to express their appreciation for how Arbill has helped them improve worker safety. As a reminder of the importance of the work they do, client testimonials are stenciled in the employee breakroom, the warehouse and in offices and hallways throughout the company's headquarters. One in particular is so on target it's as if it was written by Copeland herself. It reads, "Since working with Arbill, we have had ZERO recordables and no near misses or incidents. This has had a positive impact on both productivity and morale."
Client feedback of that type is what keeps Copeland and other Arbill employees motivated and excited to come to work every day.
"I just really believe in my heart that I can make a difference," she says. "I can go to sleep at night knowing that I made the world a little bit better today."
This article originally appeared in the Jan./Feb. 2019 issue of Industrial Supply magazine. Copyright 2019, Direct Business Media.
COMMENTS: 0
---