Grab the wrecking ball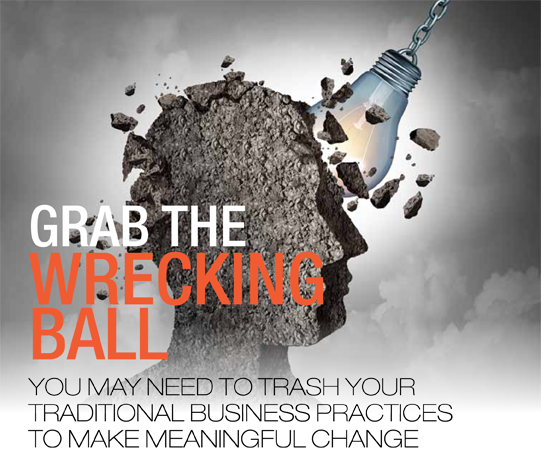 By Howard Coleman
Most leaders, as they pursue operational transformation, know they must also orchestrate a business and cultural shift — from prioritizing flawless execution to valuing more agile learning and experimentation, from people doing work in their own silo to fostering true cross-functional collaboration, and from evaluating people's past performance to enabling their future development.
Articulating the ambition is the easy part. Taking a wrecking ball to what's really getting in the way is a lot harder.
Many leaders today are trying to do things such as helping their organizations become more agile, more innovative, more digitally savvy, and more customer centric.
Sooner or later, though, they may run up against entrenched values and behaviors as well as core business processes that cause progress to stall. "It's the way we do things around here" – the culture and attitudes – that become the primary culprit, hindering the fundamental transformation being sought.
Here's what today's leaders need to do to knock down obstacles to change.
A Third Way Can Yield Better Results
Change is hard! It's often intangible; there are no direct levers to control it. What a change leader pays attention to and spends time on – not what they say – will usually provide the best clues about the company's business and culture. Think about it as the difference between a formal company value statement and what others in the company are really thinking or saying about the company. There is typically a large gulf between a stated aspiration and the reality being experienced.
It's easy to fall into a trap, too. You can over-rely on formal structural changes like new organizational lines of reporting, new jobs, and new departments/work units in an effort to eventually shift people's mindsets. Or you can simply leave the culture change to someone else or some "directive," hoping that with time, training, and repetition some new "slogans" will become reality. Frankly, neither works very well.
What if you identified and then eliminated unnecessary business practices? That is, you eliminate (or modify dramatically) business practices that are representative of the way you've always done things but whose continued existence sends mixed messages about the organization's real desire to effect change. These iconic business practices originated to help an organization achieve its most mission-critical tasks. But, because they were core to the organization's success, they can persist long after they become stale, meaningless, or even counterproductive.
Logically, traditional business practices need to change as a company grows or faces new threats. These practices, therefore, can include any functional component that is part of your company's total value stream.
An organization's business practices and processes can thwart needed changes as the business enters a "what got you here won't get you there" inflection point, such as the disruption currently being experienced by many incumbent companies. Change requires — and can be accelerated — by eliminating or radically transforming practices that reinforce the old ways, mindsets and behaviors.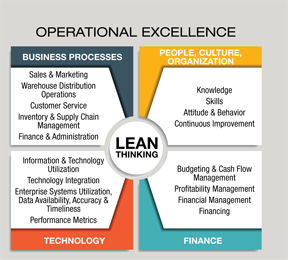 A good way to identify these practices is to note which components of this value stream, seen from the outside, seem to involve an inordinate investment of people or time and negatively impact cash flow, profit and customer experience, as well.
Each one of these four nodes in the continuous improvement model (above) are key success factors that impact your value-stream.
Each component of your value stream is significantly affected by:
Your business processes (what, why and how you do things)
The technology you use
The financial impacts
The attitudes and behavior of people
As I said earlier, articulating the initiative – and the ambition – is the easy part. Taking a wrecking ball to what gets in the way of moving in that direction, identifying the significant improvements and positive changes that can put your company on the road to operational excellence, is a lot harder, particularly when you want to see bottom-line results fast.
But, there is a path
Identify the significant improvements and positive changes you can make that will put your company on the road to operational excellence so you see the bottom line results quickly.
By focusing on the continuous improvement model throughout your value stream, you'll discover which areas of your organization negatively impact customer satisfaction, revenue, cash flow, and profitability growth due to unnecessary operational costs.
Your takeaway should result in an opportunities and action plan describing:
Clear and simple measurable goals
Two or three critical objectives to be accomplished in six months or less
A step-by-step outline (action plan) detailing the continuous improvements required and the specific changes necessary to overcome the barriers to improvement
"Owners" within the company who will be accountable for results
Note: Move quickly! The risk of failure quadruples as the timeline doubles. It's a fact! Don't risk the loss of contribution to the bottom line.
Turn your operational improvement aspirations into your roadmap to operational excellence.

Howard Coleman is principal at MCA Associates, a management consulting firm since 1986 that works with wholesale distribution and manufacturing companies that seek and are committed to operational excellence. Our staff of senior consultants provide operational excellence, thought leadership, and implements continuous improvement solutions focused on business processes, inventory and supply chain management, distribution center/warehouse design and productivity improvement, sales development and revenue generation, information systems and technology, and organizational assessment and development, including family-business succession planning. Contact him at (203) 732-0603 or by email at hcoleman@mcaassociates.com.
This article originally appeared in the Jan./Feb. 2020 issue of Industrial Supply magazine. Copyright 2020, Direct Business Media.
COMMENTS: 0
---