Challenges Create Opportunity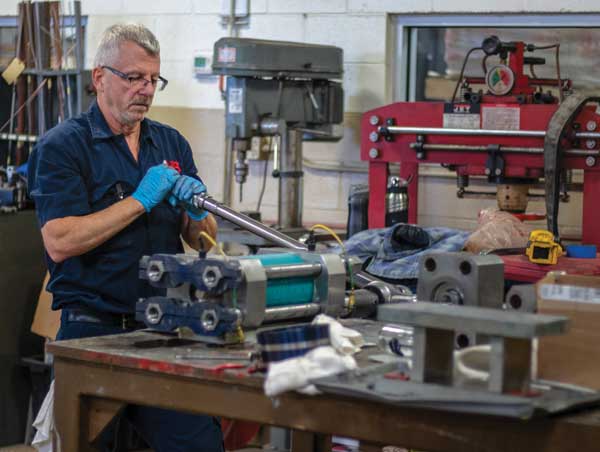 Don Glenn works on a waterjet intensifier at AHB Tooling & Machinery's Detroit area location
This Detroit-area distributor continually reinvents itself to serve customers
by Rich Vurva
Sometimes it takes a pandemic to force companies to search for new ways to solve problems. That's what AHB Tooling & Machinery discovered when the Detroit-area company was called on to help troubleshoot a milling application for an automotive components manufacturer.
The plant experiencing the problem was based in Mexico. The coronavirus pandemic had shut down travel into Mexico, so there was no way to send anyone to view the operation. Through a series of phone calls, videoconferencing and a plant operator shooting a video with a cellphone, AHB worked with the customer to solve the problem.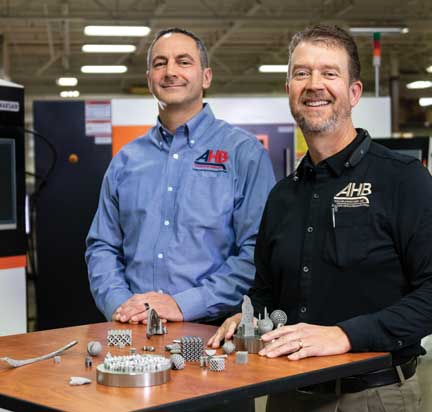 Mike Gleason, AHB president and co-owner, with Jon Hays, vice president and co-owner.
"For the first time in my life, we looked at a current operation, brought in the right tooling, adjusted the
process and parameters, performed a test and won some business in another country while never having visited the plant," says Jon Hays, AHB vice president and co-owner along with company president Mike Gleason.
Gleason and Hays know what it takes to adjust to ever-changing situations and turn problems into opportunities. A can-do attitude is built into their DNA.
The company was launched in 1995 in Saginaw, Michigan, as American Hack & Band. It supplied the wood and metal cutting industry with hack saw and band saw blades, and band saw machines. Kevin Hess, a salesman with more than 20 years of experience in the metalworking industry, purchased AHB in 1999 and expanded the product line to include abrasives, cutting tools and fluids to allow AHB to be a more complete industrial supplier of metalworking products.
Gleason and Hays began working for Hess shortly after he purchased the company, helping to build AHB's reputation in the industry. In 2002, the company name was changed to AHB Tooling & Machinery to better reflect its "Complete Metalworking Solutions" philosophy. AHB maintains a location in Saginaw but is now headquartered near Detroit in Roseville, Michigan, and also operates a satellite location in Jackson, Michigan.
AHB serves customers throughout Michigan's Lower Peninsula and into parts of Indiana and Ohio. Inside sales efforts reach customers throughout the continental U.S., and a growing internet presence has expanded the customer base to about 10 foreign countries. AHB currently has 50 employees and annual sales of about $40 million.
Gleason and Hays purchased the company from Hess in 2019.
Changing customer demographics
Like many Michigan-based companies, AHB historically focused primarily on companies that served the automotive industry. When auto manufacturing started migrating to other regions and countries, the state's economy began to diversify, opening business opportunities in aerospace, medical, agricultural and construction equipment, and defense.
"We've seen the advent of more and more aircraft work showing up in Michigan, along with military work and the medical field," says Hays. "It has definitely been very interesting as customers go from working with standard steels and cast irons to working with all kinds of exotic materials."
New customer types also resulted in new technologies. For example, in 2005, AHB added waterjet machines and supplies to its line card, which traditionally focused on metalworking machinery, abrasives, band saw blades, cutting tools, toolholding, workholding, filtration systems and fluid management.
"We have become well known in the entire U.S. for our knowledge and offerings in waterjets, which has taken us outside of our main territory," Gleason says. AHB also operates as a master distributor of waterjet machines and supplies,
selling to other distributors globally.
Along with changes in the types of industry served, AHB has witnessed workforce transformations that have created new opportunities to demonstrate their expertise. "Everyone needs the technical services that we can provide because their resources are stretched. The staff they have is very capable, they simply don't have enough of it," explains Gleason. "We've hired some people with technical experience and trained those people that did not have a technical background."
For many customers, Hays has observed that when experienced employees retire, it leaves holes in engineering and other job categories.
"In the past, we might have just been required to supply a product that someone spec'd out. Now, we're often required to look over a print, spec out the tools, figure out the cycle time on a part, and so on. It makes it really neat when you're putting the whole solution together for the company rather than just supplying them with a product," he says.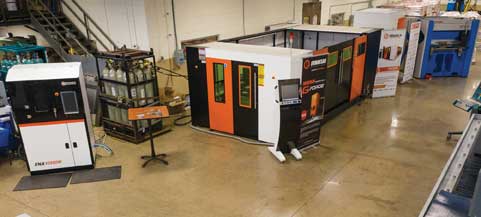 The Ermak 3D printer, the first in the U.S., can print parts out of pure metals, including stainless steel, cobalt chrome, titanium, aluminum and many others.
In 2017, through an acquisition, AHB added a full line of fabricating equipment to its lineup, including lasers, plasmas, press brakes, shears, punches and rolls. The latest line card addition is the first Ermak 3D printer in the U.S. that can print parts out of pure metals, including stainless steel, cobalt chrome, titanium, aluminum and many others. This technology has major implications in prototype applications and in one-off products such as dental implants, a replacement hip socket for someone with bone cancer and many other items where tooling up to manufacture the item once makes little sense.
Doing business during a pandemic
The pandemic has required AHB to be nimble, depending upon rules customers put into place.
"We see everything from people who have no protocols to people who have door locks based on a face scanner at the door that scans your face, checks your temperature and unlocks the door if you're within the proper range," Hays says.
After trying other solutions, AHB settled on the Microsoft Teams communications platform for videoconferencing with customers but are also prepared with nearly a dozen other meeting apps, based on the customer's preference.
"I had a meeting today with a customer who doesn't see people in-person," says Hays. "Our sales person, myself, and several people with the customer have a Teams meeting every other week to go over applications to see what needs to be improved, or where costs are rising that we may need to address. If tool life is falling, how do we address this? What do we do?"
Gleason anticipates that while videoconferencing may become a more common method of communicating with customers and suppliers even after the pandemic is over, face-to-face visits will never go away.
"When we had people start working virtually from home in the middle of March, basically 90 percent of the people were working from home in one day. It was amazing how fast the IT team made it happen. As things eased up and we started to be able to give the option, I was very surprised that among employees that normally work from the office, all but five of them returned to the office, and that was by their choice," he says.
While AHB has offered an e-commerce option for customers for several years, usage started gaining traction during the pandemic. "We knew that more people would likely migrate to the website so we had some of our people reach out to our accounts to schedule training sessions and walk people through placing orders on the website,"
Gleason says. As a percent of total sales, e-commerce is still in the single digits, but has risen dramatically over the past several months.
Digital vendor catalogs and applications that take customers through the decision-making process for selecting a tool based on geometries, feeds and speeds, materials being machined and other parameters are growing in popularity. AHB recently began developing videos that demonstrate how to operate specific machines or how to install equipment.
"We're talking to customers about how to employ what is referred to as a cobot, a collaborative robot, in place of a person because there aren't enough people to run the machines that they need to run," Hays says.
A cobot on a mobile cart can lock into place at a machine and would function as the machine operator. "The cobot becomes the operator; it opens the door to the machine, loads the part, closes the door, presses the start button, waits for the machine to complete the cycle, then removes the part and starts the process over again. Rather than the traditional programming of the device, you can move the unit where you want it to go and it will repeat the motions that you taught it. It's something to see and much more affordable than people think," Hays says.
AHB is partnering on the project with Alliance Automation, a company that designs and builds robotic automation systems that optimize production processes. Alliance Automation helped AHB build the first abrasive robot waterjet cutting machine.
AHB has performed air quality analyses for plants for several years, a service that has taken on more significance during the coronavirus pandemic.
"We'll go into a plant and check the air quality and what they might need to clean it up. We've done everything from installing individual point-of-use units that mount directly on a machine to clean up the inside of that machine, to mounting units all throughout a plant to improve the circulating air flow," explains Hays.
AHB also offers a variety of machinery repair and preventative maintenance services, inventory management, tool repair and calibration, custom tool fabrication, and more.
Because it's part of their DNA, Gleason and Hays will continue to look for new ways to serve customers.
"We're building out the services section of our website to make sure that customers are aware of what we can provide," Gleason says. "We feel blessed to have been put in the position of owning and operating AHB."
This article originally appeared in the Jan./Feb. 2021 issue of Industrial Supply magazine. Copyright 2021, Direct Business Media.
COMMENTS: 0
---