Comfort & Control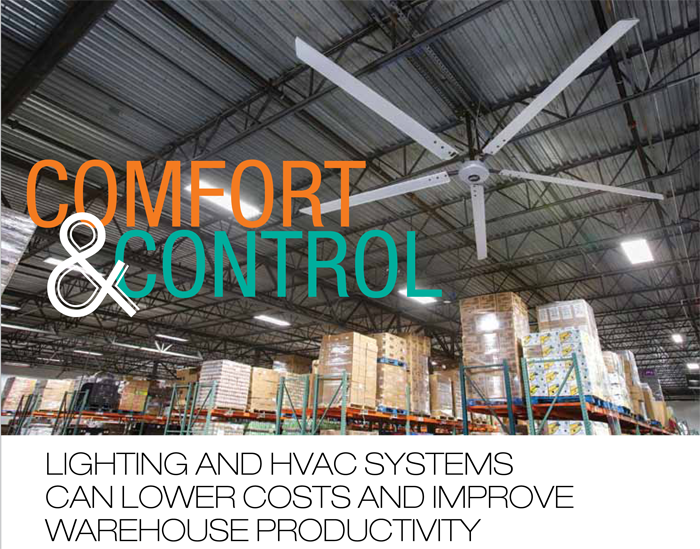 by Rich Vurva
Today's modern lighting and HVAC systems perform a lot more functions than simply making the workplace more comfortable. Intelligent systems can help monitor and reduce energy consumption, improve safety and productivity and even incorporate disinfecting UV-C lighting to help fight the spread of germs.
Here's a look at what's available from some leading lighting and HVAC manufacturers.
Hunter Industrial Fans
"We're continuously being asked for integrated control solutions for our industrial fans. Our customers want to control their HVLS fans as part of a greater Building Management System (BMS) control solution," says Mark D'Agostino, general manager and senior vice president of Hunter Industrial Fans.
Hunter Industrial provides packaged solutions to control its fans through "typical" protocols (such as BacNet), and also using highly customized proprietary protocols. "Last year, we opened a specific lab within our broader R&D group dedicated to the ever-evolving needs of our customers," he says.
For distributors, advantages are threefold, D'Agostino says. "Our products ship faster than nearly any of our competitors. While we commit to a 10-business-day turnaround on orders, most orders leave our facility within 48 hours, making inventory management very easy. Secondly, we offer the industry's only lifetime warranty on motor, blades, blade holders and mounting apparatus. Lastly, we have a wide variety of control packages, and all of our wall-mounted control solutions are powered over ethernet (POE), meaning no wall outlet is required to operate the touchscreen. This enables a distributor to supply a Hunter Industrial HVLS fan, and the control easily and seamlessly adapts to whatever mounting location their customer wants."
What solutions are on the horizon from Hunter?
"While I can't share much about our plans for 2022, I can tell you that by mid-year, we will be launching a first-of-its-kind component improvement for HVLS fans, allowing customers to adapt to several unforeseen install site limitations without changing products or returning/exchanging parts," he says.
Signify
Signify offers a comprehensive range of energy-efficient lamps, fixtures and lighting electronics for warehouse and distribution settings. "Not only that, we offer connected lighting solutions and Professional, Lifecycle & Managed Services, to help our customers unlock value well beyond illumination and support their sustainability goals," says John Bouls, office and industry end-user marketing lead, North America Systems & Services.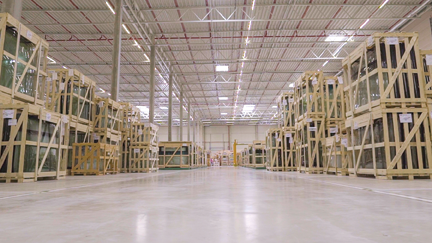 With Interact, distributors can wirelessly schedule and control their facility's lighting, gather data to streamline heating and cooling functions, and collect occupancy data from zones across their facility.
For example, Signify's Interact is an Internet of Things (IoT) platform that enables data to be collected via sensors embedded in the fixtures. In combination with cloud-based software, it allows users to centralize lighting management while leveraging insights to drive smarter warehouse and distribution operations.
Interact can be used to help monitor energy consumption, comply with regulatory standards and meet sustainability objectives; improve worker productivity, safety and quality control; and guide inventory strategies and optimize a site's layout for greater efficiency.
Interact can help optimize energy use with its advanced lighting controls. For example, instead of lighting unoccupied stacks, corridors and other zones, distributors can wirelessly schedule and control their facility's lighting, so light is only turned on when and where it is needed. Presence-aware dimming can help detect the lack of motion in an area of your facility, and automatically reduce the amount of light needed – realizing greater energy and utility cost savings. Additionally, Interact can be integrated with other smart systems in your facility, like your HVAC, to share data commands on a common network. It gathers intelligence to streamline heating and cooling functions, which means facilities will no longer need to heat or cool underpopulated areas. Coupled with environmental sensing capabilities, which simplify temperature and humidity system adjustments, the system can detect natural daylight and adjust your heating/cooling or smart window shades based on your building's needs. Your facility can use natural daylight to heat itself or block
sunlight to cool the space.
Interact can even adapt facility lighting to help improve employee productivity and operational security. You can customize the lighting to support employees' daily tasks or coincide with the time of day. For instance, light can be tailored to provide more illumination in areas with insufficient light levels or dimmed during the afternoon when sunlight is most abundant, which can promote employee security and visual comfort. In terms of supporting physical distancing measures, Interact couples Visual Light Communications (VLC) technology and the built-in sensors to collect occupancy data from zones across your facility. Then, it shares this information with employees via their mobile devices to notify them of off-limit or closed areas and even overcrowded spaces. Workers can be triggered to find a less busy route as they navigate through your facility, especially during high traffic times of the day, like closing or opening shifts, or to optimize important tasks, like order picking.
Interact is designed to scale with your business. Distributors can add and turn on new capabilities with little to no disruption since software and firmware updates are downloaded from the cloud, and sensors and other new hardware can be easily slotted in without cumbersome reinstallations or lengthy downtimes. The connected lighting system's dashboard offers unique insights to simplify day-to-day decision-making and operations. For example, facilities can track how many hours a fixture has been operating and plan its maintenance accordingly or integrate the system with other building service management software, like BACnet, to have all your controls in one place.
"Signify is excited to expand our Interact connected lighting system's capabilities to better serve distributors in the future," says Bouls. "In industrial settings, asset tracking is a top priority for facility management. Real-time location services can help easily pinpoint the location of specific products or equipment to run more efficiently. Our goal is to leverage the same VLC/indoor navigation principle and technology previously mentioned to expand our capabilities for tagged objects."
Distributors can track and monitor their object's movement, which can help prevent bottlenecks and enable better use of costly equipment. For instance, analyzing warehouse positioning to eliminate the chance of workers and equipment, like forklifts, coming into contact and slowing down operations.
"Additionally, we're looking to increase our bio-adaptive light capabilities to better support
employee wellness. Our current light scenes can be programmed to help support employees' circadian rhythm – or natural body clocks, which are responsible for regulating mood, alertness and relaxation. This function can be expanded to coincide with employee's shift schedules to promote concentration and an energy boost during daylight and twilight shifts," he says.
Finally, Bouls says Signfy is looking to expand capabilities outside of the warehouse's interior. "In line with our previous integrations, we plan to make outdoor lighting – from
the parking lot/garage to the facility's facade lighting – all easily accessible on one common Interact dashboard."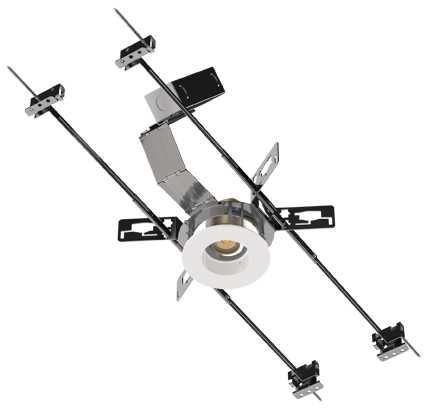 A current trend is blending traditional troffers – a rectangular light fixture that fits into a modular dropped ceiling grid – and integral UV germicidal lamps.
Sunshine Lighting
Multifunctional and multipurpose lighting has given way toward a new era of personalization, according to Morganlee McGrath, commercialization leader for Sunshine Lighting.
"Technology, functionality, form, budget and short lead times all play a factor for distribution centers. Our design and engineering team consider these factors when deciding on the next generation of commercial lighting products," explains McGrath. She says the company offers distribution centers a breadth of low-cost fixtures that not only function as a source of light, but create extra dimensional capabilities that can benefit the end-user.
"We believe form and function are one. This brings a considerable amount of inspiration as we continue to develop new products and enhance our product lines," McGrath says.
One trend is blending traditional troffers – a rectangular light fixture that fits into a modular dropped ceiling grid – and integral UV germicidal lamps. "While popular on the market, we've taken the extra step in designing a UV light source into a multifunctional air return troffer that operates cohesively with existing plenum systems," she says.
The biggest concern for most distribution centers would be coming up with low-cost solutions for high-demand projects. "Sunshine Lighting is determined to provide multifunctional fixtures that are low cost while remaining stocked in our warehouses to eliminate the excessive lead times," she says.
Sunshine Lighting designs and engineers new products to enhance versatility and ease of installation.
Using best in class LED technology will usher in additional products that are smaller, more efficient and at lower installed costs.
"Another feature that is worth noting is in our newest series of downlights. The design incorporates a retractable junction box and driver housing for small aperture downlights that enable easy servicing from below the finished ceiling.
"Also, we will be introducing some unique UV air disinfection products that mix HVAC, germicidal UVC, and lighting to curate a safer, more revolutionary approach to the commercial environment," McGrath says. "Our goal is to gain some leverage through these hectic times by engineering a light source that not only functions but protects the well-being of others in the modern environment."
MKS, one of Sunshine Lighting's subsidiary brands, plans to launch this product early in 2022.
EMC
"EMC got its start in 2003 helping customers reduce their energy usage by switching to more energy efficient lighting," explains Tony Johnson, solutions engineer for EMC, a lighting and technology solutions provider. "Eventually those retrofits turned to LED, and in most cases, LED lighting upgrades reduced energy usage by 50 percent."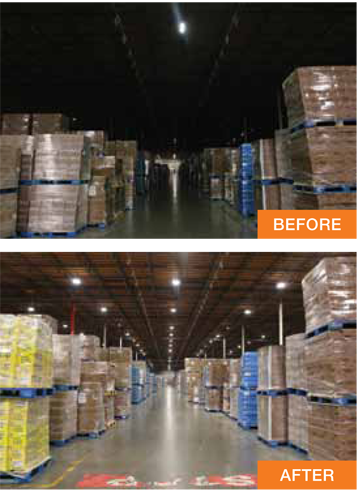 Johnson says customers often completed only partial upgrades, focusing on "low hanging fruit" like high bay lighting in warehouses, and leaving offices and exteriors for the next time. "The reason for this is it wasn't always cost effective to get more niche lighting, and our customers in distribution and retail industries had budgets that only went so far," he says.
Today, EMC is seeing the opportunity for what the company calls "reLED," a second LED lighting upgrade that either replaces that original installation with lower cost, more efficient new LED technology or finishes what wasn't done the first time through.
"Today's LEDs are essentially electronic devices that are dimmable and can be networked," explains Ben Wright, a product manager for EMC. "They can put you on the path to intelligent buildings, serving as the basis for a controls infrastructure that allows you to generate data about your business operations and make changes to improve how your business is run."
EMC responded to these trends by expanding its expertise in controls technologies and lighting controls design. "Just like we did with those initial LED lighting projects, we help our clients understand their opportunities with audits, design and incentives options and then work with them on the logistics, installation and service for multisite implementations," says Johnson.
While the technology has improved, there's also been a change in geographic prioritization for energy rates. Lowering energy costs has long been a focus for companies in traditional high-rate areas like the West Coast and New England. Now, dramatic rate changes are occuring in other locales. For example, the power grid failure that occurred in Texas last year following unprecedented cold weather has resulted in significant rate hikes.
EMC provides turnkey LED lighting and controls retrofits. "We help those in the distribution industry navigate the process and deliver the energy-efficient, longer-lasting industrial LED lighting and controls technologies across their facility portfolios," says Wright. These projects not only help reduce operating costs but also increase the comfort, safety and productivity of employees in a variety of work environments. A well-lit environment—which can be optimized with controls—offers better visibility to increase safety and accuracy, drive productivity and reduce errors.
Johnson adds that for those clients who need to act but don't have the budget, EMC can deliver guaranteed utility savings with flexible, scalable service agreements. "These Energy as a Service (EaaS) agreements eliminate the up-front investment and the typical technology, performance and maintenance risks commonly associated with large-scale efficiency projects," he says.
In the last two years EMC has seen the pandemic create a new focus on health and safety in building environments. This led EMC to add disinfection UV-C lighting and photocatalyzer technologies that can offer an effective, convenient and consistent approach to preventing the spread of pathogens like COVID-19.
Pandemic aside, one consistent customer request was a solution to simplify the testing of emergency lights. This is something that today is largely being done by individuals on ladders pushing buttons on each individual exit or emergency light. "As a service organization, addressing this request put us on a new path toward product development. We have since introduced the EMC Emergency Light Test (ELT) system, a computer-based, self-testing and self-diagnostic tool that helps organizations with emergency light Life Safety Code compliance. The ELT retrofits into almost all emergency light fixtures and signs, self-performs Life Safety Code testing, and creates a report of each test performed," Wright adds.
Johnson adds that while distributors may initially look to EMC's LED lighting and controls solutions for energy savings, they soon appreciate the ability to provide their employees with safe, attractive, well-lit indoor and outdoor work environments where they can do their best work.
"These solutions are at their optimal performance and price point for turning facilities into smart buildings, or making the smart buildings you already have even smarter. The technology is such that an investment in LED lighting and controls today essentially 'future proofs' your building, making changes more affordable," he says.
This article originally appeared in the Jan./Feb. 2022 issue of Industrial Supply magazine. Copyright 2022, Direct Business Media.
COMMENTS: 0
---