The right brush for the job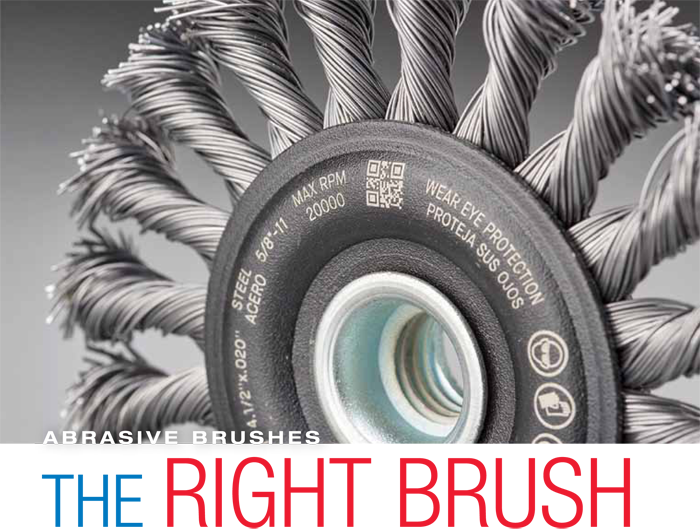 by Rich Vurva
Faced with tight deadlines and rising costs, machining centers and other manufacturers are looking for ways to improve performance. Often, they prefer tools such as abrasive brushes that can complete a variety of functions, from surface preparation to blending and finishing. Here is a brief look from abrasives suppliers about the trends driving product development in the industry today.
Craig Chaffee
Product manager
Norton I Saint-Gobain Abrasives
Users are seeking dependable performance, affordability and a wide range of abrasive brush options from a reputable manufacturer. Having a single source for brushes that cover many applications such as surface preparation, cleaning, deburring, blending and finishing is very helpful and saves time. Ease of product selection for the application at hand is also important both for the initial purchase and the life of the abrasive.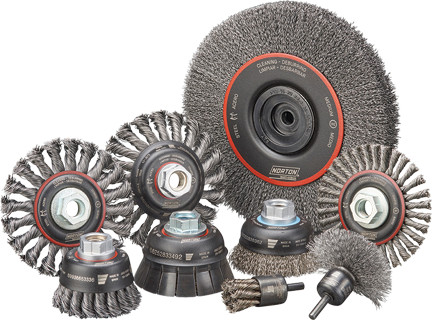 Norton wants to make sure our customers are getting everything they need to accomplish the job, with a quality product from a brand they trust, at a fair price. A few years ago, we introduced the Norton Economy Wire Brush line (Gemini) covering brush types from wheels to tube brushes and all types in between. More recently, Norton | Saint-Gobain Abrasives has expanded its "better tier" BlueFire Wire Brush Line with a broad offering of all the basic shapes and configurations. Norton BlueFire Wire Brushes are the ideal choice for removing rust, scale, paint and dirt from metal and other surfaces.
The expanded BlueFire line is available in a variety of brush types and sizes for large flat areas to small, tight spaces. A durable design provides a uniform finish while offering the longest life.
For sell-through, Norton BlueFire Wire Brushes now have a strong dominant black color which will get noticed. Complementing the durable, high performing wire on each BlueFire Wire Brush is clean cut engraving of critical information, and easy application color identification. Each product has the critical information operators will need throughout the brush life. Educational information is prominently displayed on the packaging in three languages for ease of selection. For recognizability, Norton has added a red or blue identification ring around the hubs of the brushes to easily distinguish if the brush is for using on steel or stainless steel.
Informative attractive packaging clearly explains dimensions, structure, safety and machine usage. All brushes are available in individual clamshell packages unless otherwise noted. To assist sell-through, three variations of educational point-of-purchase signage are available.
Norton Wire Brushes remove rust and oxidations, paint, slag, weld spatter and other unwanted surface contaminants, without removing any base material. Other abrasive product types (i.e. coated abrasives and surface cleaning products) can remove base material along with the surface contaminant. Our flexible wire brushes are able to clean hard-to-reach places and conform to irregular surfaces, which more rigid products cannot do.
BlueFire Wire Wheel Brush applications range from the toughest, more aggressive surface cleaning applications, including removing weld scale, spatter, extra-heavy rust and corrosion, cleaning pipe joints, or surface roughening to light- to medium-duty surface cleaning and contaminant removal.
Wire Cup Brushes in the Norton BlueFire line offer deburring; roughing; cleaning rust, scale, paint and oxidation; cleaning corners, recesses, and other hard-to-reach areas and removing concrete and large surface areas.
Norton BlueFire End Brushes provide a wide range of capabilities from cleaning and deburring recessed areas or inside diameters of tubes and pipes, to proper surface finish; rubber and plastic flash removal; paint and rust removal, and mold and tool polishing. End Brushes are used on CNC, robotic, die grinders and drill presses. Twist knot wire end brushes offer more aggressive cutting, and crimped wire versions have lighter brushing action including for contoured surfaces.
Also, Norton BlueFire Hand Brushes come in a variety of handle and filament shapes and styles for most hand scratching applications. Customers like them for removing scale and surface coatings or removing weld debris.
We are continually streamlining our Wire Brush Line to provide customers with an optimal solution for the application at hand. Also, to help save time and labor cost by getting jobs done faster and more efficiently, we can show customers how to accomplish this with the BlueFire Better Tiered line of abrasive brushes.
Imre Karetka
Business development manager - industrial power and maintenance brushes
PFERD
With the current labor shortage effecting manufacturers nationwide, everyone is looking to automate as much of the manufacturing process as possible. To this end, abrasive tools which are designed for use in CNC machines or in robotic end effectors are all in demand. Many of the tools PFERD sells (burrs, brushes, files and even power tools) are suited perfectly for cutting, deburring and surface conditioning applications in a dedicated deburring or CNC/robotic cell. By automating the above processes, manufacturers can utilize their skilled and limited work force to do more value added jobs vs spending time to manually deburr or chamfer a part for example.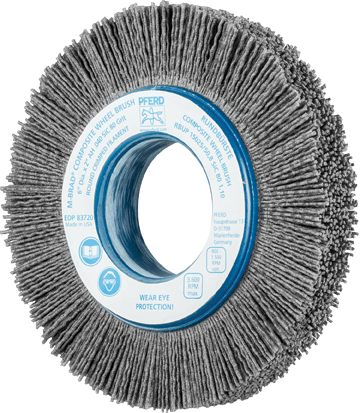 PFERD is always innovating/developing and testing new tools and solutions to provide an additional level of value to our partners and customers. For example, most of our M-BRAD abrasive brushes are designed with stems and adapters to easily fit into standard size collets for ease of installation. In addition, if a robotic integrator wishes to use a PFERD burr and power tool to solve a chamfering application, PFERD offers power tools designed to run that burr at an optimal speed to provide chatter-free, smooth cutting action. Our goal is to be solutions providers.
In addition, PFERD offers a wide range of cutting and grinding tools designed for material-specific applications. For example, we are the only company that offers 100 percent stainless steel brushes called INOX-TOTAL. The industry standard for stainless steel brushes is that the brush wire is stainless steel, but all other components of the brush are made from carbon steel components. When working on medical, food grade or even some nuclear components containing nickel and chromium, contamination is a very serious concern. By using the PFERD INOX-TOTAL brushes during the surface conditioning application, the end-user can be certain that the brushes will not introduce any contaminants to the work piece. The family of INOX-TOTAL brushes do not contain any carbon steel components, are degreased to remove any oil which may be present from the manufacturing process and in many cases are packaged in a manner to minimize contamination from even the paper packaging.
Another initiative PFERD introduced over a decade ago is called PFERDVALUE. PFERDVALUE is our commitment to systematically focus on working ergonomics and economic efficiency by delivering optimum worker health and safety while attaining the best possible level of efficiency. The two pillars of PFEDVALUE are PFERDERGONOMICS and PFERDEFFICIENCY. For a PFERD tool to receive the PFERDERGONOMIC label it must demonstrate a reduction in either noise, vibration, emission and an increase in comfort during use. Examples of PFERD products which carry the PFERDVALUE label include WHISPER (grinding wheel with reduced noise emission), POLIFAN-CURVE (ability to easily grind out fillet welds), COMBITWIST Brushes (alternating knot twist reduces vibration and yield longer brush life) to name a few.
PFERD will continue to develop new, innovative and novel solutions to insure that our customers realize the greatest benefit and value by putting their trust into PFERD tools and solutions. There are multiple product changes and improvements we are working on. Without going into great detail, the common thread is that the tools we offer will need to be smaller in size and more aggressive in nature to satisfy the demands placed on them. To achieve this, new materials are used in combination with advanced manufacturing processes.
This article originally appeared in the Jan./Feb. 2022 issue of Industrial Supply magazine. Copyright 2022, Direct Business Media.
COMMENTS: 0
---