The Supply Chain Company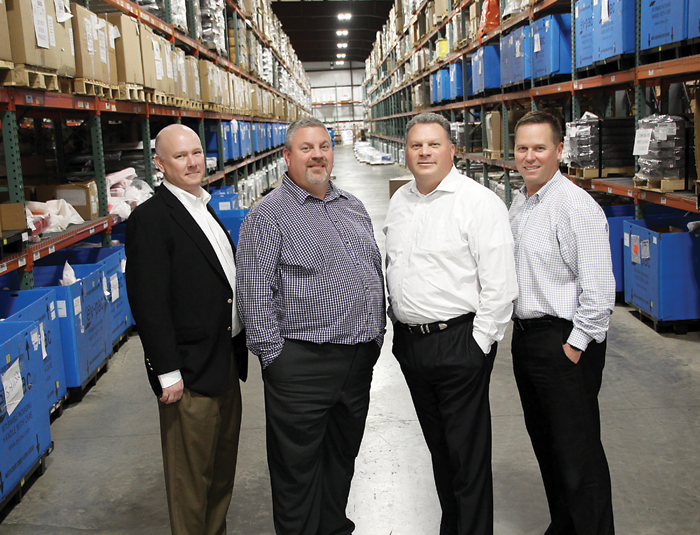 Left to right: Chad Angel, chief financial officer; Brandon Plock, VP of supply chain & product management; John MacQuarrie, president and CEO; Matt Wiskus, executive vice president of sales.
This Midwest distributor views itself as a key cog in its customers' supply chain
by Rich Vurva
For many years, industrial distributors have been spreading the message to their manufacturing customers about the need to lower indirect materials costs. Most distributors help customers achieve that goal by convincing them to reduce their vendor list through product standardization, and allowing the distributor to take over management of the customer's maintenance, repair and operations supplies. They also apply their technical expertise to help their customers improve productivity.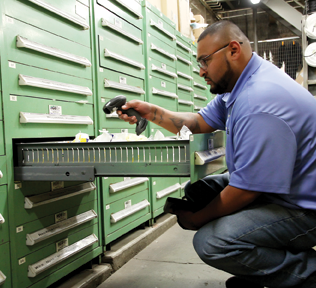 Illinois-based White Distribution & Supply (WDS) has taken that concept further by expanding the types of services it offers to manufacturers. They realize that customers need much more than just timely access to products.
The company got its start in the 1980s by delivering just-in-time production supplies and consumables to office furniture maker The HON Company. Based in Muscatine, Iowa, HON is now part of HNI Corporation, a manufacturer of workplace furnishings and residential building products.
"The White family started a business that does just-in-time supply of fasteners, packaging products and MRO supplies. Basically, our early operational footprint replicated HNI's manufacturing footprint," explains John MacQuarrie, president and CEO. While headquartered in Fairbury, Illinois, WDS operates primarily from Muscatine and 12 other locations in nine states established near HNI and other customer manufacturing sites.
Services include just-in-time delivery of production consumables; custom parts kitting and line sequencing solutions to streamline a customer's assembly process; managing MRO supplies; light assembly and manufacturing; customized value-added third-party logistics (3PL); vending and onsite crib management.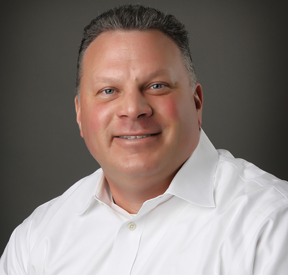 John MacQuarrie
MacQuarrie describes one particular offering as a "hands-on 3PL." For example, WDS provides warehousing, sequencing and shipping services for a well-known manufacturer of forklifts via a 180,000-square foot facility that was built to suit the customer's needs.
"We take production parts from their suppliers, inventory them, and then deliver them just-in-time to their plant nearby," he says. "Then we bring their finished goods out of their factory back here and warehouse them for ultimate distribution to their dealer network."
Different from most 3PL providers that simply move boxes into and out of a warehouse, WDS offers other hands-on services, such as charging the battery on a lift truck or touching up paint on a vehicle before it's shipped to a customer.
"From the very beginning, our strategy has been to go where the customer needs us to be," explains Matt Wiskus, executive vice president of sales. "So we're able to be pretty nimble, and be where they want us to be and help them do what they need done. More than just supply product, we look at ways to solve problems. We like to think of it as engineered distribution."
| | |
| --- | --- |
| | |
| Matt Wiskus | Brandon Plock |
Depending upon the customer's goals and requirements, WDS may function as a traditional distributor of parts and supplies, or as an extension of the customer's manufacturing and assembly operations.
"At the end of the day, we are a supply company, but to some degree you could say we're a logistics company," says Brandon Plock, vice president of supply chain and product management. "We're managing the flow of product from wherever the customer works, to wherever it needs to be."
Plock says his team's job is to make sure that customers are getting the proper solutions to help them optimize their operations.
"It is incumbent upon myself and my team to make sure that we are getting the right products from the right people. Part of our job is minimizing risk, eliminating unnecessary activities and making sure that we're doing what we need to do every day to support our customers," he says.
MacQuarrie explains that many manufacturers devote too many resources and time to activities unrelated to production.
"Matt and I were in a plant not long ago in Utah, where about 20 percent to 25 percent of that factory floor was devoted to manufacturing," MacQuarrie says. The rest of the footprint was used to warehouse supplies and finished inventory, and completing other non-core processes. Meanwhile the customer said that their bookings significantly outpaced plant production levels. Something had to give or they could lose market share. "Our fundamental stake in the ground with our customers is to help them determine how they make money and help them get out of doing things that don't make them money," he says.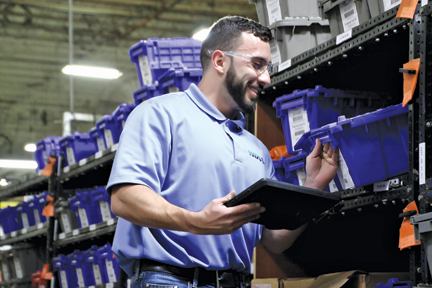 Spreading the message
When WDS was acquired by Baltimore-based Slate Capital Group in 2016, executives recognized the need to expand its customer base to fuel growth. At the time, a large percent of White Distribution & Supply's business was dependent upon a handful of large manufacturing customers. Over the past five years, WDS has grown its customer base considerably, making it less dependent on any customer group.
Some growth has come through acquisition. In 2019, WDS acquired Hagerty Industrial Supply, based in Peoria, Illinois, a distributor of industrial supplies and related services. Previously a division of Hagerty Brothers Company established in 1860, Hagerty provided fasteners/hardware, tools, abrasives, safety supplies and other industrial supplies to OEMs and contractors. The company also offered in-plant storeroom management,
bin/crib management services and vendor managed inventory solutions, making it a good fit for the JIT inventory services offered by WDS.
WDS also recently acquired Rock Island, Illinois-based Pak Source, a manufacturer of wood pallets, skids and crates and a distributor of packaging materials. "Pak Source's services and customers are very synergistic to the WDS focus," MacQuarrie says.
The Hagerty and Pak Source acquisitions have introduced WDS to new customers, opening an opportunity to explain how WDS can help them make the best use of their limited resources.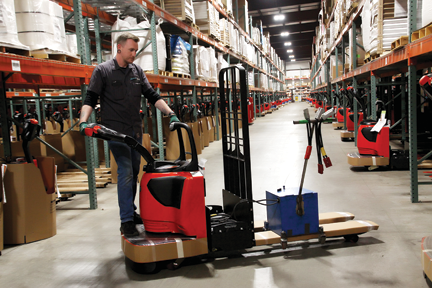 WDS provides warehousing, sequencing and shipping services for a well-known manufacturer of forklifts via a 180,000-square foot facility that was built to suit the customer's needs.
"We bring ideas to our end users related to how they can leverage material flow and, by so doing, create a footprint that's optimized for them," MacQuarrie says. "We can bring fasteners right to their assembly line with a great deal of customized VMI services. Or we can do it through vending machines. The primary tenet is getting the things out of their building that don't help them make their products."
Managing internal complexity is an important part of what makes WDS tick since many of its services include kitting, packaging and other custom-designed solutions that are unique to each customer.
"Through acquisition and through the growth of our company, we have created substantial value-added service platforms for our customers," says MacQuarrie. "One of our ongoing goals is to create leverage by refining our processes and systems to allow us to make custom solutions via repeatable standard work. We are also focused on squeezing the complexity out of our own business."
Solving supply chain headaches
Virtually every industry has experienced supply chain difficulties that arose during the coronavirus pandemic. As a result, many companies are reevaluating how they acquire everything from raw materials to consumable products used in the manufacturing process. WDS expects those discussions will provide new opportunities to introduce value-added service platforms to potential customers.
"Post-COVID, I think there are going to be some very interesting discussions between manufacturing customers and companies like us, to see who's the better fit for doing some of their supply chain work," says Wiskus. "So the likelihood of us building out a more sophisticated, wider, value-added portfolio is very possible."
Much of the custom work WDS performs involves light assembly and kitting/sequencing for a local customer's manufacturing operation. For example, the distribution center in Dubuque, Iowa, has a woodworking shop for cutting lumber to assemble into corrugated packaging for shipping finished windows to customers. Other facilities measure and cut threaded rods and conduit, cardboard, fiberglass or other materials, or paint parts for customers.
One customer that makes pressure washer parts and supplies uses WDS to kit them, package them and ship them onto their customer base. As a result, no two WDS facilities look alike.
The growth in the types of services offered has required WDS to expand its footprint.
"Three of our facilities this year have been doubled in size," says MacQuarrie. "Our Springfield, Illinois operation, our Dubuque operation and our Newton, North Carolina, operation have all been doubled in size in the last 180 days, to be able to be ready for the kind of growth that we expect."
This article originally appeared in the Jan./Feb. 2022 issue of Industrial Supply magazine. Copyright 2022, Direct Business Media.
COMMENTS: 0
---