Antidote for Troubled Supply Chains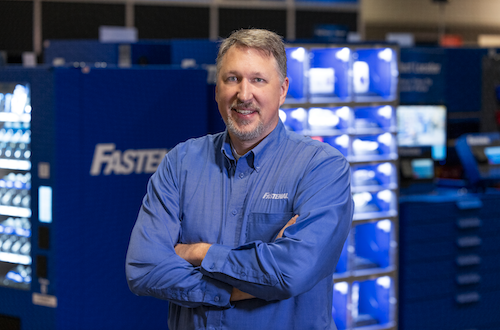 Tony Broersma, senior vice president of operations at Fastenal
Fastenal works the kinks out of supply chain disruption with a strategic emphasis on people and partnerships.
by Kim Phelan
Like a cold bug you can't shake, supply chain challenges will continue clinging to many companies throughoutthe industrial distribution industry in 2023. But remarkably, a partnership-focused mindset at Fastenal has spared the company considerable grief during the pandemic and the erratic two years that followed. And while most modern crystal balls – aka historical-based forecasting tools – are running on low battery, the company strategically harnesses human intelligence and experience to insulate it from supply chain tempests.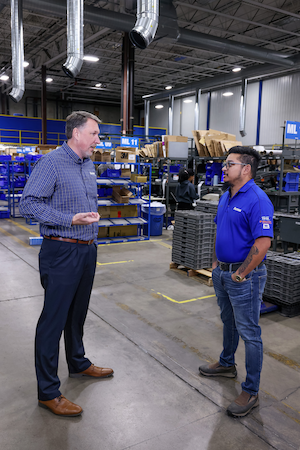 It's not uncommon for Broersma to visit Fastenal's warehouses, distribution centers, and hubs to get an in-person take on operations.
As 2022 came to a close, global supply chain disruptions ranked highest among supply chain woes for distribution, manufacturing, and third-party logistics companies, according to a year-end Supply Chain Disruptions Study conducted by Peerless Research Group. And for the large majority of vice presidents, general managers, supply chain and operations managers surveyed, relief was not in sight as they acknowledged the pressures on global supply chains were likely to continue well into 2023, according to the "Logistics Management" study. Further, almost all indicated their networks are either "usually, always or sometimes" a problem.
Not so for Fastenal, which, according to senior vice president of operations Tony Broersma,averted supply chain meltdown mode by leaning hard into its two most dependable assets: (1) a business culture rooted in loyalty and transparency that defines its relationships, and (2) its people, to whom he refers as subject matter experts.
Give Value to Get Value
The term partnership isn't used flippantly at Fastenal, and by demonstrating commitment and building value throughout the channel, Broersma says the company fosters an allegiance among suppliers that causes them to prioritize Fastenal even when the chips are down. Rather than overemphasizing a heavily diversified inventory, the company devotes its energy on strengthening its existing supply chain partners.
"It's just as critical that we have strong partnerships with our suppliers as it is to have a lot of different suppliers," said Broersma. "A supply chain problem in the industry doesn't necessarily become our problem if our supplier prioritizes us and doesn't allow that problem to impact us. So, if a factory suddenly has 20% less capacity and we represent 30% of that factory's capacity but they're still covering our 30%, that 20% capacity issue is somebody else's problem because we're partners with that supplier. There's a balancing act there between diversification and managing long-term partnerships with our suppliers and making sure that we are their priority by making them our priority."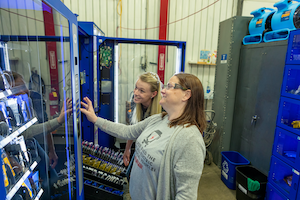 As she restocks a vending machine, Fastenal's Mackenzie Schmidt jokes with an employee at Winnebago's
facility in Forest City, Iowa.
That happens, he said, by treating their suppliers the same way they treat customers. Because Fastenal brands itself as a supply chain solutions company, it chooses not
to be merely transactional with its supplier partners or to be viewed as a stocking distributor that puts product on a shelf and available for customers.
"When we talk about value internally, it's about leverage – leveraging our working capital, leveraging our CapEx, and growing sales by providing world-class customer service," Broersma said. "And the same is true when we look back to our suppliers – how do we help them?"
Being intentional about helping suppliers requires strategy, so the company keeps these questions on the front burner:
Are we helping our suppliers grow their business?
Are we a growth driver for their business?
Are we driving rationalization with our customers?
Are we including our suppliers in the sales process?
Are we putting them front and
center in front of our customers to help drive a value proposition related to their products?
Are we maximizing working capital and OpEx to drive efficiencies for their business the same way that we are for our own business?
| | |
| --- | --- |
| | |
| | Winnebago employees talk about production on the line.Fastenal's RFID bins can be seen in the background. The company prides itself on finding the best locations for point-of-use inventory. |
"Because at the end of the day," Broersma added, "it's about making that supply chain as efficient and effective as possible. We're all dipping into the same bucket from a profitability standpoint, so if we can make our supplier more efficient, they can pass those cost savings on to us and through us to our customers."
All About the People
Data and technology have evolved to such a height and permeated industrial distribution to such a depth as to make operations almost entirely dependent on these tools. But then the stool was kicked away – suddenly, the world's response to COVID-19 ushered in unforeseen disruption to supply chains that took a toll while predictive data became practically useless.
"What we learned through all of these disruptive events is that great tools are only useful in the hands of great employees," said Broersma. "That was the lesson learned for us very early.
"None of those tools could make any sense of what was going on in the world, because those tools are designed to take history and tell you what's going to happen in the future," he continued. "Well, in a disruptive and global event like that, your history is no longer relevant to the future. But if you have great people – the tools will still work."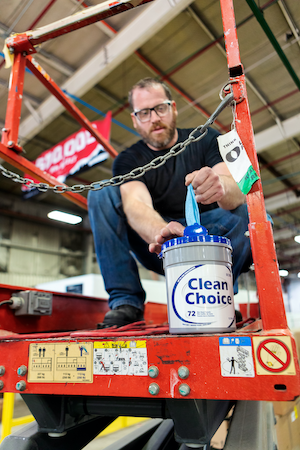 A Winnebago employee grabs a Clean Choice wiper. Fastenal offers a suite of brands that help with SKU reductions.
Lead times and inventory movement challenges all went haywire at the same time in 2020, he added. Systems that were designed to address isolated supply-chain issues couldn't solve the problems comprehensively while everything was deteriorating simultaneously.
Then came pandemic recovery, and companies scrambled to make inventory determinations, some winding up with far too much while relying on tools that were telling them the future based on the past – but the past was already irrelevant.
"When all of a sudden normal industry shut down during COVID, that history couldn't be a good reflection of what was going to happen, and when we came roaring back out of it, that wasn't great history to tell you what's going to happen when things just normalize again," he said. "That's where you're seeing the bull whips that are happening right now."
All of this, according Broersma, is where Fastenal's focus on people kicked in. A company that promotes from within and adheres strictly to a talent management mantra of hiring only great people, Fastenal turned naturally and seamlessly within to listen to its own subject matter experts – all over the world. In the midst of worldwide chaos, it proved to be a more reliable way to monitor where the ball was and where it was going.
But who really is a "subject matter expert" (SME) in a global industrial distribution business? The C Suite? The SVPs and economists?
"That's one of the great things in a promote-from-within organization – there is no ivory tower," Broersma said. "Our subject matter experts are people at every level in the organization being brought in. It might be a commodity intelligence person who's a doer, not a director, and their voice is just as strong and just as important in that conversation as a VP or any other executive."
Fastenal has become highly skilled in assembling cross-functional groups in order to get its corporate brain around forecasting challenges, factory lead time challenges,
international freight challenges, and more. During the most difficult times, their SMEs from Asia, Europe, and Latin America fed into the knowledge pool while trade compliance teams reported on the brokerage side of the business. And the process is ongoing.
"All different people within our organization come together in meetings, putting bundles of information and expertise together to efficiently have a dialogue and then make decisions for call to action," Broersma said. "It's not just one meeting where a bunch of VPs sit down and say, 'Hey, what are we going to do?' And this helps us understand very early whether there are disruptions coming and how we can adjust."
Supply chain risk may indeed be the dreaded new norm, as the challenges of tariffs, pandemic, and pandemic recovery are being replaced by risks associated with inflation, deflation, stagflation, geopolitical unrest, and recession worries. New hybrid, ad-hoc teams will continue to play a key role in Fastenal's protection strategy, equipping the company with ground-level insight about shifting trends in order to pivot in a timely way.
Doing the Hard Work
Strong partnerships are its other secret weapon against supply chain disruption, but the level of trust and transparency Fastenal develops with its suppliers certainly does not occur overnight. Beneath every onboarding, the hard work of careful vetting for quality, ethics, and environmental responsibility forms a foundation for those relationships.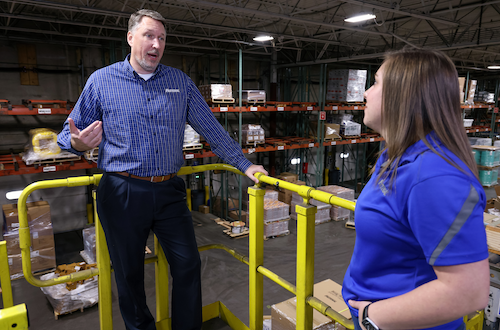 Broersma is often in the field visiting warehouses and hubs to see how the day-to-day operations in one facility could improve those in another part of the company.
Onsite visits are essential in the evaluation of a factory's financial and operational ability to meet Fastenal standards, and the assessment process can be long and arduous. Cultural challenges must be considered, as well. Depending on the type of product and location,
months and even quarters are invested to identify a factory, conduct paper audits, site audits, and product audits, said Broersma.
"We onboard suppliers all the time – because we are a supply chain solutions company, we need to constantly find new products or alternatives," he said. "It becomes a matter of understanding what the risk exposures are by product mix, by region, by origin of raw material, and by cultural challenges in different parts of the globe. As a global supply chain partner, we really need to understand many factors. If we're buying gloves, for example –we have to invest time and energy in vetting that facility not only for the fact that the glove is going to be a quality glove and that factory has good human rights practices, but also, we have to know where that cotton came from; is it sourced from a part of the world where there are issues with slavery?

"So it's really understanding exactly what the risk exposures are," Broersma continued. "And how we handle one type of factory versus another is very different based on concerns for the different raw materials, where that factory is located, and what types of end products they're making. It's understanding those different variables and balancing them."
At every level, Fastenal has processes in place to assess and then continually review the quality of its suppliers and their products and deliveries. In fact, he said, it never ends.
"We never stop checking what's going on with our suppliers and making sure that we're confident with everything," he said. "And that's why partnerships are so important – you grow more comfortable as the supplier becomes more of a known entity. But it also doesn't mean that we take our eyes off the ball."
All business senses are engaged before a true partnership is established, and some suppliers won't pass the sniff test. Broersma cited an example of a prospective factory in Mexico whose curious requirement at the get-go didn't smell right.
"We're firm in how we protect our ourselves and our customers," he said. "So when we're going to a new factory, like this one in Mexico, and they're telling us they want millions of dollars in prepayment, we can see right up front that they must not be solvent or in a good position from a cash flow standpoint. That's a red flag – not a great place to start a partnership. We're not looking to start a partnership with a company that is operating hand to mouth.
"We want to make sure that the suppliers we're working with are in a good position fiscally, and they have to be in a good position from an ESG and a quality standpoint. Those are non-negotiable. And they have to be willing to enter into a long-term partnership with us."
This article originally appeared in the Jan./Feb. 2023 issue of Industrial Supply magazine. Copyright 2023, Direct Business Media.
COMMENTS: 0
---