Back to the basics
SGS Tool Co. wins the ISA American Eagle Excellence In Industry Award by following a tried-and-true success formula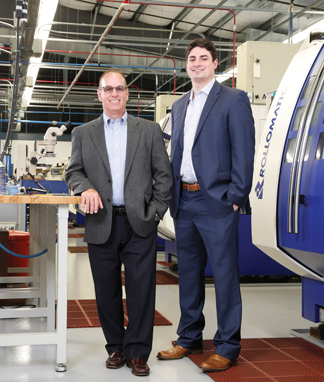 SGS sales engineer Stephen Reno (left) and BlackHawk Industrial account manager Keith Troyer worked together on a major cost-savings project.
By Rich Vurva
One of the first things Stephen Reno did after joining SGS Tool Company as a sales engineer in 2014 was schedule a sales meeting. He invited 14 account managers from BlackHawk Industrial Distribution in Brunswick, Ohio, to participate.
Reno knew many of the account managers from the days when he worked for another supplier, and they worked for Precision Supply, which BlackHawk acquired in 2013. The purpose of this meeting was to introduce the new SGS Series 33 three-flute end mill and determine potential target accounts.
"Give me two or three of your key accounts where you would like to bring some cost savings, and give me some contact information, and we'll set some things up," he told them.
A week passed before Keith Troyer, one of the BlackHawk account managers participating in the meeting, called up Reno and suggested that an opportunity might exist in a local plant of a major material handling equipment manufacturer.
Productivity was dropping in machining a hook plate, the primary support piece in a fork lift assembly. The operation required removing .230-inch of stock at an axial depth of 1 1/2 inches in a plate made from A514 tempered alloy steel, which is commonly used in structural applications. The current process used four rough passes and a single finish pass.
Reno initially suggested a solution requiring just two passes, using the SGS Z-Carb for a rough cut and the new Series 33 for a finish pass. The machine was out of operation on the day that Reno visited the plant, so he left the tools for testing at a later date.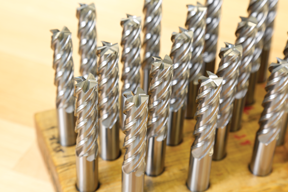 Initial test run
Results from the first test were disastrous. The cutter blew up because the Z-Carb was too short for the application. With a flute length of 1 2/3 inches, the Z-Carb lacked the length needed to clear chips as they were being cut. The chips started to pack into the cut, causing the end mill to break.
Undaunted, Reno recommended using the Series 33 for both the roughing and finishing passes.
The second test was a resounding success. Running at higher feed rates and higher speeds than the previous cutter, the Series 33 produced 240 parts at 54 inches per minute, compared to the previous rate of 20 parts at 17 IPM. The increased productivity generated annualized cost savings of more than $365,000 (see Exhibit 1, page 18).
The Series 33 end mill increased feed rates by 217 percent, for a three times greater metal removal rate and a 68 percent reduction in cycle time (see Exhibit 2).
As an added benefit, the manufacturer recognized an opportunity to extend the life of the end mill even further. After running approximately 240 hook plates with the Series 33 end mill, it's then transferred to a vertical machining center and used to run approximately 500 parts of a 2 1/2-inch diameter counter bore in the lift truck's top sub-assembly.
General purpose vs. high-performance tooling
Reno explained that the general purpose tool used on the job previously featured symmetrical flutes, with each flute situated 90 degrees apart. The Series 33 end mill uses a variable helix design, where the helix angle varies from 32 degrees on one flute to 48 degrees on another.
The three-flute design offers several benefits, including increased chip clearance, more controlled chip formation and reduced harmonics.
Poor chip removal can cause multiple problems. It can impact the finish on a part, as chips scrape the surface before they're swept away. In addition, if chips are re-cut as they jump from flute to flute, it requires the cutter to do double duty. Chips also tend to pack into the flute gullet, which can cause the cutter to chip or break. Stacking chips and re-cutting chips can also significantly impact tool wear.
"The design of the Series 33 cuts down on chatter. The cutter doesn't 'bounce' like it does with symmetrical flutes that can set up harmonics and the cutter will bounce in the cut," Reno explains. "Chatter and heat are what kills a cutting tool. If you eliminate the chatter, the tool lasts much longer."
The tool design features an open structure at the axial end, which accommodates material flow and reduces loading during operation, particularly during aggressive milling.
"These kinds of features are much more difficult to manufacture than a general purpose tool, which is why these tools are a little more expensive, but they make a much smoother cut," Reno says.
Additional savings possible
BlackHawk account manager Keith Troyer says the productivity gains generated for the forklift manager made this the biggest cost savings project he's ever worked on.
"We currently have a contract for all of the cutting tool business at this account, but that typically is reviewed every five years," Troyer says. "A success story like this can make a big difference when it comes time to renew the contract."
The savings may increase further if the customer replaces used tools with reground tools rather than purchasing new. "When we regrind the tool in our facility, we're going to get the same type of performance as we do with a new tool," Reno adds.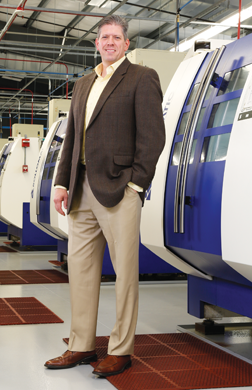 Award-winning effort
SGS Tool's efforts were rewarded when the company was selected as the 2015 recipient of the American Eagle Excellence in Industry Award by the Industrial Supply Association. Bart Carter, vice president of sales, North America for SGS Tool, says winning the award helps validate the hard work of everyone involved in the project.
"This demonstrates a good partnership between distributor and manufacturer," says Carter. "For us to gain more business, while helping them bring cost savings to their customer, is nice evidence of the way the partnership works."
While BlackHawk Industrial (doing business as Precision Supply) had been a supplier to the forklift plant for several years, this project marked the first time for SGS Tool to do business in the facility.
"One of the things that Bart charged me with when he brought me on board a year and a half ago was to grow SGS business significantly in our own backyard. That initial sales meeting really kicked off not only this but numerous other opportunities," Reno says. "Our sales with Blackhawk are up significantly over the last year and a half."
Carter adds that the success of this project proves that good results come from following a tried-and-true approach. Step one, hold a sales meeting to identify target accounts. Step two, schedule sales calls to uncover a problem. Step three, create a solution and make a proposal.
"Following those simple steps is basic blocking and tackling. Part of the issue we sometimes have in this industry is that we try to get too fancy in some of the things that we do," Carter says. "This was all about getting in the car and making the 'house call.' When everyone involved executes the plan, this is the result."
This article originally appeared in the July/August 2015 issue of Industrial Supply magazine. Copyright 2015, Direct Business Media.
COMMENTS: 0
---