Durbin lauded for ISA service
Kathleen Durbin of General Industrial Tool and Supply accepted the ISA award from former ISA president Michael Carr of Snap-on.
by Rich Vurva
She may bristle at the attention and notoriety, but Kathleen Durbin has become accustomed to seeing the word "first" precede her name. She was one of the first women to be appointed chief executive officer of an industrial distribution company in an industry long dominated by men. She was the first woman to be named president of the Industrial Supply Association. And now she is the first woman recipient of ISA's John J. Buckley Lifetime Achievement Award, an honor bestowed on her in recognition of her years of service to the industry.
Durbin has been active in the Industrial Supply Association for many years, and was elected the first female president of ISA in 2010. She has served on several ISA committees and task forces, including the ISA board of directors, an ISA officer, and the convention planning committee. She has actively supported the ISA Education Foundation, providing critical financial support for the Foundation's awards and scholarship programs.
Durbin also founded the Women Industrial Supply Executives (W.I.S.E.) special interest group, which works to build and promote a progressive network of women executives who wish to develop their professional management and leadership skills and advocate for women's influence within the industry supply industry.
"Kathleen is simply a consummate professional. She strives to drive improvement in all that she touches and works hard to include others along the way," said Tommy Thompson, executive vice president of Turner Supply Company in Mobile, Ala., and ISA chairman. "Kathleen has proven to be a true leader in an industry that has traditionally been dominated by men. She has fostered an environment for diversity to thrive within and outside of ISA and has instilled in others the desire to do the same."
In addition to her involvement with ISA, Durbin has served as CEO of General Industrial Tool & Supply since 1985. The family-owned distributor offers the highest quality industrial and MRO products in combination with exceptional value-added service. She is also actively involved in Affiliated Distributors, where she has worked on a variety of AD task forces and currently serves as a product committee member.
"Kathleen is one of the most influential and respected people in our industry," said Mark Higgins, former vice president and managing director of the AD Industrial Supply Division and current vice president of strategic accounts and business development for Morse Cutting Tools. "Some of her most important contributions to the industry include driving for diversity among minorities and women in the industry, and creating best practices for engagement between distributors, suppliers and end-users. She is one of the most respected people within the AD network. When she talks, everyone listens."
Durbin said that it was especially meaningful that the award is named after her friend John Buckley, the former executive vice president of the Industrial Supply Association.
"I am honored to receive this wonderful award that recognizes contributions I have made to an organization from which I have received so much," said Durbin. "It has been a tremendously rewarding experience to work with other high-caliber industry professionals and the exemplary staff of ISA. At the end of the day, any leader wants to know that they have led a successful effort and ISA has afforded me the tools and knowledge to stay ahead of the curve."
A lifetime of service
The following was excerpted from Kathleen Durbin's remarks at the ISA convention when she was awarded the John J. Buckley Lifetime Achievement Award.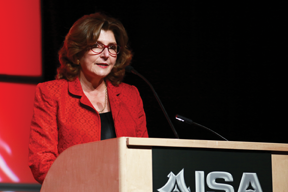 This year marks my 30-year anniversary in industrial distribution and performing my real job as CEO of General Industrial Tool & Supply. My dad started GI in 1955, and he was always an active member of the trade association. I remember his excitement at coming to the annual conventions. Today, General Industrial is a mid-sized independent distributor in a competitive market with demanding customers. Sound familiar? Yes, we all have similar challenges and opportunities.
I came into the industry in 1985 after the untimely death of my father. It couldn't have been a worse time for our business. The aerospace and the automotive industries in Southern California had begun to move their manufacturing plants out of our less-than-business-friendly state. My mom, my two sisters, and I had to step in and manage a business in an industry that we knew very little about. Back then, industrial distribution was an almost exclusive male-dominated business and the men at General Industrial were not thrilled that four inexperienced women were suddenly running the store. We knew we needed a fast-track education, good advice and, God willing, a mentor or two. It was a tall order to be sure.
It is a cliché that as a volunteer you get back more than what you put in, but in my case it is true. As a volunteer, I have received the equivalent of a Master's in Industrial Distribution. I've learned . . .
How to read financial statements and create them
How to grow the top line, improve the bottom line and manage all the lines in between
How to hire, inspire and fire . . . and manage conflict
I can write an agenda, run an effective meeting, develop a strategic plan and get results
I have learned how to raise my game
Being a volunteer for ISA helped me to become the executive I am today. I sat at the table with the best and brightest people of this industry. So, is it really any wonder that I kept coming back for more? From my first volunteer assignment and throughout my career, I have been embraced, encouraged and mentored.
I have always been inspired by the challenge to make improvement and the belief that one person can make a difference. That doesn't mean I wasn't afraid at times. I was. Or that I didn't question myself and my capabilities. I did. Plenty of times. But I was also blessed with relationships and friendships with so many of you. You fostered my growth and you helped me build my confidence.
I started my volunteer service in 1990. Nick Powell, who was then the president of I.D.A., called to ask me to join the steering committee of the YEF, the Young Executive Forum. And in volunteering I found exceptional mentors who were willing to give me a hand up. Nick of course, and other iconic leaders like Allan Chartier, Bill Todd, Jack Haag, Jack Weber and, of course, Gary Buffington. These gentlemen and many others were inspirational to me. They were hugely successful business professionals, as well as being generous in spirit.
But, I will always remember Roger Thompson of Kennedy Manufacturing calling me aside during a convention and, with a twinkle in his eye, telling me that he had decided to forever after call the YEF the "Young Executive Females." Little did Roger know that his quirky joke planted the seed of an idea in my mind!
When I became president of the Industrial Supply Association in 2010 I was astonished by the number of people, particularly women, who approached me to say that I was an inspiration to them. I had to laugh a little because they compared me to everyone from Sarah Palin to Nancy Pelosi. And I remember in the years leading up to 2010 that the sky was the limit. It was a website project today, brand development tomorrow, strategic planning next week. It was non-stop, tough and challenging – but exhilarating – and so many of us worked so passionately to make positive change. And when it was over, there was a hardly a moment to catch one's breath.
Once in a while a great idea is born out of humor, and after my year as president of ISA, it became time for Roger Thompson's little joke to become a reality. In 2012 the special interest group, Women Industrial Supply Executives (W.I.S.E.) was born. This group of exceptional and professional women will lead the women in our industry to find their voice and foster their growth, as I have been able, through the help and support of the men. W.I.S.E. personifies the ideal that, "the best is yet to come."
During these many years, my family has borne the weight of the decisions I made, which took me away from my family and my business a fair amount of time. My husband, Steve, and my sisters and business partners, Karen and Joanie, are my best friends and most ardent supporters. I could never have made the commitment that I did without their help. I owe them a huge debt of gratitude, that only family can truly understand and appreciate.
They say everyone stands on someone's shoulders. And there are so many of you to thank for so much – the little things and the big things – but mostly for the friendships and the respect that we share with
each other.
This article originally appeared in the July/August 2015 issue of Industrial Supplymagazine. Copyright 2015, Direct Business Media.
COMMENTS: 0
---