The evolution of the cut and sewn glove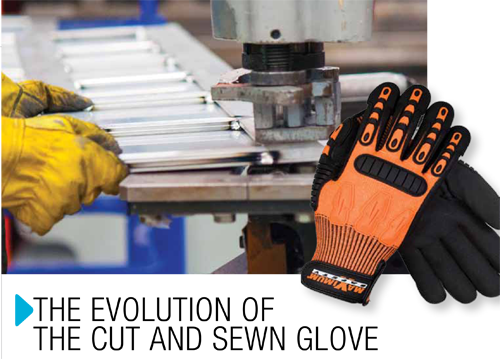 by Brian Sheehy
When cut and sewn performance gloves hit the market over 20 years ago, the benefits were easy to understand and constant for all end-users. The gloves were durable, form fitting and offered value in terms of longevity over other forms of hand protection. Just like many products, cut and sewn performance gloves have matured – the development and ingenuity in this category continues. In fact, performance gloves have evolved into what we're aptly calling Cut and Sewn 2.0. While the basic benefits still apply, today's performance gloves offer benefits and value never thought of in the previous generation.
The result is an increase in demand of specialty niche, or task-specific, gloves that cater to the details of protection each worker may need to perform at his or her best – and safest.
While seamless knits have taken the bulk of the glove market – and why not? They fit great, can offer superior cut protection, dexterity and performance – the need for multi-faceted protection is something only cut and sewn gloves, using advanced, composite materials, can achieve. Key markets that are in need of task specific gloves are oil & gas, construction, electrical and gas utility, and mechanical trades. Each of these markets has specific needs and often there is very little overlap in design or materials. Only the imagination limits how today's cut and sewn gloves, now task-specific, can be constructed to solve a specific industrial glove demand.
Durability, fit and form are not enough. Today's task-specific gloves are being presented as creative solutions for customized protection. Many professional needs require unique performance attributes. Let's take a look at a few examples:
Impact Resistance
A relative newcomer to hand protection, impact resistant gloves aim to reduce injury from brunt force against top of hand and fingers. Thermoplastic Rubber (TPR) is the common (although not only) material found on impact resistant gloves to reduce top of hand injuries. These styles were born out of the oil & gas market, but can now be found in other industries such as mining, trench work, and even construction
Flame Resistance
Flame-resistant gloves (or FR gloves) have been around for a long time, but only recently have become common on industrial job sites. FR gloves are worn to protect against heat, flame and even electrical arc situations (when the risk of shock is not present). Materials such as Nomex, carbon fiber and flame-resistant cotton blends are typically found in FR gloves. The dexterity of today's FR task-specific gloves are much improved, allowing workers to accomplish more while staying safer. You can find FR hand protection in the electrical and gas utility, refinery and niche manufacturing markets.
Extreme Abrasion with Grip
This is the major benefit of most cut and sewn gloves that feature a reinforced palm made from PU or PVC. Workers can handle some of the most abrasive materials while the glove maintains its form. Today, however, reinforcement pieces are placed strategically on the palm to ensure durability against specific tasks such as rope handling or installation. Rigging, recycling and construction are common markets for this type of task-specific glove.
Anti-vibration
Many are not aware that this unique feature even exists. Yet the adverse effects of clenched hands on vibrating equipment can extend to joints in the fingers, wrists and even arms. Advancement in energy absorbing composite materials are now being incorporated in many cut and sewn gloves. Although most found in the construction market, any application where vibration is present, whether it be low or high frequency, should require the use of anti-vibration gloves.
Ergonomic design
Advancement in pattern engineering software and sewing machinery combine to produce gloves that mimic the natural hand. When constructed with advanced, composite materials, task-specific gloves offer features that can solve almost any hand protection problem. Gloves can be waterproofed and winterized by adding a membrane and insulation that won't affect performance. A cut-resistant fiber, of various levels and materials, can be constructed into a task-specific glove for additional protection. Cuff extensions can be added for protection to the wrist and forearm areas. The major benefits of building gloves with composite materials is giving the worker the confidence he or she needs to get the job done safety while enhancing the task performance. When properly educated on the features of the glove, today's end-users will
trust the glove will perform for that specific task.
Yes, there are lots of options today in the performance work glove category. Niche industries and customization will only add to the proliferation of task-specific gloves. Customers today demand gloves that solve their problems and reduce their injury rate. We insist on customer involvement in the development process to ensure the product is being built to their specifications. Today's task-specific gloves are taking safety and protection to the next level.

Brian Sheehy is currently working as product manager for Protective Industrial Products Inc. His previous experience with Ironclad Performance Wear and as co-founder of Youngstown Glove Company, as well as patented design expertise, has earned him a reputation as an expert in the hand protection market.
This article originally appeared in the July/August 2015 issue of Industrial Supplymagazine. Copyright 2015, Direct Business Media.
COMMENTS: 0
---