Successful past, bright future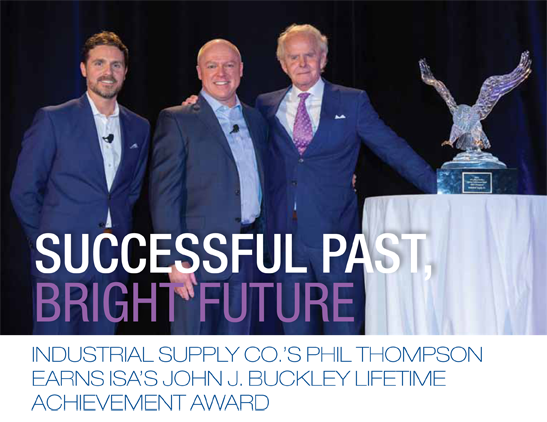 Pictured above: ISA chairman Derek Yurgaitis, ISA president and CEO Ed Gerber and Phil Thompson at the ISA convention where Thompson received the Lifetime Achievement Award.
by Rich Vurva
You might expect an executive who just received an award recognizing a lifetime of service in an industry to be focused on the past. It's only natural to think back on a successful career in business and reminisce about the good old days.
Phil Thompson, on the other hand, is thinking about the future.
Thompson, chairman of Industrial Supply Company in Salt Lake City, Utah, received the John J. Buckley Lifetime Achievement Award from the Industrial Supply Association at the ISA Convention in Baltimore.
Thompson has spent his entire business career, nearly 50 years, working for Industrial Supply Company. He started in the warehouse and held jobs from driver to sales team manager. Eventually, he was appointed president and CEO in 1979 and served in that role until 2008.
While no longer responsible for the day-to-day operations of the company, he remains an active chairman.
"My fundamental value to the company right now is really strategic. I always, from a young man, was interested in what's going to happen two years or five years from now, and are we going to be ready for it. Right now, never in human history has the future been so temporary. It's just changing every day, and if you don't change with it, you're not going to be there," Thompson says.
Chris Bateman, current CEO of Industrial Supply Company, says the growth and evolution of the company would not have been possible without Thompson's vision.
"He was a pioneer in embracing early technology and marketing techniques that helped the company streamline their processes. It was this forward thinking attitude that helped Industrial Supply Company thrive during the economic highs and lows of the market and a highly competitive industrial distributor environment," Bateman says.
Thompson was considered by many to be a leading voice in the industry and its trade organizations and championed the idea that independent distributors can work together to strengthen their position in their markets and leverage their strength with suppliers and customers.
"It was not always easy. We had to be fast on our feet, and make quick decisions and refocus quickly," Thompson says.
Industrial Supply was a founding member of the buying group I.D. One and was one of the first companies from that group to join Affiliated Distributors before the two groups merged. Thompson was also active in the National Industrial Distributors Association (NIDA), Southern Industrial Distributors Association (SIDA), and Industrial Distribution Association (I.D.A.). He traveled widely and spoke frequently in these roles and became known throughout the industry as a passionate spokesman for suppliers and distributors alike.
Thompson has a long history of serving the Utah business community, serving as chairman of the Utah Governor's Economic Development Corporation, a public/private partnership focused on creating jobs and investment in Utah, from 2006–2008. He also served as a chairman of the Economic Development Corporation of Utah, which brought scores of new businesses to his home state. In March 2000 he was appointed to serve as venue chairman for Deer Valley for the 2002 Olympic Winter Games in Salt Lake City. He also served for eight years as a member of the board of directors of the United States Bobsled Federation.
Through his connections at the University of Utah, Thompson became friends with Urban Meyer, who was then head coach for the Utah Utes football team and went on to win three college football championships for the University of Florida and Ohio State University. One day, Meyer asked Thompson to find someone to serve as chaplain for the team.
"At our first away game, our chaplain couldn't travel. So Meyer said, 'Do you know where your Bible is? Go get it. You're getting on the plane.' So I got on the plane for nine years with that job," he recalls.
The company hired a player from the Utah football team to work at Industrial Supply every year from 1980 until 2012. Many of those players were members of minority groups.
Thompson remains committed to creating a company culture that strongly values minority and female participation, and nurtures underrepresented groups to serve in leadership positions. Out of eight vice president or higher positions in the company today, six are minorities or women.
"After all of these years that I've worked for this company, I felt that if I ever got that microphone in my face and someone asked me about the most important thing we did in our business, I'd say this is it," he says. planning for tomorrow
While Thompson is proud of the company's past achievements, he's excited about the future of this family-owned business.
"We have the fourth generation in place and we have really capable leaders. Only about 3 percent of companies survive to the fourth generation, so that was a big milestone for us," Thompson says.
Being a member of the family doesn't guarantee a job at Industrial Supply Company.
"We've had a rule in our business for family who are interested in working for the company. The rule is there has to be a legitimate job and skills to match. Otherwise, we don't have a job for you."
The idea that there are no guaranteed jobs applies to everyone in the company. As changes in technology occur, some jobs of today may be redundant tomorrow.
"Everything that can be digitized is going to be, and automation will do things cheaper and faster. So everybody has to check their job and see what their shelf life is because jobs are going to get automated," Thompson predicts.
Despite changes in technology and the growth of e-commerce, Thompson believes there will still be a role for industrial distributors that remain nimble.
"From my point of view, competition has always made us better. It makes you think more clearly. It makes you move faster," he says. "There are going to be passengers, drivers and roadkill. If at all possible, you want to be the driver."
He's bullish on the future of Industrial Supply Company because it's situated in a part of the country where the economic fundamentals are strong, with a diverse customer base that includes mining, construction, manufacturing, defense, power and energy and more.
"I think we have a competitive advantage over a lot of our big competitors, because their operating cost as a percentage of sales are higher than ours, and low cost and high performance to your customer is going to be the required recipe for success."
This article originally appeared in the July/August 2018 issue of Industrial Supply magazine. Copyright 2018, Direct Business Media.
COMMENTS: 0
---