Top 20 Industrial Distributors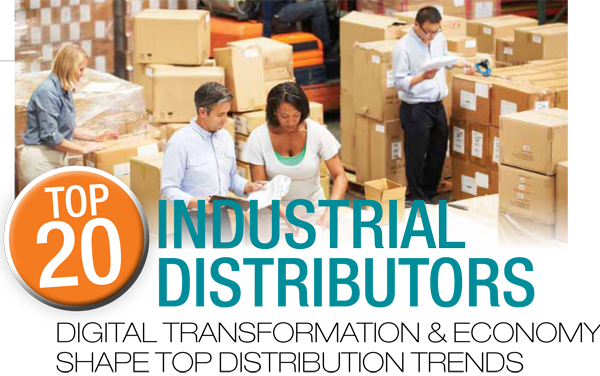 by Tom Gale
What a difference a year makes. Following a tough 2016 that saw single-digit revenue declines for most companies on MDM's list of the top 40 industrial distributors, the year couldn't end too soon. And while 2017 came in like a lamb (kicking and screaming occasionally), the year went out like a lion, with industrial and energy markets rebounding sharply at the end of the year. Halfway through 2018, the momentum continues.
MDM's annual top 40 list, which ranks revenues of the largest industrial distributors in North America, is now available at mdm.com. The top 20 distributors on that list are on the following page, based on 2017 revenues.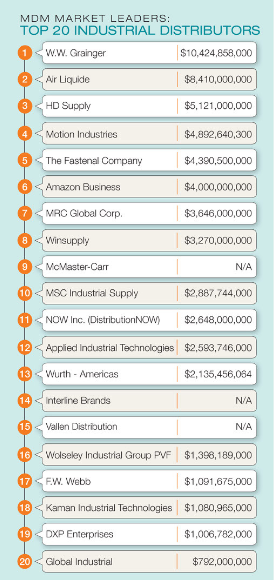 The big news for 2017: Amazon Business makes its first entry on MDM's 2017 list – with a bang at sixth place – with estimated revenues of $4 billion in industrial products, according to MDM. Overall, MDM estimates Amazon Business topped $5 billion in 2017 revenues with B2B sales across a broad range of product sectors – most notably penetration into the office products sector.
The B2B juggernaut launched in April 2015, and reported a year later that it generated more than $1 billion in sales to more than 400,000 business customers. In mid-2017, the company announced that it was serving more than 1 million business customers. Amazon Business replaced the Amazon Supply marketplace, which was started in 2012.
It's important to note that ranking industrial product distributors is not an apples-to-apples exercise. While there are direct competitors, the fragmented nature of industrial product markets in the U.S. means that most of the companies on this list compete at a tangent: to varying degrees, each distributor has an overlapping assortment with a list of similar, but not identical, competitors. The exception – and why MDM felt it important to include this year – is Amazon Business, which cuts a wide swath across all industrial products sectors with its marketplace of both distributors and manufacturers contributing to its total of more than 500 million SKUs.
Economy drives 2017 growth
The annual ranking provides insight into how the industry's competitive dynamics are shifting. Beyond the addition of Amazon Business in sixth, Global Industrial, Port Washington, New York, moved into the top 20 this year with greater than 10-percent growth. Chicago-based W.W. Grainger still tops the list with $10.4 billion in sales (3 percent annual revenue growth), but HD Supply, Atlanta, increased its sales by 6 percent in 2017, and moved from second to third place after it sold its Waterworks business in 2017 to Clayton, Dubilier & Rice for a purchase price of $2.5 billion in cash. Air Liquide, in its first full year of integrating Airgas, reported strong growth in the 20-percent range to take over second place.
Overall, distributors with a heavy focus in energy markets saw typical increases of 20 percent or more, while many other distributors saw growth in the 5 percent to 10 percent range. For nearly all those on the list, the swing from negative in 2016 to positive in 2017 was dramatic.
For most distributors on the list, 2017's fourth quarter ended as the strongest of the year. Overall, industrial distributors experienced actual revenue growth of 7.4 percent (6.2 percent adjusted for price inflation) in 2017, based on MDM research, a significant reversal from 2016. For 2018, MDM is forecasting 8-percent actual revenue growth for the sector overall, and 6.7-percent growth in 2019. The first half of 2018 has continued to strengthen, with the second quarter likely to be the peak, according to the latest MDM forecasts.
Another story line for 2017 and continuing in 2018 has been the continued disruption and blending of industrial distribution product sectors with a combination of acquisitions and digital market strategies. Amazon Business leads the charge, leveraging a third-party marketplace for the entire breadth of industrial products.
The first half of this year already has seen some dramatic shifts for how the list is shaping up differently for 2018. Among the blockbuster deals:
• Home Depot, Atlanta, which acquired facilities maintenance distributor Interline Brands in 2016, announced in June that it plans to build 170 distribution centers over the next five years. It's clearly a strategy to strengthen its position as a hybrid retailer/distributor.
• Applied Industrial Technologies, Cleveland, in January announced it would acquire FCX Performance Inc., Columbus, Ohio.
• Another notable deal from January saw HD Supply expand its footprint with the announcement that its Construction & Industrial – White Cap division would acquire A.H. Harris Construction Supplies, Hartford, Connecticut.
• MSC Industrial Supply Co., Melville, New York, in May acquired All Integrated Solutions (AIS), with $66 million in revenues, from the New York private equity firm High Road Capital Partners.
The competitive landscape in industrial distribution is shifting rapidly. The product walls keep tumbling down, driven by both traditional industry consolidators, as well as new entrants – globally, digitally and competitively. Fasten your seatbelts for the rest of 2018!
Methodology
Data for MDM's lists of top distributors were based on 2017 revenues, either reported or estimated by MDM's researchers. In most cases, we used fiscal 2017 revenues, but in some cases, MDM used calendar-year revenues for an apples-to-apples comparison. Companies were asked to provide data about revenues, with information supplemented by SEC filings and publicly available information. For companies that don't share revenue data, MDM estimates their relative position in its list based on best available industry resources and information.
Trends summarized in this report were developed through a combination of surveys of MDM's reader audience and interviews with industrial distributors and their supply chain partners within the past six months. Economic trending is based on MDM's annual Economic Benchmarks for Wholesale Distributors and economic analysis by the MDM research team.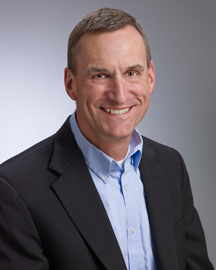 Thomas P. Gale is the CEO of Modern Distribution Management, the most trusted resource for competitive intelligence and market insight for distributors since 1967. Reach him at tom@mdm.com.
This article originally appeared in the July/August 2018 issue of Industrial Supply magazine. Copyright 2018, Direct Business Media.
COMMENTS: 0
---