Balancing safety and productivity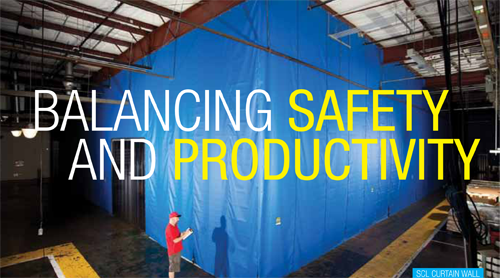 By Rich Vurva
The coronavirus pandemic has brought to the forefront some of the limitations of the traditional warehouse environment. Some distributors struggled with processes that kept workers safe without impacting productivity. Others tried to keep products moving out the door with smaller staffs as they were forced to furlough employees. Here are some thoughts about those concerns and other ideas to keep warehouses operating at their peak.
Rite-Hite
"The most prevalent trend right now has to do with sanitation and segregation. The ability to separate workers and work spaces has been more critical than ever these past several months and will continue to be of utmost importance in the future," says Walt Swietlik, director of customer relations and sales support for Rite-Hite. It is best practice to separate work areas with products that can be easily sanitized repeatedly to minimize contamination, regardless of the industry.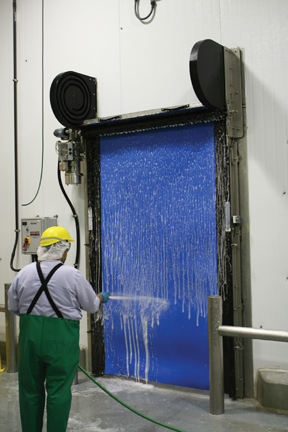 "That's where Rite-Hite products like high-speed doors and Zoneworks industrial curtain walls come into play," Swietlik says. "Specific versions of these products are designed to handle this exact situation. They are made from durable materials that aren't compromised when near repeated washdowns and cleanings. Specialized high-speed doors that separate finishing areas from work areas can be cleaned with harsh chemicals daily to maximize the cleanliness of a facility."
A second trend is an increased need for planned maintenance and service, as a result of many supply chain staffs being stretched thin. Essential and non-essential businesses alike need the equipment in their facilities to work properly to fulfill orders. Workers who might have previously maintained equipment like a loading dock leveler or in-plant door suddenly don't have the time as staffs shrink or are reallocated.
Rite-Hite has a network of certified and trained maintenance and repair workers who can assist distribution centers with the upkeep of their equipment. They've all been trained to wear proper PPE and adhere to recommended CDC guidelines when visiting facilities for maintenance and repair.
Rite-Hite makes products that are in high demand due to an increased need for segregation and sanitation in industrial work spaces. Zoneworks industrial curtain walls and Rite-Hite high-speed doors are two such products that are selling swiftly during this time of critical cleanliness. One of the benefits of both these products is that they are quick and easy to install, which means virtually no downtime for the facility while gaining separation tools.
"There is a wide array of industrial curtain walls that can separate work areas. While our standard TZ curtain wall is ideal for simply separating spaces, the Zoneworks SCW Washdown curtain wall is ideal for distribution facilities that need to clean regularly," he says. Regardless of the type of curtain wall, these modular walls can be adjusted easily to fit the changing needs of any facility.
Rite-Hite also offers multiple options when it comes to high-speed doors. The FasTrax Washdown and SplitSecond Clean doors fit most types of Hazard Analysis Critical Control Point (HACCP) programs and Standard Sanitation Operating Procedures (SSOP), as well as cGMPs in most industries. The FasTrax door is a fabric, roll-up door that can work in conjunction with a Zoneworks curtain wall, offering distributors an ideal set-up that can last long-term if needed.
"Rite-Hite takes its 'Always looking ahead' tagline seriously and is constantly looking for new and improved ways to help its customers. We have some great new products that will be hitting market later in 2020 that we're really excited about sharing. Stay tuned for those announcements," Swietlik says.
Crown Equipment
The COVID-19 pandemic has shown the limitations of a strict adherence to the "just in time" model as many supply chains were caught off guard, lacking the flexibility and agility to quickly react to changing market demands and conditions. "Now more than ever, our customers are looking for adaptability and flexibility when it comes to introducing new products and solutions into their warehouses and fleets, particularly realizing the benefits of Class III equipment in the manufacturing environment," says Maria Schwieterman, senior product marketing manager at Crown Equipment. Versatile, heavy-duty and mobile equipment can adapt to different workflows and tasks while also handling traditional duties, reducing the need for specialized equipment. Incorporating flexible material handling systems can also free up valuable space and reduce capital investments.
"To address greater demands on the supply chain, some of our customers are also integrating automation as a way to increase productivity. Crown is focused on giving companies a more flexible way to introduce automation without completely overhauling their fleet," she says.
At the same time, safety is top of mind right now, and companies are taking advantage of available connectivity solutions, which allow them to collect actionable insights and operational data that can inform a safer working environment. This information can lead to other powerful results, including achieving measurable improvements in productivity, uptime and more.
For companies that are changing their thinking about process flow, Crown offers options that can provide flexible, efficient and cost-effective solutions. "We believe the need for mobile options as well as equipment that can be used for multiple purposes and as processes/products evolve will only continue to increase," she says.
DualMode T tow tractor, while primarily an AGV, switches seamlessly between manual and automated operation, providing the support customers need to safely integrate automation and transition through their entire automation journey.
InfoLink fleet and operator management system delivers accurate, real-time and historical data on operational and performance factors that affect the bottom line. InfoLink also encourages a safety mindset by helping reinforce training through on-screen safety reminders, ensuring OSHA compliance with electronic inspection checklists and visual cues, and monitoring impacts to help reduce accidents and unintended damage to equipment, property and facilities.
SHC 5500 combines the features of a counterbalance forklift with a heavy-duty stacker to create a truck well suited for dock work, transport, put-away and block stacking. The versatility of the SHC 5500 is further enhanced with optional integrated sideshift and multiple attachments.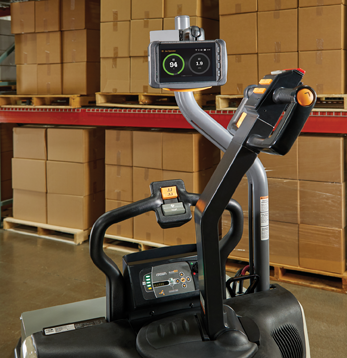 Schwieterman says Crown's approach to design includes studying how operators interact with products to better understand work context, physiological needs and cognitive requirements. "Our new InfoLink 7" Touch Display Module is an example of how we apply such learnings to facilitate enhanced engagement as well as elevated productivity and safety levels throughout the entire operation," she says.
Schwieterman adds that when looking to introduce new automation technology, Crown's goal is to seamlessly integrate the technology, while empowering the human element in automation. "We also understand the need for customers to implement automation on their terms with scalable solutions like DualMode T tow tractor, which can adapt to the operational requirements today, tomorrow and beyond," she says.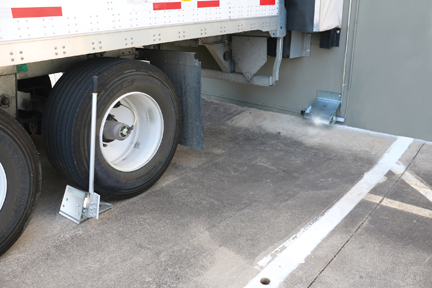 Entrematic
As the distribution industry builds on its commitment to safety, the growth in demand for trailer restraints continues. What was once a luxury item has evolved into an industry must-have. A forklift falling off of a 48-inch high dock — which can easily result in a seven-figure accident — is something a company never wants to experience.
"So, having the right restraint in place, managed by a dock master control panel, is the number one thing companies can do to keep their docks safe. It's now very easy for companies to protect themselves based on the solutions that the market has already figured out," says Rich Schlesinger, director, U.S. distribution sales, loading dock products, for Entrematic.
Entrematic's new cloud-based dock monitoring and management platform 4SIGHT Connect – Digital Dock from 4SIGHT Logistics Solution (4sightsolution.com/dock-management), combined with the Kelley and Serco digital master control panels with HMI (human machine interface), provide facilities unprecedented visibility and control over what's happening at the dock.
"Is your restraint working correctly? Did somebody try to improperly override a restraint? Are all of your trailers restrained? The more information you have in real-time will help prevent accidents and is huge from a safety standpoint," he says.
For example, miscommunication at the dock happens on a regular basis, such as yard jockeys pulling trailers away before unloading is complete. Having the hardware and technology in place, and working together to prevent such mishaps, is imperative in an imperfect world where mistakes unfortunately do happen.
In addition, APS Resource (a division of Entrematic) and a supplier of aftermarket warehouse safety products, offers a wide range of solutions to help prevent accidents, including trailer restraints, gates and barriers as well as lighting systems. Such safety measures are now more important than ever, since OSHA updated its categorization of dock levelers in 2017 as walking-working surfaces.
"While we feel that 4SIGHT Connect – Digital Dock is already redefining how the industry will look at dock safety and efficiency, there are additional enhancements already in development for the entire 4SIGHT Connect brand. They include helping drivers maximize load and unload times as well as pre-check into a facility and then check in upon arrival directly from their smart mobile devices," he adds.
This article originally appeared in the July/Aug. 2020 issue of Industrial Supply magazine. Copyright 2020, Direct Business Media.
COMMENTS: 0
---