Ready for takeoff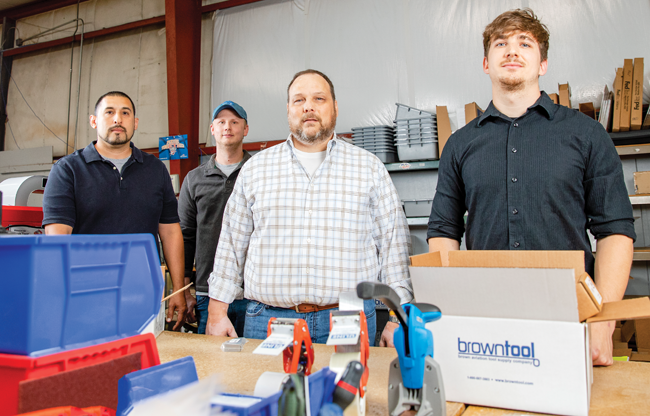 Left to right: Employees Bobby Martinez, Jeffrey Bacon, owner Michael Brown and Cody Quirk are shown in the shipping department at Brown Aviation Tool Supply Co.
How an independent distributor created a niche in the aerospace industry
by Rich Vurva
When Michael Brown was laid off from his first real job after high school, he never dreamed that he was about to begin a journey that would lead to owning his own business.
In 1986, shortly after graduating from his hometown high school in Smyrna, Georgia, Brown started working at a nearby Lockheed facility that built the C-5B aircraft used by the military. The job lasted only about a year before he was laid off. Over the next few years, using the skills he learned at Lockheed, Brown picked up short-term contract work building and repairing aircraft. His journey took him to Florida, Tennessee, Texas and, eventually, to Oklahoma City, Oklahoma, where he remains today.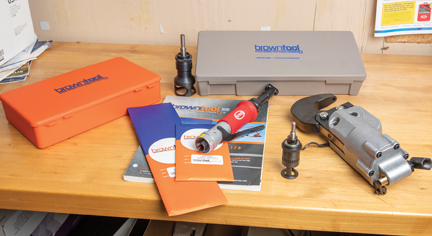 Brown's first job in Oklahoma was for a third-party aircraft maintenance company that provided services to commercial airlines and the military. Similar companies, called fixed-base operators or FBOs, operate at or near airports across the country, providing a range of services, such as fueling, tie-down service, maintenance and repair.
Aircraft repair is a highly cyclical business. Many airline technicians who work at aircraft production plants and repair facilities live a migratory life, moving from town to town in search of work. Along the way, they'll accumulate the rivet guns, bucking bars, dies and rivet sets they need to install rivets and fasteners on an aircraft.
Not long after arriving in Oklahoma, Brown discovered that Boeing operated a surplus facility in Wichita, Kansas, selling surplus tools and parts. Known as the "Air Capital of the World," Wichita is home to aerospace manufacturers that include Textron Aviation, Cessna Aircraft, Beechcraft and several other aerospace manufacturers.
One day every week, the Boeing facility would be open to the general public. So, Brown began making the two-and-a-half-hour drive to Wichita every week in search of surplus tools.
"I would go up there on my days off and buy surplus tools, and then drive back to Oklahoma City and sell them to all my co-workers," Brown recalls.
While working for AAR Corporation, an independent provider of aviation services to commercial and government customers, Brown took a short leave of absence to work a contract job in Los Angeles for Continental Airlines. That opportunity opened his eyes to the large number of surplus tools available at aircraft factories that included Lockheed, Northrop Aircraft and McDonnel Douglas.
"One thing led to another and I ended up spending more time selling tools than I did working on airplanes," Brown says. "I came back to Oklahoma at the end of that contract and basically started my business."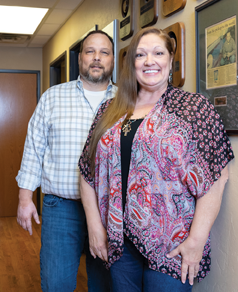 Michael Brown and office manager Brenda Curby are part of the 10-person team at Brown Aviation Tool.
Taking flight
Brown initially operated Brown Aviation Tool Supply Company from his one-bedroom apartment. Using his dining room as a warehouse, he'd load surplus tools into his pickup and drive across Oklahoma, Texas and Arkansas, selling tools to workers at any aircraft repair facility he could find.
"I would catch the guys at shift changes when they were coming in or going out and sell tools out of the back of my pickup," Brown says.
As the business grew, he rented a small shop to warehouse his growing inventory, which now included some new tools and consumables such as drill bits, countersink cutters and other cutting tools. He convinced a handful of suppliers to sign his company up as a distributor, promising to help them gain access to the aerospace industry.
"I've picked up several lines, even recently, that would not have been available to a new distributor but for the fact that we penetrate a really target niche market," he says.
Brown created simple brochures by cutting out photos or line drawings of tools that he "borrowed" from supplier catalogs and pasting them above descriptions typed on a typewriter. He ordered copies from a local print shop, and mailed the brochures to a list of aircraft repair facilities published by an industry trade magazine.
"I would mail them this crude brochure. On the outside of the envelope I might write 'attention tool crib,'" he says. Sometimes he'd call and ask, "Who is the structure supervisor at your facility or who runs the tool crib?" The approach worked. Brown soon began receiving orders over the phone, fax and in the mail. "I remember the first time somebody called me and said they wanted to purchase with a purchase order. I had no idea what they were talking about," he says.
Largely through trial and error, hard work and – he admits – some luck, Brown gradually built a successful business that today employs 10 people and has annual sales of nearly $10 million.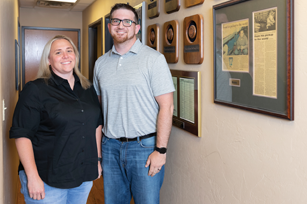 Sales manager Angie Vails and salesman Jepothy Quirk are focused on looking for sales in a down market.
You can't sell from an empty wagon
As the business grew, Brown leased a succession of larger warehouses to accommodate his growing inventory. In 2005, he purchased a 10,200 square foot warehouse and office building on 4.6 acres of land within minutes of Tinker Air Force base.
The company's motto is to sell anything used to build or repair aircraft structures. "Our real specialty and our laser focus is aircraft sheet metal and structures tooling. We also provide tools for working with composites material, which has really boomed over the past several years," he says.
Most orders originate from his website or catalog. He attends a handful of aerospace focused trade shows each year and advertises in aerospace industry trade magazines. A global customer base includes major and regional airlines, government, repair stations, defense contractors, technical schools, kit builders and individual technicians.
Large customers that make commercial or government aircraft schedule planned purchases months in advance. But Brown says much of the industry is "horrible" at planning. "When they call us, they needed it yesterday," he says. "They'll bring an airplane into the hangar and start tearing it open and that's when they realize what tools they're going to need."
Most major airlines have integrated supply contracts with major distributors for everyday purchases, but Brown sells regularly to integrators and other national distributors.
"It's not so much that they can't go buy it somewhere else, but because of the urgency in this industry, they need it now and we have it sitting on the shelf," he says.
The coronavirus pandemic has decimated the commercial airline business this year, but Brown continues to do business with the military, corporate airlines, regional airlines and private plane owners. Sales have declined about 30 percent in 2020 and Brown
expects the recovery to be slow.
"I don't expect this to correct itself any time soon. I think we're lucky that we do quite a bit of business with the military. That business is stable. The cargo airlines are swamped right now," he says.
Brown has always believed in maintaining a large supply of inventory so he's not anticipating a major cash outlay to keep the shelves stocked. When the Paycheck Protection Program was launched as part of the CARES Act, Brown applied for and received approval for a loan, which helped cover payroll and other costs for an eight-week period.
Brown feels a sense of obligation to his employees. The longest serving employee, sales manager Angie Vails, has been with the company for nearly 23 years, and the employee with the shortest tenure has been on staff for three years.
"There are 10 of us, counting me, and I'm absolutely committed to keeping every one of us on the payroll," he says. "There's business out there and we'll find ways to get creative and find customers. We'll find a way to stay busy."
This article originally appeared in the July/Aug. 2020 issue of Industrial Supply magazine. Copyright 2020, Direct Business Media.
COMMENTS: 0
---