Choices abound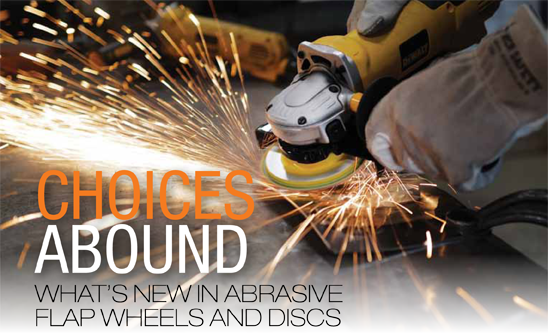 by Rich Vurva
From heavy grinding to fine surface finishing, flap wheels and discs can replace traditional grinding tools. Flap discs and wheels offer advantages over grinding wheels (faster material removal, better working comfort) and over fiber discs (longer lifetime, higher removal rate). The following abrasives suppliers offer a glimpse at how they develop solutions for the metal removal market.
Mercer Abrasives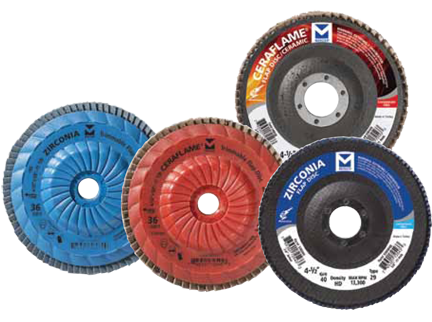 "Distributers don't want the trendiest product in flap wheels. They want the most efficient, cost effective product that is readily available. Mercer is always ready with stocked sizes available that ships for just-in-time inventory," says Doug Taber, Southwest regional sales manager for Mercer Abrasives.
He adds that as an alternative to flap discs, larger diameter flap wheels (4-inch and 6-inch sizes) on rounded shapes, contour to the work and provide better coverage and consistent grit scratch. They are well suited for use on portable or bench grinders. Taber says premium ceramic grains are the product of choice for coarse grit applications. "For finer grit applications, premium aluminum oxide grains hold their shape and consistent grit scratch longer," he says.
Type 29 zirconia flap discs feature an extremely tough Zirconia abrasive grain. They remain sharp for the duration of their long life, making them ideal for heavy stock removal. These multi-purpose discs can be used for grinding, deburring, edge chamfering, blending and finishing. Type 29 discs are ideal for contour and edge work and are most efficient when used between a 15 degree to 25 degree angle. The angled flaps provide greater surface contact for a more aggressive cut.
Mercer's Type 29 ceramic flap disc, Ceraflame, features a premium heat-treated grain with lubricated ceramic coating that stays sharp and cuts cool with minimal loading. This fast cutting, long lasting abrasive grain is ideal for even the toughest metals including high performance alloys. Ceraflame fiber discs and flap discs are available in grits 36-120 for applications ranging from heavy material removal to surface blending. Can be used for all grinding, blending, finishing, deburring, deflashing, edge chamfering and stock removal.
Trimmable flat discs are available in both zirconia and ceramic options. They remain sharp for the duration of their long life, making them ideal for heavy stock removal. The multi-purpose zirconia discs can be used for grinding, deburring, edge chamfering, blending and finishing. The built-in 5/8"-11 hub eliminates the cost and weight of a traditional metal hub, while the trimmable feature extends the working life of the disc, allowing for fewer disc changes and longer production times.
Trimmable Ceraflame flap discs are available in grits 36-120 for applications ranging from heavy material removal to surface blending. They can be used for all grinding, blending, finishing, deburring, deflashing, edge chamfering and stock removal applications.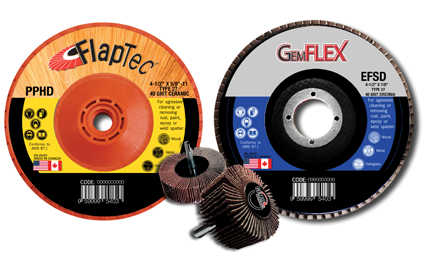 Gemtex Abrasives
The abrasives market continues to be driven by the demand for flap discs and flap wheels that meet the needs of various quality and price levels based on end-user requirements. Many factors, such as working environment, operator skill level, available tools, application and metal types, play a vital role in determining the proper disc to recommend for a particular project.
"Some end users require the highest quality product available due to a pre-established finish or specification requirement. Conversely, other customers' needs are satisfied with products that achieve the grinding objectives set forth, while meeting a determined price threshold," says Frank Prenda, vice president of sales and marketing for Gemtex Abrasives. It is the job of the abrasive salesperson to recognize the end-user's key requirements and to recommend products that meet their demands while offering multiple grade and mounting options with their flap disc line.
Gemtex Abrasives has introduced a New Generation flap disc offering to address both ends of the quality and price spectrum. The new product line, manufactured in Gemtex's Toronto, Canada factory, is comprised of two brands designated by price and quality. The Flaptec line is manufactured with premium zirconia and ceramic cloth available in fiberglass or plastic trimmable backing. The line also includes a ceramic/zirconia alternating flap design which provides a quality level that fits between the 100 percent zirconia and 100 percent ceramic flap disc.
The Gemflex line is an economy zirconia offering that meets the needs of the price-conscious customer while providing high levels of productivity and various mounting options. Like Flaptec, the Gemflex line is available with fiberglass or plastic trimmable backing, including a 5/8"-11 built-in thread. The trimmable plastic backing allows users to realize longer disc life, which further enhances their cost savings.
"In the abrasives industry, there is no such thing as one size fits all. As manufacturers, we face the delicate balance of aiming to provide quality products that perform efficiently for the demands of market segment X while addressing a different set of requirements for market segment Y," Prenda says.
United Abrasives/SAIT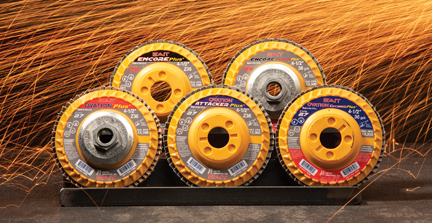 A recent trend is the focus on using coated abrasives specifically engineered and manufactured for use in flap discs. For years, many lower-end flap discs utilized sanding belt materials that did not perform, and left users frustrated and looking for other options. "United Abrasives/SAIT, a pioneer in the development of specialty materials, designs and manufactures both the flap disc and coated abrasive materials. Because of this, we can easily tailor a design for specific applications," explains Leo Lavigne Jr., director of product management and promotional marketing. This ensures that the edge of each flap lasts the optimal amount of time to fully utilize all the grain on the flap until it is worn down. The result is a product that grinds the same at the end of its life as it did when it was brand new.
High-performance ceramic grains are on the top of most end-users' minds. The Encore Ceramic (low density), Ovation Ceramic (high density) and the Trimback Ceramic (trimmable backed) flap discs all feature SAIT's ceramic coated abrasive material, specifically designed for flap discs. This leads to exceptional performance and long life.
"Many fabricators are also working more with stainless steel and aluminum, both of which have unique challenges that generic flap discs cannot address," Lavigne says. "Heat discoloration on stainless and loading on aluminum can be a real frustration to the fabricator." United Abrasives/SAIT just released a new flap disc that can solve both of these common issues. The Ovation Stainless and Trimback Stainless utilize a new material that incorporates the key features of the successful 3A coated abrasive and fiber disc material, to minimize heat discoloration on stainless steel and reduce loading on aluminum.
"Safety is always our top concern at United Abrasives/SAIT. We have developed a full line of our Plus+ hard plastic-backed flap discs that feature our patented Super-Lock hub and keyway system. This hard plastic backing plate allows the user to apply less pressure when grinding while still maintaining high stock removal rates. This translates into less operator fatigue, less tool wear and increased productivity," he adds.
Lavigne says that some changes and improvements for future products are already starting to take shape. Utilizing materials designed for flap discs is a major factor. Most users test a product for only a few minutes and think a product is acceptable. In most cases, the disc performance dramatically declines over the life of disc, which can last for many hours. "Using materials specifically designed for flap discs allows the user to still have very high removal rates over the entire life of the flap disc, not just at the start," Lavigne concludes.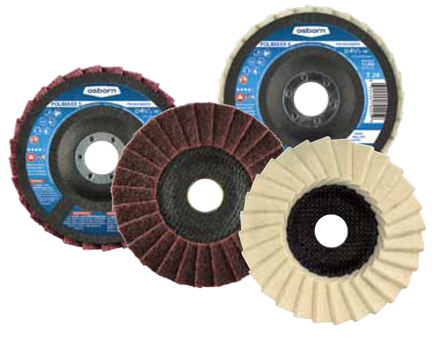 Osborn
With growing competition, new grains and geometries have arrived on the market, with the main goal to increase productivity by improving lifetime and removal rate.
"As we are still reeling from the current volatility in the market due to the COVID-19 crisis, the industry will likely find a new normal in lower volumes and revenues that won't be coming back short term. Therefore, productivity improvements will be driven by the need to capture share and lost profitability. This will put even greater emphasis on developing the next generation of flap wheels for faster cut and longer life," says Brian Keiser, Osborn's director of global development and engineering.
Osborn offers industrial products only, designed for high productivity, with an excellent combination of removal rate, lifetime and product price. "With our Z Series, the customer gets a top class Zirconium product for grinding steel or stainless steel. We use zirconium on a polyester/cotton base, to achieve a good combination of lifetime on edges and material removal also on surfaces. This product is the suitable solution for most of the applications," he says.
For heavy grinding, the EXT type flap discs provide better lifetime and speed by using a state of the art ceramic grain. The product grinds cooler to reduce blueing and the time for reworking the workpiece.
All Osborn products comply to U.S. safety standards, and the Osborn factory is a member of the Organization for the Safety of Abrasives (oSa). Osborn also offers Z and EXT type flap discs in HD (high density) versions, equipped with 30 percent more flaps in a steeper angle. These discs have a higher lifetime with less tool change and offer more working comfort due to a higher absorption of vibrations.
Osborn's range of X-Lock products have recently introduced flap discs with a trimmable plastic backing. The backing of the disc can be trimmed back, in order to use the flaps until their nearly total consumption. The X-lock arbor offers extremely quick tool change on X-lock angle grinders.
The newly launched Polimaxx flap discs bring new applications for flap discs, designed for cleaning and polishing works on metals. These products are equipped with premium non-woven material in three structures, rough, medium and fine. A product with flaps in felt material offers real polished surfaces, in combination with polishing paste and an angle grinder with regulated speed.
"Stringent regulations on usage of silica abrasives are likely to hinder the market's growth. Significant investment in R&D activities around silica free abrasive products is likely to create opportunities in the market," Keiser says.
The abrasive grains industry is continually working on developing new solutions and new grain concepts, such as self-sharpening ceramic grains in combination with additives and top coats for even better performance and cooling. Higher working comfort and
flexibility can be achieved with new flap geometries.
"The user and industry as a whole will continue to demand longer life, faster cut, safer products and user flexibility or comfort. The future will consist of products that balance these needs while not compromising performance," Keiser concludes.
Norton | Saint-Gobain Abrasives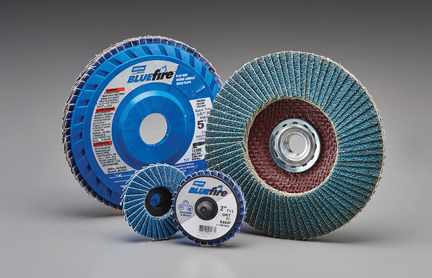 As the finishing and grinding industry continues to automate, such as with robotic polishing systems, the demand for high level abrasives is growing. Automation is pushing flap wheel makers to create products that can replace two dimensional abrasives such as belts, which require the robot system to stop often for belt changing. With the use of high-quality abrasives or interleaf flap wheels, the integrator and eventually, the end user, can set up a robot program using the three dimensional flap wheel and allow it to run for many times longer than the belt.
"With the development of newer, more scientific non-woven abrasive products such as Vortex grains and other grain developments, one of the beneficiaries of this science is the flap wheel industry," says Mike Shappell, application Engineer IV.
Patrick Carroll, product/marketing manager, adds that a trend in the flap wheels shape is the move to more durable backings to help with added life and aggressiveness.
"Historically, suppliers offered flexible X-weight cotton backings with general purpose GOOD tier aluminum oxide grain," he says.
In recent years, Norton | Saint-Gobain Abrasives has implemented a state-of-the-art automatic flap wheel making machine. "This allows our company to offer an incredibly consistent flap wheel and interleaf wheel-making process in a way that very few others can offer. This automation removes some of the inconsistencies that can come with flap wheel systems that rely heavily on manual manipulation for the wheel making process," says Shappell.
In markets such as marine, aerospace and automotive, there has been a shift toward using non-woven abrasives on materials such as aluminum. "We have extended material testing to include a broad variety of materials that we had not in the past to ensure we are following the market trend," explains Mike Radaelli, product manager.
Norton | Saint-Gobain Abrasives developed the R369 flap wheel, with a stronger Y-weight cotton backing with an aluminum oxide abrasive blend, for longer life and higher performance.
The use of flexible backing materials has allowed Norton | Saint-Gobain Abrasives to offer flap wheels and flex drums to industries that, for too long, had to find other ways to approach the surface finishing of parts. The Norton Flex Drum system frees end users from having to pay for the single use hub for each flap wheel they use. "With the Flex Drum system, only the segments are purchased and used each time. The reusable hub can be changed out in less than five minutes and often times can be configured over to an abrasive set up not possible with other flap wheel offerings. This could be done by mixing different types of segment grits and types on the same wheel, along with being able to offer the segments in widths and lengths that are a better fit to the job instead of a cookie cutter type set up," says Shappell.
Norton also offers the Flex Drum flaps in ¼-inch and ½-inch set ups, to add even more flexibility to an existing flexible set up. This can be done with nearly any type of grit, grain or backing, along with the ability to offer an almost unlimited capability for the Bear-Tex non-woven pad material to make it an interleaf type set up.
Other recent improvements include high tenacity fiber for higher speeds on right angle grinding such as Norton Rapid Blend products. "This will improve safety as OEMs increase machine speeds," says Radaelli.
"Norton | Saint-Gobain Abrasives is the world leader in the new fixed abrasive technology, which allows us to embed grain into the non-woven cloth in a way that creates a mirror finish when used with very little compound and water," says Shappell. "This fixed abrasive technology, coupled with our ability to make flap wheels, allows us to consider making the flap wheel format for single digit Ra finishing."
Carroll adds that a trend in the flap disc shape is the use of improved abrasives for productivity and cost savings. "Historically, suppliers offered standard BETTER tier zirconia abrasives due to the ability of each grain to micro fracture during the grind."
The R884P flap disc has an improved zirconia grain on a versatile X-weight poly cotton backing for cool cut and long life for both softer carbon steel and harder to grind stainless steel applications.
Norton | Saint-Gobain also has introduced Pink R928 which has a strong X-weight poly cotton backing with a full ceramic abrasive grain for longer life and higher performance flap wheels. A new zirconia product named R860, with an improved grain and strong Y-weight polyester backing for longer life and higher performance, will soon be released.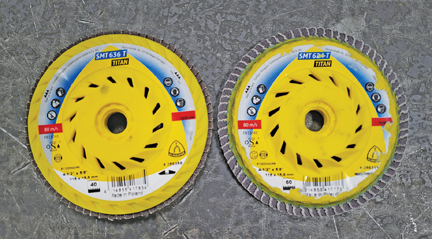 Klingspor Abrasives
There is a new influx of abrasive suppliers producing a variety of abrasive products. The flap disc is one of the most common of these items. Because of this, long-time producers like Klingspor must consider new ways to market current products or create new items, according to Pete Spuller, marketing/advertising manager. He says that many flap disc users are looking for the "latest and greatest," prompting suppliers to create something different whether or not it has merit for the application.
"Klingspor is the true innovator of the flap disc and, most likely, the first company to ever produce them. Since then, Klingspor continues to refine the flap disc by offering
varieties that range from aggression to near-final finishing and a line that includes the only quick-change version of a flap disc on the market today," Spuller says.
The latest achievement is the new Titan line of flap discs. These feature trimmable backing plates with a quick-attach built-in 5/8"-11 threaded center and a design that creates a "fan" of air to assist with cooler grinding.
The trimmable backing plate allows for more of the disc to be used, increasing productivity and producing cost savings. He says that Klingspor flap discs are among the safest available. As a founding member of the Organization for the Safety of Abrasives (oSa), Klingspor ensures that products that run at high peripheral speeds adhere to much higher safety standards than typically required by normal standards. "This makes Klingspor flap discs the safest available," Spuller says.
The industry seems to desire thicker flap discs. "There will be many items introduced that claim to be the thickest flap disc," Spuller says. "This trend is slightly concerning because there is the perception that these discs are better. They might last longer, but they take longer to do the job because they lack aggression. So this is truly a conflict."
This article originally appeared in the July/Aug. 2020 issue of Industrial Supply magazine. Copyright 2020, Direct Business Media.
COMMENTS: 0
---