Tactical vs. Strategic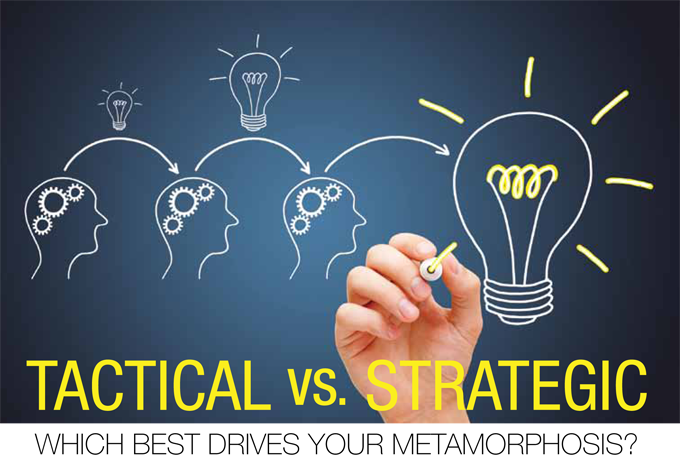 by Howard Coleman
So, here's something new to report. I'm now officially a podcaster. Our new podcast, "Distribution on the Cusp of Metamorphosis" – An MCA Associates Podcast Series – launched in mid-March. Episode 1 is now available just about anywhere you can get podcasts; Apple, Google, Spotify and several other podcast hosts. By the time you read this column, Episode 2 will also be available.
So far, I've been gratified by the number of "listens" and "subscriptions" – the commonly used metrics for podcasters – although as my podcast advisors tell me, "Don't expect to go viral. Only already famous personalities do." I guess I can take that hit to my ego since not everyone (actually it's even more limited than that!) is into distribution topics.
Anyway, please excuse my shameless self-promotion to describe my own example of metamorphosis and how I communicate with my audience.
It's my way of leading into the real metamorphosis – the continuous improvement – that's happening in distribution, from marketing and sales to e-commerce, supply chain, customer order fulfillment, delivery and more. It's all of the critical functionalities and processes within your value stream.
The Emergence of the Strategic Leader
COVID-19 enhanced is frequently being described as the emergence of the strategic leader, driving some to the cusp of metamorphosis and beyond.

For as long as the word metamorphosis has been used, most managers have been tactical, focused on getting the stuff out the door in the most efficient and timely manner. Execution and firefighting historically were highly valued skills. Whether those same skills, though, will serve tomorrow's managers is still very much up in the air.
Transforming your value stream from tactical to strategic is a key challenge to being able to deliver on a go-to-market business strategy by focusing on different outcomes, such as responsiveness, innovation and the sustainability of the progress made. I guess the question to ask is, will organizations have what it takes to make and continue this metamorphosis?
In a recent survey published in CIO Journal, being technologicallyy savvy was seen as important (including the ability to understand and integrate the technological capabilities offered in today's technology marketplace). But the management skills that caused the greatest amount of concern were critical thinking and problem solving. Is a new type of leader needed – at both the manager and executive level – to manage this metamorphosis?
While this may sound a bit simplistic initally, there may be evidence to support these observations and that a potential crisis could be averted by focusing on identifying the developments that will affect an organization's future within any of the value-stream components. Further, look at those components not just as a solution but rather as a set of capabilities that can determine what the organization can and cannot do to align with the desired outcomes prized by key customers and the strategic promises made in your value proposition. Managers and senior executives will need to speak the same business language.
The Challenges and Traits needed
In upcoming columns, we'll continue this metamorphosis conversation and offer some further clarification of the challenges and changes taking place in distribution that need to be addressed. We'll also offer our view of the traits needed by strategic-focused leaders to meet this new distribution environment focused on outcomes, rather than solutions.
Topics we'll be discussing will include (but not be limited to):
The traditional focus
The emerging leader focus
The new supply chain and the increasing rate of technological advances rooted in the supply chain
Acceptance of complexity as a business driver
New competitive pressures
New methods of dealing with customers
Recognition that a cost focus is no longer enough
Striving for operational excellence and business excellence by asking the right questions, rather than focusing on the right solution
Thought processes and approach. It's heady stuff. Welcome to the conversation!

Howard Coleman is principal of MCA Associates, a management consulting firm that has worked with wholesale distribution and manufacturing companies since 1986 seeking operational excellence. Contact them at (203) 732-0603 or at hcoleman@mcassociates.com.
This article originally appeared in the July/Aug. 2021 issue of Industrial Supply magazine. Copyright 2021, Direct Business Media.
COMMENTS: 0
---