'We don't say no'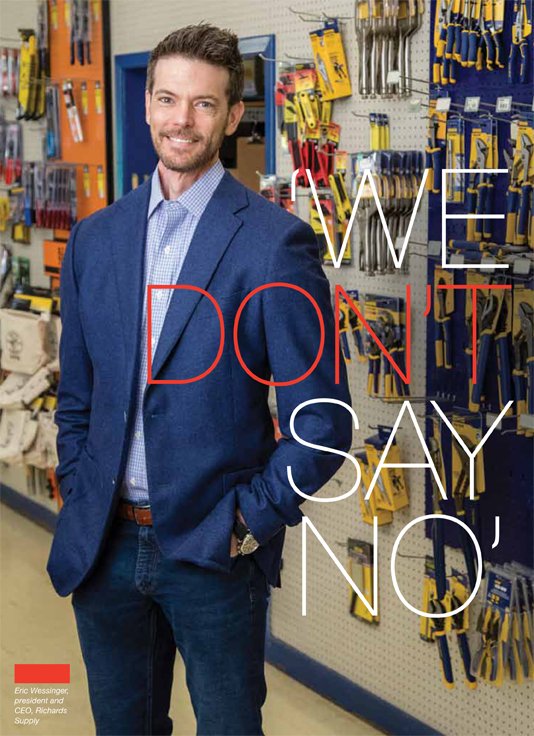 Eric Wessinger, president and CEO, Richard Supply
At Texas-based Richards Supply, customer satisfaction is always the goal
by Rich Vurva
Just before the start of the coronavirus pandemic, Waco, Texas-based Richards Supply surveyed its customers to find out what they valued most from suppliers.
The survey revealed that the number one desire among customers is having the right products delivered to them when they need them.
"What we took from that survey is that we're going to do our best to make sure that we're delivering at very high fill rates," says Eric Wessinger, president and CEO of this family-owned industrial distributor.
Following that survey, the purchasing department, inventory management group and warehouse team used that information as the impetus to review all of their processes to ensure that they can keep meeting customer expectations. A newly hired inventory analyst keeps a close eye on inventory – the vast majority of which is customer-specific – to make sure that the warehouse is stocked with the right products in the right quantities at all times.
"We cut our teeth through service. We've always had a 'we don't say no' mentality and try to work as much as we can with our customers to be more than the stuff that we sell."
Wessinger admits that it can be challenging for small- to mid-sized distributors to keep up with customer expectations.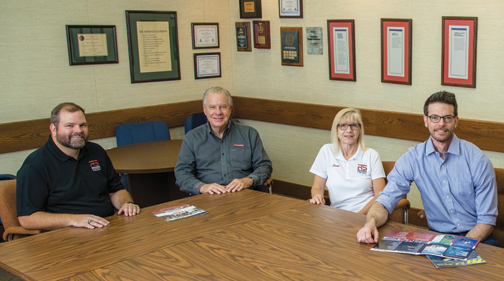 Matt Kuehl, e-commerce manager; Steve Wessinger, executive chairman; Janet Pickens, controller; and Eric Wessinger, president and CEO
"It's not easy for a company of our size, but we try to have an offering for whatever the customers want. If a customer wants to order online, we want to have a great website. If the customer wants to order over the phone, we want to have a great customer service team. If they want us to come out to them and manage their inventory, we try to be great at that," Wessinger says.
The general-line distributor features 17 different product categories and serves a broad range of industries from three locations in Waco, Temple and Fort Worth. Its largest categories are safety, bandsaw blades and cutting tools, general MRO products and material handling.
The company primarily serves customers in Central and North Texas, but also reaches out-of-state locations when a current customer has a facility outside of Texas.
"Being a general-line house, we are able to support a variety of industries, from industrial, construction, municipalities and government. We support everyone from medical device manufacturers to diaper companies," Wessinger says.
Diversity in products and customer types helped the company weather the storm when business slowed during the coronavirus pandemic. "We're anticipating a lot of growth because our business is coming back to life," Wessinger says.
The acquisitions of Industrial Grinding and Finishing in 2009 and Manske Material Handling in 2016, both based in Fort Worth, expanded the company's reach into the Dallas-Fort Worth Metropolitan area.
While he doesn't rule out additional acquisitions, Wessinger says he has not found potential targets that were a good fit. "So we refocused ourselves on building internally and reinvesting in our existing infrastructure and trying to grow and build that way, as opposed to acquisition," he says. "If a good opportunity came up, I would definitely be open to looking at something. But we're not actively looking right now."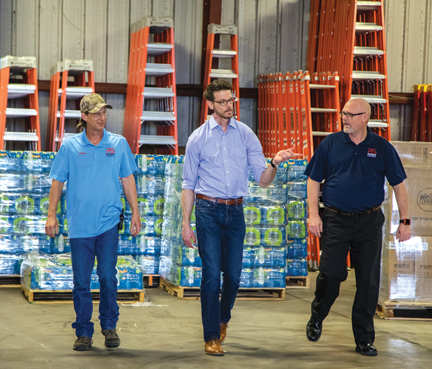 Above: Jason Kite, shipping manager; Eric Wessinger, president and CEO; and John Schoen, customer experience manager
Technology investments
"Growth is a big focus for us. So we're working on trying to get into some other new industries and new customers, but then also being better partners for our existing customers," Wessinger says.
Getting in front of new customers and prospects is challenging for distributors, especially since some companies still have visitor restrictions in place as a result of the pandemic. "Some people are still a little hesitant to have new faces come in and meet with them. So our big challenge right now is trying to get creative and find ways to introduce ourselves to more customers and more potential customers."
Wessinger hopes to add outside salespeople to help in that effort if he can find the right candidates. Another goal is to continue looking for ways to be more efficient and productive without adding costs. "My challenge to our management team this year was, how can we be more efficient? How can we be better at what we do, and how can we maximize our outputs?"
Recent updates to the phone system, computer network and website platform have resulted in dramatic improvements to how quickly product data can be retrieved for customers. Tweaks to the web design aren't just for aesthetic purposes; they also make it more user friendly and easier to search for products and place orders.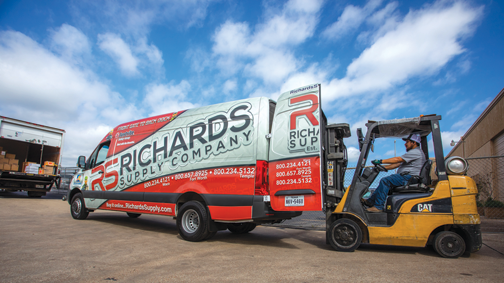 Website management is the responsibility of e-commerce manager Matt Kuehl, who was brought on about five years ago to help Richards improve its e-commerce presence. Less than 10 percent of the company's $15 million in annual sales are from e-commerce, but since Kuehl came on board, Richards Supply has tripled its
e-commerce sales.
Kuehl believes that it is important to view e-commerce in a broad sense, and not just measure success by focusing on web sales. "A lot of people look at e-commerce as web sales. The web sale metric is a part of it but e-commerce is a tool for our customers to use. How they place the order is not as much of a concern as how interactive they are using the site," he says.
Kuehl says a key to success is to get customers to trust the information on the website, so they won't need to place a call into customer service. "The data has to be accurate and it has to be transparent. If a customer has special-order items on their order, if we're able to use EDI to deliver expected dates from our suppliers, and if we create the mechanism to integrate with our ERP system, then our website delivers that information and helps our customers have a better overall experience and helps them do their job better."
Marketing efforts include targeted email campaigns to promote specific products or services. As an example, Kuehl explains, "In our email marketing platform, we can filter down customers that have bought safety items or have viewed safety items and send a targeted email to them."
Follow-up emails can be automated if, for example, someone starts to place an order but for some reason doesn't complete the process. "They can get an email that asks if they have questions and serves as a reminder," Kuehl says.
Electronic data interchange project
Richards recently partnered with Comparatio, an EDI software solutions provider, in an effort to streamline purchasing and accounting tasks. The company's EDI solution integrates into the Richards Prophet 21 ERP platform.
"We're looking at ways that we can automate our order entry process," Wessinger says. "We're looking at technology to try to find ways where we can limit the amount of data entry and busy work that employees do on a day-to-day basis."
For instance, the system will enable Richards to save time in spotting discrepancies between a purchase order and an invoice, a process that is cumbersome and time-consuming when performed manually.
"If an expected date is pushed back by our supplier, we'll be able to notify the customer automatically instead of having to be reactive. It allows us to be more proactive," says Kuehl.
Company controller Janet Pickens hopes that when the program is fully operational, it will help improve accuracy and minimize the amount of time employees need to spend on mundane tasks. "What I'm looking to get out of the effort is more accuracy, speed and efficiency," she says. "It will also mean better customer service because the information is loaded quickly and more accurately."
The new system will also improve the process for managing inventory at customer locations.
"We do vendor managed inventory at a number of our customers. Right now our guys are out there doing everything still with pen and paper," Wessinger explains. "The EDI software will allow us to implement some barcode scanning and remote ordering from the field."
When it takes up to an hour for salespeople to drive to some remote customer locations, the ability to transmit orders electronically from a vending system or storeroom utilizing barcode scanners is a major time saver. "Automating order entry can free up our salespeople for more high-value activities," says Kuehl.
The new process will not only save time in the field, but eliminate the need for data entry by the customer service or inside sales team. "We're hoping that by using those remote technologies we should be able to automate our order entry process pretty successfully," Wessinger says.
Investing in technology solutions that improve employee productivity enables Richards Supply to achieve its ultimate goal – keeping customers satisfied.
This article originally appeared in the July/Aug. 2021 issue of Industrial Supply magazine. Copyright 2021, Direct Business Media.
COMMENTS: 0
---