What's new in cordless power tools
by Rich Vurva
Tools tethered to electrical cords are becoming obsolete on many jobsites thanks to innovations from power tool manufacturers. The trend toward cordless power tools continues to gain traction among tradespeople and factory workers. Here's a look at some of the newest offerings from power tool manufacturers.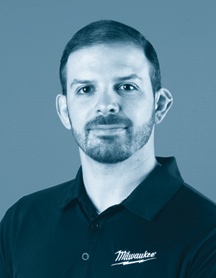 Brian Alves
Group Product Manager
Milwaukee Tool
There are multiple trends driving product development in the cordless tool market today, but the biggest are advancements in battery technology, performance capabilities, updates in safety requirements and accessory optimization:
Battery Technology: Advancements in battery technology have allowed tools to become just as powerful, if not more, as corded alternatives but without being tethered to an outlet. For example, Milwaukee's high-output batteries provide 50 percent more power, run 50 percent cooler, and offer increased run-time over standard M18 REDLITHIUM batteries, all while being compatible with the entire M18 System.
Capabilities: Performance, as well as durability and ergonomics, remain driving forces in the development of cordless power tools. We are now able to design power tools that provide not only great power—but they're also very maneuverable and can withstand the harsh conditions out on the jobsite. A good example of this is the M12 FUEL Compact Band Saw – at only 6 lbs, it's not only the lightest band saw in its class, but it cuts faster than all 18V and 20V competitors within the 2-1/2-inch cut capacity class.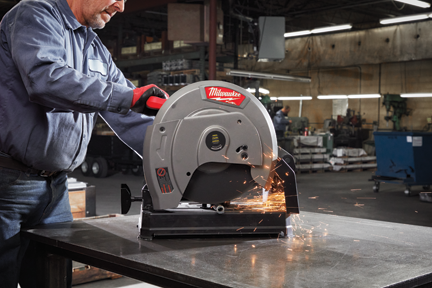 Safety Requirements: Cords have been a hazard on jobsites for years, leading to issues like tripping, limited mobility and more. In addition, safety requirements on the jobsite continue to evolve and safety directors have started to seek new solutions such as band saws that require two-handed activation to meet their needs. For example, the M18 FUEL Deep Cut Dual-Trigger Band Saw and the M18 FUEL Compact Dual-Trigger Band Saw combine an added trigger system and the performance of the M18 FUEL technology to deliver solutions that can be used to safely cut a variety of jobsite materials.
Accessory Optimization: Advances in power tools often lead to the need for advances in cutting accessories not only to maintain productivity, but also to reduce overall costs. The continuous upgrades in speed and power often result in more stress placed on the accessory in the form of impact, heat or other forces that may limit the accessory's performance. For example, Milwaukee's 12/14 TPI Extreme Metal Band Saw Blades are the perfect solution for the electrical trade, providing users with an efficient cut and yielding about 25 percent longer run time per battery charge with their cordless power tools.
At Milwaukee, we take the time to work with our users to understand every situation they face during their work. We've spent thousands of hours researching power tool usage across all types of jobsites to create unique solutions targeted at common jobsite frustrations. In particular, the M12 platform provides over 100 trade-focused solutions that not only prioritize productivity, but also portability. As mentioned before, the M12 FUEL Compact Band Saw is the lightest and fastest band saw in its class, but it also incorporates a reamer attachment that allows users to combine multiple solutions into one tool.
Another example of Milwaukee's response to marketplace trends is the M18 platform. Engineered for the most demanding tradesmen, this platform reaches new levels of power and performance and provides over 175 solutions on a single platform. For example, the M18 FUEL 14-inch Abrasive Chop Saw not only delivers 15A corded power on a cordless platform, but it also incorporates a RAPID STOP Blade Brake for user safety that stops the blade within 3 seconds of trigger release.
At Milwaukee, we are always looking for ways to help our users get their work done faster and more efficiently, while staying safe. As mentioned before, safety requirements continuously evolve and there are multiple examples of Milwaukee's adherence to these jobsite changes:
RAPID STOP Technology: To keep users safe, Milwaukee incorporates technology that stops accessories within seconds of trigger release into grinders and chop saws.
Ergonomics: Electromyography (EMG) measures the electrical activity produced by a person's skeletal muscles to record muscle effort during a tool's use. Milwaukee's investment in EMG enables the business to collect objective ergonomic data that can be used to positively influence product design. As part of the investment in this technology, there's a dedicated team of experienced, industry leading professionals, including a certified ergonomist and other subject matter experts, to focus on tool ergonomics. The goal of this program is simple: to maximize occupational safety & health, maximize ease of use, and increase productivity.
ONE-KEY: Advancements in technology have also allowed tools to become "smarter" and safer, as seen with the M18 FUEL Sawzall w/ONE-KEY. For example, users can adjust the speed of their Sawzall for smoother cut starts, engage an automatic cut brake to help prevent accidental cuts, and optimize for longer blade life all through the ONE-KEY app.
Cordless technology has, and will continue to, rapidly push the potential in categories never previously thought of as viable cordless options. For users everywhere, this is good news. Advancements in performance, technology and design will fundamentally change the way professionals work and make a significant impact on overall operations and efficiency.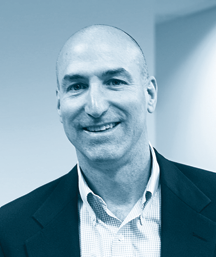 Ray Bellavance
President
Fein US
Many industries are moving toward a more portable and flexible workforce, including the trades. Because of this, users want cordless tools with high battery capacities, shorter charge times and lighter tools that make them more nimble and able to adapt to many different worksite scenarios.
Power tool manufacturers continue to focus on supporting the construction and fabrication industries in the quest toward a cordless jobsite. The cordless jobsite offers maximum safety and flexibility/portability by reducing (or eliminating) the need for multiple generators and power cords.
FEIN is committed to innovation and is constantly researching and evaluating market trends to develop premium cordless solutions that fit the needs of our customers. FEIN has a selective approach to cordless – one that is geared toward specialty applications, and so we carefully choose which new product lines and technologies we offer. Our QuickIN accessories are an example of how FEIN meets those needs. Customer feedback showed the desire to reduce downtime on the jobsite. With FEIN's QuickIN accessories for our cordless line, users can change adapters within seconds, allowing them to get more done in a shorter timeframe.
The industry's latest focus has been in the areas of battery capacity and tool tethering. Batteries with higher amperage and run times are being developed to offer cordless solutions for the most demanding applications, while tool tethering solutions continue to offer improved safety for elevated or "above grade" applications.
Cross platform battery "sharing" could be a future possibility. This would give the customer the ability to utilize any battery to power their cordless tools without restriction to a particular brand platform, providing them with more choice and ease of use.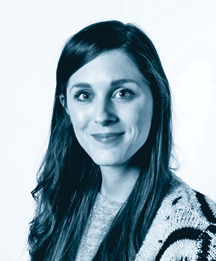 Jennifer Bentz
Product Manager
Metabo HPT
The major trends in the industry are the expansion of cordless tools within all power tool categories, trending towards lighter and more compact tools with longer run time, while not compromising power. At Metabo HPT, we are addressing these trends with our Multivolt System advantage, in which the end-user can go lighter with our 18V line up of tools and 18V compact batteries or go longer and double their runtime by using the universally compatible 18V/36V MultiVolt batteries on the 18V tools. Users can go for the most power when the job calls for it using our 36V tools and the MultiVolt batteries OR go all day with the 36V tools and the revolutionary AC adapter. This differentiates Metabo HPT from other brands with one simple system that unites 18V and 36V tools with the long lasting and powerful MultiVolt battery that powers everything cordless and allows versatility for the end users to get the job done!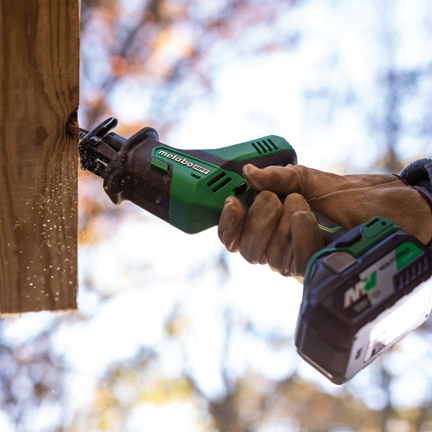 This is great news for the recent launch of Metabo HPT's 18V one-handed reciprocating saw, that accepts both Compact 18V batteries and MultiVolt batteries for up to 8 Amp hours of runtime per charge! The slim profile of this saw means you can use it in areas where other tools just will not fit. Its center-balanced design makes one-handed use easy with less fatigue, even when you switch from a lighter 18V battery to the more powerful MultiVolt battery. The tool body of this new one-handed reciprocating saw weighs just 2.9 pounds and it is extremely compact at 13.8 inches front to back.
As the demand for more cordless tools rises, Metabo HPT is strongly focused on the expansion of its cordless tool innovation, as well as adapting existing corded tools into cordless options. We have done this through the recent launch of the industry's first 36V cordless plunge router (model M3612DA), which allows woodworkers the convenience of two-tool functionality (cordless and corded) in just one tool; meaning the router can be cordless whenever the job requires but can also be used while plugged into a power source, saving battery life and the cost of battery replacements.
In addition, Metabo HPT recently launched the industry's only cordless 36V metal connector nailer (model NR3665DA), producing high output energy and eliminating the hassle of having to navigate long hoses and compressors around. This nailer also eliminates the need to deal with any gas cartridges, saving valuable time and increasing productivity. By combining the reliability of Metabo HPT's proven cordless nailer technology, along with the power of a MultiVolt battery, this cordless nailer works all day long, driving in 900 nails per charge! Also, if the battery needs to be recharged and you do not have any spare batteries, you can plug in with the AC adapter and keep going! The Strap-Tite Probe Tip feature on this nailer works to guide nails into the pre-drilled metal connector holes without damaging the collation, ensuring each nail is precisely driven. Then the dry-fire lockout feature prevents accidental dry-fire and assures the nail is lodged securely every time. For increased user safety, this tool also features a pivoting belt hook and side lock switch to prevent accidental firing. Lastly, the brushless motor in this nailer delivers more runtime, increased power and extended durability with essentially no maintenance.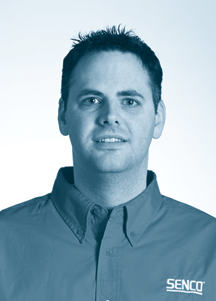 Eric Bellman
Senior Product Manager, Cordless Nailers/Fusion Technology
SENCO
The cordless revolution has taken longer for nailers than other tools — air-powered tools did not lend themselves to cordless versions as readily as electric tools — but high-quality cordless nailers are now suited to most jobs. More and more users are realizing the benefits of leaving the compressor and hose behind without sacrificing power and performance.
At SENCO, our innovation and product development comes from "voice of customer," or VOC. User feedback from the field drives our enhancements to our current product lines, including cordless nailers. Those enhancements include more durable construction, more power, more options for different types of collation, longer battery life, easier serviceability and fewer jams.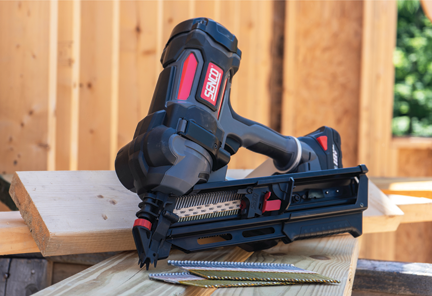 While traditional pneumatic nailers will always have a place on the job site — such as when driving tens of thousands of nails on a custom, stick-framed home, for example — every update brings cordless nailers better performance with fewer drawbacks. Cordless nailers can now easily tackle jobs they couldn't before, like full punch out lists, installing structural beams made from dense engineered lumber, start-to-finish panelized home builds, complete installation of trusses, and more, with the convenience of cordless.
SENCO pioneered the "cordless pneumatic" category of nailers when we introduced FUSION technology in 2010. Our cordless nailers have the same feel and performance as pneumatics. Each shot is powered by compressed air stored in the sealed air cylinder. The driver is then reset by the electric motor for the next shot. This process happens within milliseconds over and over. Our newest nailers have improved that initial innovation, with many user-requested features that improve performance, durability and serviceability.
Over the last year, we have launched our first two cordless framing nailers — the F-35XP and the F-35FRHXP — which we designed with power, durability and increased service life in mind. The philosophy — to create best-in-class cordless nailers for every application — guided the re-engineering of our newly launched cordless finish and trim nailers, as well.
SENCO's cordless nailers featuring FUSION technology are built for reliability, from their internal components down to the robust, aluminum belt hook. If service is needed, the internals are more easily accessible than previous generations and other cordless competitors. An air valve on the tool allows it to be safely depressurized, repaired, repressurized and returned to service quickly.
Additionally, SENCO cordless nailers are designed with jam avoidance technology which reduces the chance of fastener jams and reduces the chance of internal tool damage that can be caused with fastener jams. A jam indicator light tells when jams occur, and the magazine is easily removable so fasteners can be cleared and the tool can be returned to service quickly.
Following the launch of our updated finish and trim nailers, we will launch SENCO's first-ever cordless stapler, which fires 18-guage L-wire staples and includes all the advanced features present on our FUSION nailers. Beyond that, SENCO continues to look at new cordless fastening tools with the mindset of providing best-in-class cordless and pneumatic fastening systems.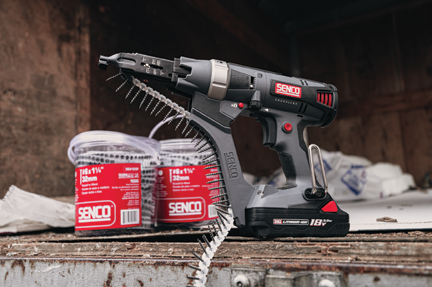 Ryan Distler
Product Manager, Duraspin Auto-Feed Screwdrivers
SENCO
Over the last several years, we have seen the market begin to accept auto-feed screw systems more and more, primarily for drywall but also decking, subfloor, sheathing, and more — including in manufacturing settings. There is an increased need for efficiency in today's unpredictable job market, which has created higher demand not only for materials, but also tools and fasteners that get the job done quicker and easier. The combination of wider acceptance and unprecedented demand is leading companies like SENCO to innovate, producing products with more user benefits, higher-quality components and killer features, as well as providing more generous warranties and better customer service options.
One of the ways SENCO has responded to increased demand is by creating more options that are "built to fit you," essentially making it as easy as possible to enter the DURASPIN ecosystem. Our auto-feed screw systems are available in several different configurations to suit individual needs and budgets. We offer a standalone integrated system, which includes batteries and a charger, as well as auto-feed attachments for brands of drivers contractors already own. Additionally, there are new corded models, stand-up attachments, several types of drive bits, hundreds of fastener types, and more.
With each of those products, we've strived to create a best-in-class tool that users will love and continue to rely on as the job market gets back to normal. We've updated our DURASPIN line over the last year based on the needs of our customers. Some of the improvements we've made include:
A new "feed-on-return" drive system, which allows the screw to be in place before you drive for faster and more precise placement.
An improved feed system that can quickly be removed to expose the drive bit, allowing the user to easily finish or back out screws.
The ability to change from 2500 RPM down to 1600 RPM with the press of a button for hard materials such as steel that require lower revs and higher torque. (We also offer a high-speed, 5000-RPM tool for drywall, sheathing and other less-dense materials.)
Improved reliability and durability with a metal frame inside a robust, high-impact nylon housing.
The ability to easily index DURASPIN attachments 360 degrees, allowing more versatility.
State-of-the-art 21700 cells in a new 18V extended-life battery. Each DURASPIN integrated tool comes with two 3Ah batteries and a rapid 5 amp charger that can charge a battery in under an hour.
One of the most unique features of all DURASPIN systems is our patented Corner Fit technology. Essentially, each tool's feed system is outfitted with a narrow nose piece that allows the bit to extend past the housing. This allows screws to be driven in much tighter areas than any other type of auto-feed system. Originally developed for making drywall screws easier to drive into corners, this new technology has dramatically expanded where auto-feed systems can be used. Now, any screw placement in a tight space or corner is possible. Some of the more notable applications where this technology is necessary is window installation, certain railing systems, and fencing. The ability to drive into corners without switching tools allows users to be far more productive and flexible on the job site.
We recently launched our updated corded DURASPIN line with many of the recent improvements we've made to our cordless line. Additionally, we plan to launch new attachments that drive screws up to 3 inches long later this year, as well as new improvements and innovations to our stand-up tools.
This article originally appeared in the July/Aug. 2021 issue of Industrial Supply magazine. Copyright 2021, Direct Business Media.
COMMENTS: 0
---